Potato salad is a no-brainer for most people – it's easy like mashed potatoes! This salad, however, is slightly elaborate.
Don't get me wrong – I am all for simple and easy cooking. Any recipe that calls for more than one method of cooking always has me thinking twice about actually making it. I love good food, and have no patience. I find it quite virtuous when both these characteristics meet – that's the short version of how this blog came about!
This recipe is quite unlike my other recipes in that it involves roasting the potatoes, then stir frying them in a hot pan with some olive oil. Stay with me here, it will be worth every minute of your time.
Both cooking methods add a certain pizazz to the recipe that will otherwise make this a regular potato salad. The roasting of the potatoes in the oven helps to cook them evenly without going too mushy, and gives you time to clear up around the house. Also, if you'd like to store the potatoes in the fridge to eat another day, they keep well once they have been roasted.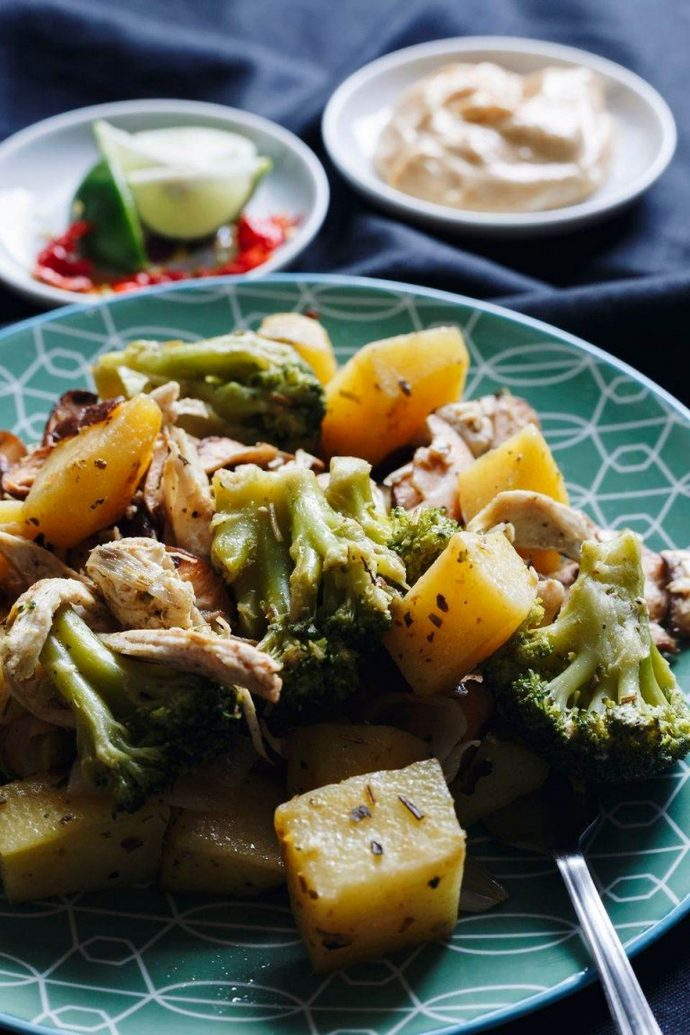 The hot pan treatment helps to give the spuds burnt, crisp edges that we so love in potatoes (at least I do, anyway). This is how this recipe was born – out of a need to reheat potatoes stored in the fridge, combined with sheer laziness to preheat the oven (I do not own a microwave).
As I was reheating the potatoes, I decided to throw in some shredded chicken I had in the fridge and BOOM, a delicious salad was born. Of course, just a mixture of carbs and protein is never enough in a recipe, something needs to help gel everything together.
I have long been an advocate of using full fat mayo in recipes, because it's just so delicious. While the potatoes have been roasted with herbs, the boiled chicken here is quite plain and could use the help. And, no one says no to curried mayo.
I hope this recipe comes in handy for you the way it did for me!
Warm potato salad with shredded chicken
Ingredients
3 Medium Potatoes, peeled and cut into large cubes
½ Large Broccoli, cut into florets
1 Large Onion, peeled and cut into wedges
3 Tbsp Olive Oil
½ Tbsp Dried Oregano
½ Tbsp Dried Parsley
Salt, to taste
200g Chicken Breast, boiled and shredded
3 Tbsp Mayonnaise
1 Clove Garlic, peeled and minced
½ Tsp Curry Powder (meat or fish is fine)
Method
Preheat the oven to 200 degrees celsius. Prepare a roasting tray (I use a 9 x 13 inch) by lining it with foil.
Combine the potatoes, broccoli, onion wedges, oil, herbs and salt in a large bowl. Toss to coat the vegetables with the herby oil, and topple out onto the prepared roasting tray. Place into the middle rack of an oven, uncovered, to cook for about 20 to 30 minutes.
While the vegetables are roasting, prepare the dressing. In a small bowl, Combine the mayonnaise, minced garlic and curry powder. Mix until the paste turns the colour of fiery caramel. Set aside.
Once the vegetables are cooked, removed the tray from the oven and let them cool while you prepare the pan. In a deep wok, heat the remaining oil over high heat. When hot, add the roasted vegetables and shredded chicken. Toss and turn the vegetables in the hot pan, making sure to allow some edges of the spuds to burn slightly.
After about 3 minutes, turn off the heat. Toss a little more, then pour over the prepare dressing. Mix the salad to ensure the mayo coats every bit of potato, then serve while warm.
I usually eat this directly from the pan, but I am sure you're more civilised than I am. Enjoy!
https://thecraversguide.com/easy-warm-potato-salad-recipe/
Copyright belongs to thecraversguide.com.
Images by Howly Pek