This eggless chocolate cake was originally created by my culinary inspiration, Nigella Lawson. Although I love delicious this cake on its own, I did make a few modifications.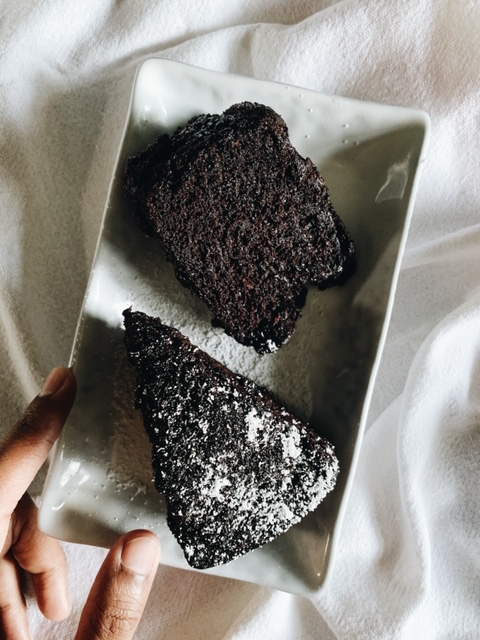 Chocolate cake is the ultimate sin, ultimate pleasure and ultimate king in the world of desserts. There, I said it. While we all may have particular preferences when it comes to dessert, most have a favourite 'Chocolate' dessert. It could be a cake, bon-bons, waffles, ice-cream… anything that has chocolate, really.
This eggless chocolate cake is an adaptation. The recipe originally belongs to Nigella Lawson, my culinary inspiration. Originally intended as a vegan cake although not quite marketed as such, I made some adjustments to this recipe to make it eggless and vegetarian, but not strictly vegan.
This is not the first time I am making this cake, so I can tell you that it has to be followed to the tee. Especially in the area of sugar, please do not think of cutting it down. This is a very chocolate-rich cake, it comes out as dark and gleaming as it goes into the oven. Sugar really helps with keeping the cake moist in the oven, and combats the drying effects of cocoa.
I used dutch-processed cocoa, to extract a nice, rich and deep chocolate flavour. This is also a very, very watery batter so it's best to use a leak-proof baking tin. I used an aluminium tin without a removable base, you could use something similar or a spring-foam pan. If you're using the latter, ensure that you wrap the tin in foil to prevent leaks.
Eggless Chocolate Cake Recipe
Course: Dessert
Cuisine: Western
Difficulty: Easy
This easy eggless chocolate cake is perfect for vegetarians. If you're vegan, swap out the butter for a vegetable oil.
You'll need;
Dry Ingredients


225g Cake Flour


1 ½ Tsp Baking Soda (Bicarbonate of Soda)


Pinch of Salt


1 Tsp Instant Coffee (I used the Indian brand, 'Bru')


75g Cocoa Powder

Wet Ingredients


300g Dark Brown Sugar


375ml Hot Water, not boiling


90g Butter, melted


1 ½ Tsp Apple Cider Vinegar
You'll need to;

Start by preheating the oven to 170 Degrees Celcius. Prepare the baking tin by lining it with parchment paper, then greasing it with butter. I wouldn't use the non-stick spray here.

Get started on the cake. Sieve the dry ingredients together into a large bowl. Using a whisk, mix it up evenly, then set aside.

In a large measuring jug or bowl, combine the wet ingredients. Stir till the sugar dissolves in the hot water. Then, add the wet ingredients to the dry and stir through lightly. Pour out the runny batter into the waiting baking tray, then place in the oven to cook for 30 minutes.

At the 15 minute mark, you can slip a foil on the top of the cake if you think it's getting too dark or that it might burn. This depends on the oven you're using, so go by eye. A skewer inserted into the centre of the cake should come out relatively clean, though the cake does solidify further as it cools.

Bear in mind that this is a very fudgy chocolate cake, and that the batter is very wet. These contribute to the cake's moist and dreamy texture. If you feel the cake is too wet for your liking, bake it further in 10 minute intervals.

Serve warm with fresh cream, raspberry jam and coffee.
Notes
Do not temper with the amount of sugar in this recipe. I know it seems like a lot, but have faith. You will barely taste it.
Do not over-mix the batter, too much air in the batter will cause cracking. Not the end of the world, but still not always desired.
This cake does not keep for long in our warm weather, best eaten within a day or two. You could try freezing it, although I personally haven't as it doesn't last more than 2 days at home.