Plum Cake is literally the only way I would eat Plums! This Plum Cake is by one of my favourite instagrammers, Ellie!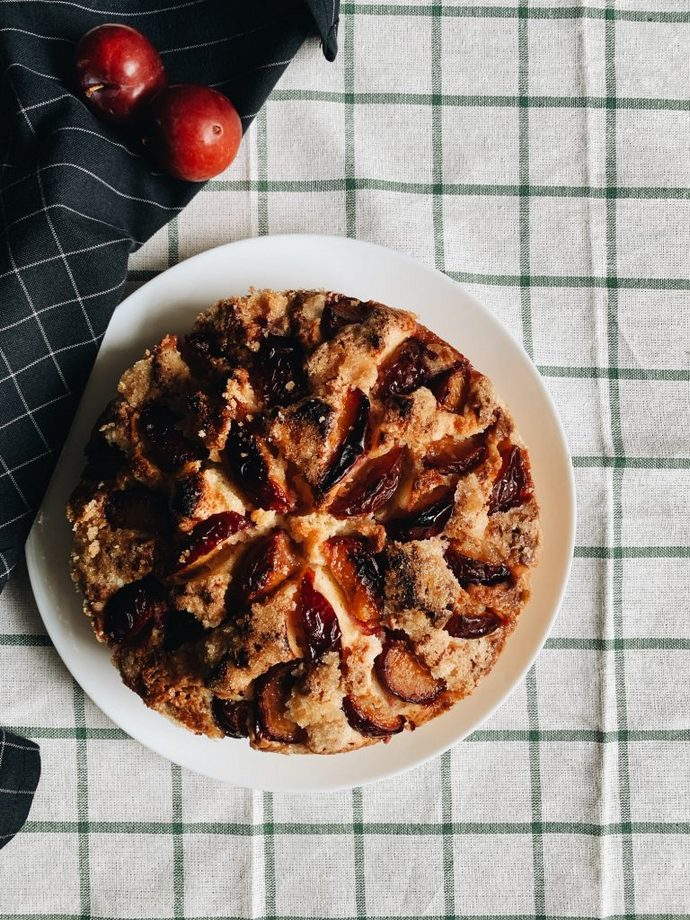 Plum Cake is not something I ever thought I'd make, to be perfectly honest. Here's the thing; I'm not that much of a fruit person. I mean, I love a good Green Apple (especially when it's tart!), dipped in a combination of Sweet Soya Sauce and chilli padi. However, I never go out of the way to eat fruits, unless it's baked in a cake like this one. 
I first came across this recipe on Instagram, in Ellie's profile. Ellie has a fantastic IG profile, filled with both sweet and savoury recipes with Asian influences. It was after watching Ellie pick naturally grown ingredients from her garden to use in her cooking, almost daily, that made me really pay attention to the ingredients I use in cooking. I usually go to the wet market for certain things, and NTUC for certain others. However, I have never wanted to have a garden of my own more than after seeing Ellie's garden!
The Plum Cake
Back to Plum Cake: I saw this recipe on her Instagram Highlights and waited patiently for an opportunity to make this. Essentially, this involved going to the shop to get plums to bake with and I wasn't into the business of buying fruit, as highlighted above. And then my sister came over one day and passed me some plums; she had too many at home. There was my golden opportunity! As any cake-love would, I seized it! 
This plum cake uses a pretty easy wet-ingredients-into-dry formula. I followed this recipe as closely as I could, as I wanted to make sure I managed to get the same crumb on this cake as I saw on Instagram. While the fat component here is softened butter, you can use vegetable oil or coconut oil for a rounded, nutty flavour profile. There isn't much sugar here, which is great because plumps can be quite sweet during certain times of the year. The streusel topping helps to add to the overall sweetness of the cake, so don't be tempted to increase the amount of sugar.
Looking for a more traditional, chocolate cake for tea? Here's a dense chocolate loaf cake that's too chocolatey to handle!
Streusel Topping
This is a perfect coffee cake, because you get the soft sponge from the cake base, moist roasted fruit from the fragrant plums and crunchy textured sweetness from the streusel. I have never made streusel before, I must confess. It always seemed like an arduous task to me, one that required dexterity and experience. I am a changed man; it was so easy!
The original recipe required me to add dried lavender flowers to the streusel, which I have left out. I didn't have this ingredient, and I am not much of a fan of dried lavender in desserts anyway. If you prefer, you can add some cinnamon powder, or vanilla extract to the streusel when making it. You can also try switching out the white sugar for dark muscovado, for that rounded molasses taste. Of course, if you like chocolate with your fruit, try chocolate chips (I wouldn't, though)!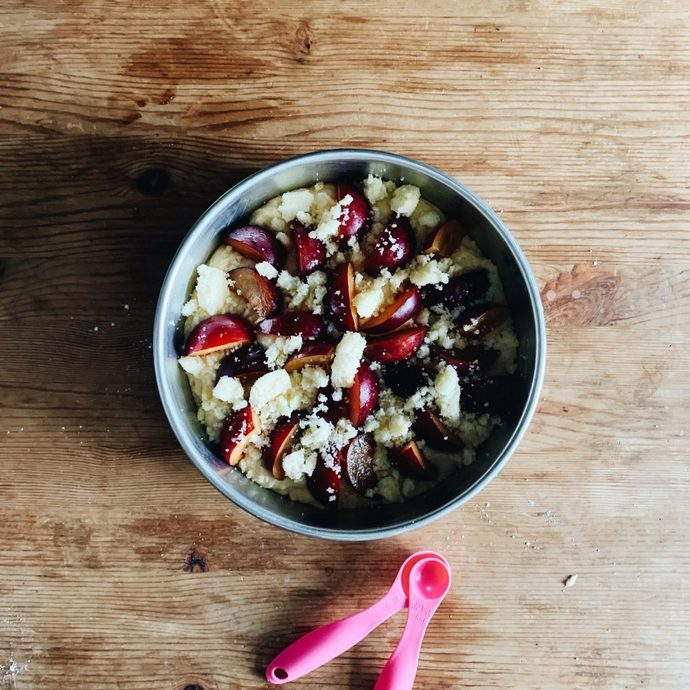 Ellie's Plum Cake
Course: Dessert
Cuisine: Western
Difficulty: Easy
Plum Cake is literally the only way I would eat Plums! This Plum Cake is by one of my favourite instagrammers, Ellie!
You'll need;

For the Cake


6 Baby Plums, stoned and quartered


300g Cake Flour (you can use all-purpose flour)


2 ½ Tsp Baking Powder


½ Tsp Salt


150g Sugar


115g Butter, softened or melted


180ml Milk


2 eggs


For the Streusel Topping


50g White Sugar


20g Butter, cold and cut into small cubes
You'll need to;

Start by making the streusel topping. Place the sugar and cold butter cubes into a bowl. Using just the tips of your fingers, pinch the butter together with the sugar. When all the sugar is clumped together, place the mixture in the freezer. 

Preheat your oven to 170 Degrees Celsuis. Cut the plums and set them aside. Grease an 8-inch cake tin with butter, and line the bottom with baking paper.

Start with the cake by sieving the flour and baking powder into a large mixing bowl. Add the salt and sugar, and stir with a whisk to mix.

In a measuring jug or container of your choice, mix the butter, milk and eggs. Beat together with a fork, then pour this mixture into the dry ingredients. Whisk in quick motions; the batter will come together in minutes.

Scrape the batter out into the prepared pan and arrange the cut plum on top in any way you choose. Then, dot the cake with the streusel mixture you had prepared earlier. Place into the oven and bake for 45 to 50 minutes, by which time the streusel will be crispy, cake spongy and plums cooked through.

Cool in the tin for 15 to 20 minutes (this is HUGE ask), then serve warm with coffee.
Notes
The original recipe was presented in cup measures, this is a metric conversion. 
Start to monitor the cake after 40 minutes, as different ovens can cook cake faster, or slower. Use a wooden skewer to test; once you see crumbs, the cake is ready to be removed.
Don't panic if the butter from the streusel clumps together in one big lump. Once in the freezer, the butter will harden. You will have to break it up with a spoon in order to use it.