Go Ang Pratunam Chicken Rice is a famous Thai Chicken Rice which can now be found in many parts of Singapore. I tried the original one, in Pratunam Bangkok and here's what I think!
Go Ang Pratunam is now a brand name, not just merely Thai chicken rice. Chicken Rice is a dish well known to us on this side of the world. Although they say most Chicken Rice available here is 'Authentic Hainanese Chicken Rice', my Hainanese friend tells me that this is actually not the case. The Hainanese have a very specific way of cooking the chicken (and rice) that is not quite emulated in many of these 'authentic' stores.
But I digress. On a recent trip to Bangkok, I made it my business to go try the Go Ang Pratunam Chicken Rice. My local friend assured me that it's definitely worth the effort and that she personally enjoys it. Being a fan of chicken rice myself, I was quite surprised that I hadn't tried it earlier. I mean, I do frequent Bangkok more than the average Joe I should have at least walked past it and stopped! 
The Go Ang Pratunam Chicken Rice restaurant, or the original one I am told, is located by a rather busy street leading to an even busier intersection that begs you to jaywalk. There's a large window at the storefront with fat, juicy chickens hanging in a neat row just dripping their chicken juices seductively. My anticipation grew, I could feel the chicken sweats come on. I reached the restaurant a little before lunch, at 11.30 am. This was on purpose – I wanted to make sure I beat the lunch crowd. I have seen the snaking queues this restaurant had back in Singapore and was not going to take any chances. 
I'm glad I arrived early, though! I got seated immediately and got to order right away! Here's what I got.
Poached Thai Chicken Rice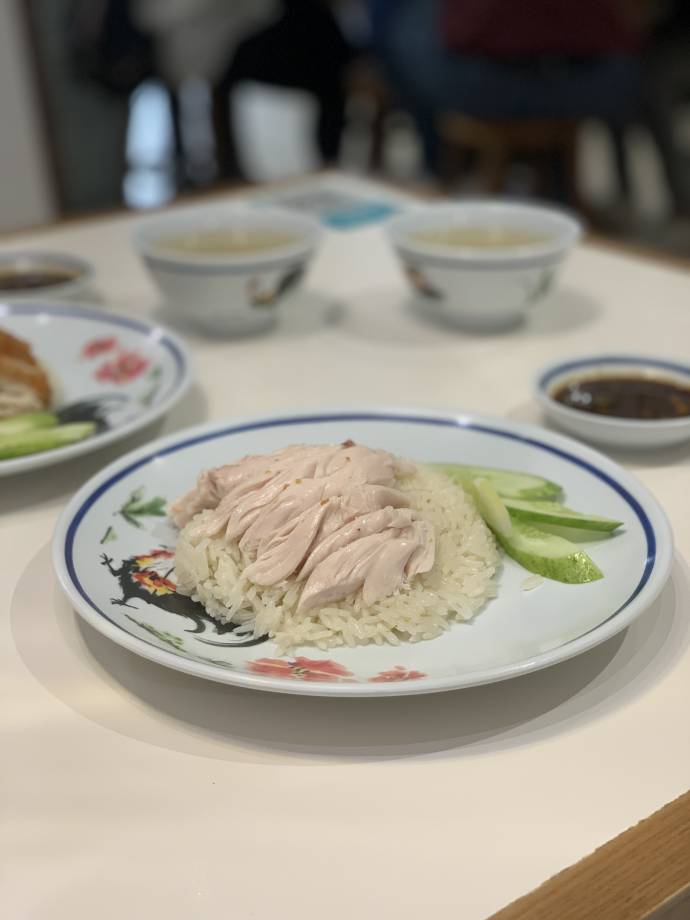 Okay, here me out. This dish was everything that the images promised it would be when I did my research. The chicken was juicy, the rice was cooked with a bite just in the centre of each grain. Each plate of chicken rice came with a very fragrant bowl of soup – the soup I loved very, very much.
If you sensed a but, here it is: It's just Chicken Rice. I love chicken rice, but perhaps because I have had it so often (and in many places I wish were my own) here in Singapore, I wasn't quite blown away as I was hoping to be.
Other than the soup, each plate of chicken rice was accompanied by a small saucer of soya sauce with cut green chillies. This is classic of the Thai Chicken Rice here and what I was told to look out for. I loved this soya sauce chilli and generously drizzled it on my rice. They also had an additional Thai sweet chilli sauce on the side – didn't do much for me.
Fried Thai Chicken Rice
The fried chicken was surprisingly juicy for chicken that's been breaded and fried – but there was a 1:1 ratio of meat to crunch. Meaning to say, there wasn't much meat. This was accompanied by again the al dente rice which was good. However, again this did not stand out from what we can get at home.
Long beans cooked with mincemeat and chilli bean paste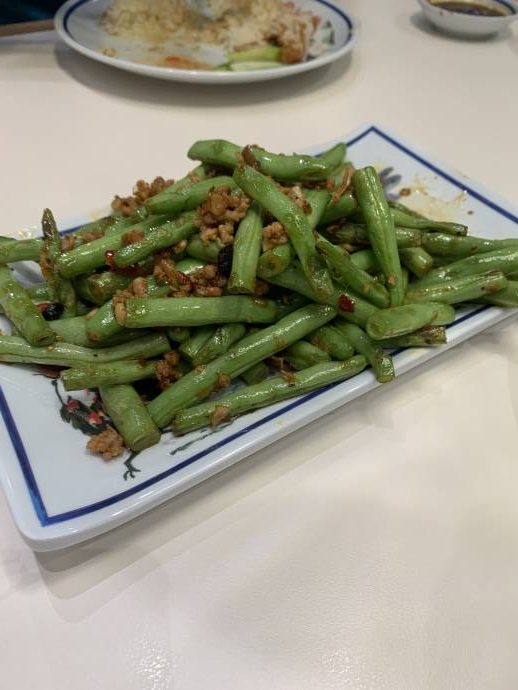 This seemed to be a special item on the menu, so of course, I had to try it. I quite liked how crunchy the beans were, though the portion was quite large so I would recommend sharing this with at least 3 other people. The chilli bean paste is what we have available in grocery stores in Singapore, so this dish can be easily recreated.
Ginko Nuts in Cold Milk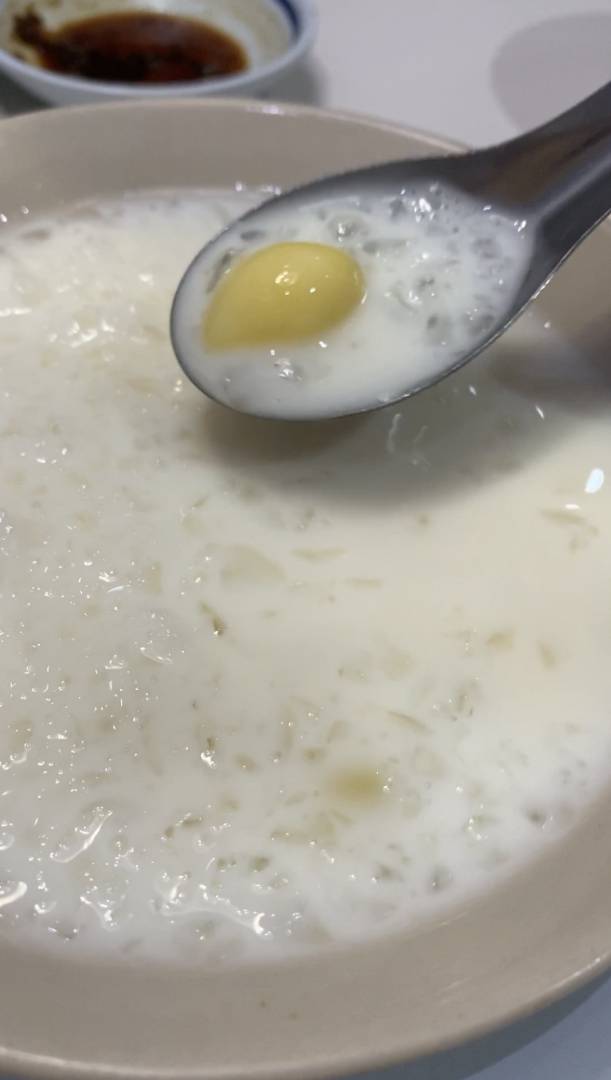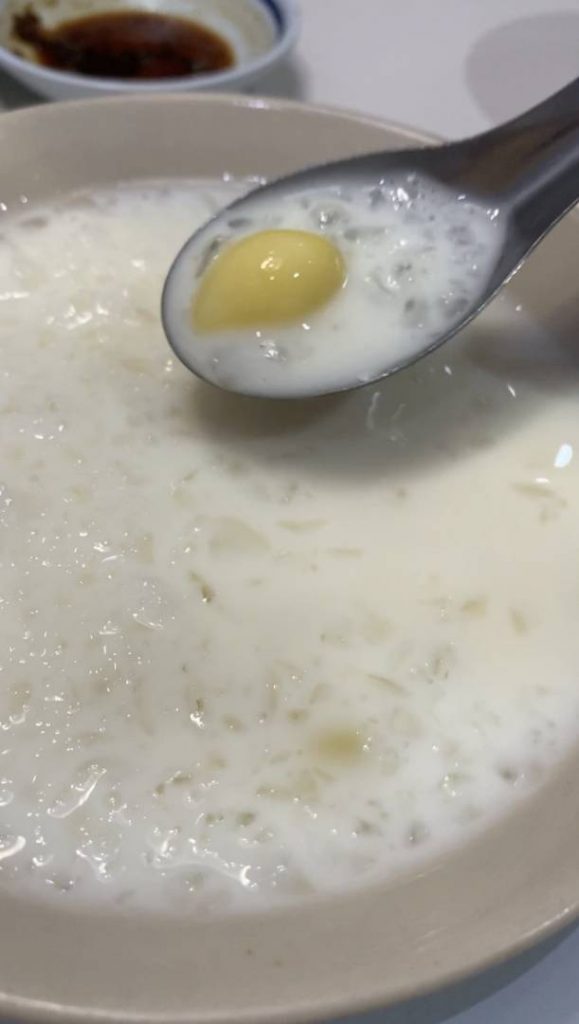 To finish off my meal, I had a Ginko Nut in Cold Milk number. I don't know how to end a Thai Chicken Rice meal – should I have a Thai dessert? They did have Thai Cendol but it was not available on that day. Regardless, this was a refreshing end to the meal! I loved the cold, slightly sweetened milk and juicy ginkgo nuts that had a bitter bite to them. 
I didn't order anything else, as I had limited real estate in my belly and a long list of eateries to cover. As a person who is quite passionate about food in general, I would recommend eating here at least once. I would like to reiterate that I didn't find the food bad, I just didn't find it extraordinary either. 
What would you say? Also, here's where you can find this restuarant!