XO Sauce is not new to us in Singapore, as it's found mostly in Chinese cuisine. Here's a couple of recipes I created with Goodwood Park Hotel's new XO sauce.
What's XO Sauce?
XO sauce is a fairly new player in the 'sauce' arena when compared with heavyweights such as the Chilli Sauce that accompanies Chicken Rice, or Nasi Lemak Sambal. XO Sauce, a beloved cooking and foodie staple to Hong Kongers, was first created in the 1980s in – you guessed it – Hong Kong. Since then, it's a primary feature in many Cantonese dishes, and very popular in its birthplace, Hong Kong. Named after the highly consumed cognac in Hong Kong, the term XO has become cultural nomenclature for luxurious, or exclusive.
There are various grades of XO Sauce, determined by the quantity and quality of ingredients used. Generally, the sauce is a hodgepodge of various seafood items, such as anchovies, scallops, dried shrimp, cured fish or even squid. There is not one specific recipe for XO sauce, just like all other condiments that have made an impact on culinary history. However, the sauce is laborious to prepare, as the dried ingredients need to be soaked overnight, then minced, before being incorporated with other ingredients over the stove.
XO Sauce is essentially a type of chilli sauce, although the chilli here is not meant to be spicy. Chillies are normally deseeded and add a subtle hint of deep sweetness to the paste, complimenting the salty dried seafood.
Goodwood Park Hotel Singapore has got the formula for a seductive XO Sauce just right, with its Goodwood Park Homemade Dried Shrimp XO Sauce. I personally love it for its lack of preservatives and full-bodied flavour. The familiar salty tang of dried shrimp will waft through your kitchen as soon as the sauce hits the hot oil.
Just like its much sought after Hong Kong counterpart, this version of XO Sauce is made with premium ingredients such as chilli padi, garlic, shallots, salted fish, dried scallops, dried shrimp and hot bean paste and comes in a glass bottle, with a nett weight of 180g. The Goodwood Park Homemade Dried Shrimp XO Sauce is available for purchase at The Deli, located within the hotel, at $24.80 nett per bottle.
I made a tantalising XO Chicken with Kale and had enough sauce leftover to make a delicious, and fairly simple, fried rice. Here are both these recipes for you to try out in your kitchen, while I go down to Goodwood Park to get more of this luscious XO Sauce.
XO Sauce Chicken with Kale
2 Tbsp Olive Oil
1 Medium Onion, thinly sliced
3 Cloves Garlic, thinly sliced
4 Tbsp Goodwood Park Homemade Dried Shrimp XO Sauce
2 Tbsp Light Soy sauce
200g Chicken Breast, cut into 2 cm cubes
250g Baby Kale, torn roughly
Heat the oil in a flat-based wok or skillet of your preference, over medium heat. Add the chicken cubes and fry till golden, about 5 – 7 mins. Remove the chicken from the pan with a slotted spoon, and add the onions and saute until soft and translucent, about 3 mins. Then, add the garlic slices and saute till fragrant and slightly golden, about 1.5 mins.
Add the Goodwood Park Homemade Dried Shrimp XO Sauce and light soy sauce. Let the sauces heat through and blend well, before adding the browned chicken nuggets and baby kale. Continue to cook until the kale wilts, about 3 to 5 mins.
Serve warm with rice.
XO Fried Rice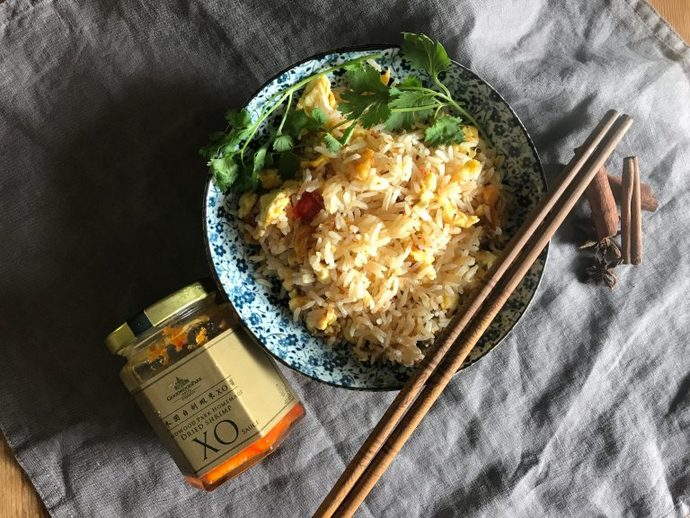 2 Tbsp Olive Oil
2 eggs, broken and beaten lightly
4 Tbsp Goodwood Park Homemade Dried Shrimp XO Sauce
1 Cup Cooked Rice
Salt to taste
Add the oil to a flat based wok over high heat. When the oil is hot and dances across the pan's surface when you swirl the pan, add the egg. Scramble it quickly over the high heat, and add the Goodwood Park Homemade Dried Shrimp XO Sauce.
Heat the sauce through, about 30 seconds, then add the rice and stir through to ensure that pieces of the fried egg are well dispersed and the grains of rice are slicked seductively with the rich XO sauce.
Serve warm.