Baan Ying, a popular Thai restaurant from Bangkok, is offering a brand new brunch semi-buffet.
The Great Baan Ying Brunch was launched 26 January.
The brunch includes 1 main course, and a selection of dishes from their buffet spread of up to 15 items.
If you're a regular reader of this blog, then you already know. Otherwise, let me enlighten you: I love everything about Thai food (okay I'm not so crazy about fried spiders, but you get the picture). I can never get sick of eating Thai food – the sweet, sour, salty and very spicy are all not just flavours in the cuisine, but aspects of the Thai culture. Being able to bring their culture alive in food is a speciality of the Land of Smiles.
Singapore has its fair share of Thai restaurants, from the fancy to the neighbourhood haunt. Baan Ying is a well-known brand in Thailand, with 10 outlets in Bangkok. The uniquely Thai recipes that make up the menu here are created by Aunty Ying, the founder. Baan Ying translates into "House Of Ying", a nod to Thai hospitality.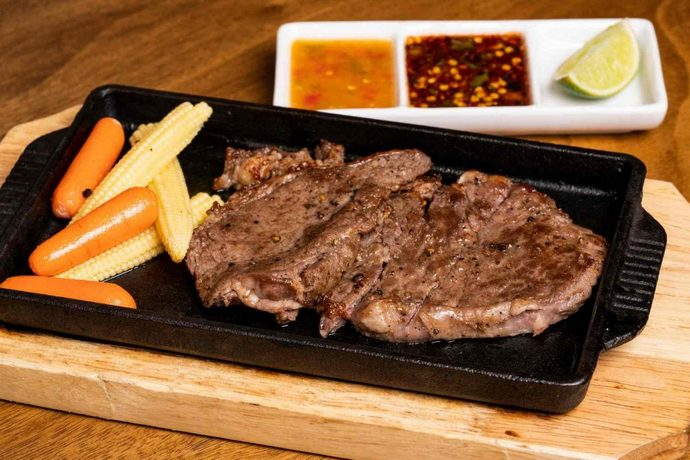 Brunch-goers get to choose from 4 options for their main course, including a juicy Angus Beef Steak, Bone-In Iberico Pork Chop, Grilled Large River Prawns and Pan-fried Salmon Steak. Each choice of protein comes with a side of roasted seasonal vegetables and it's own sauce or topping, served in a hot plate. I had the Grilled Large River Prawns, which came topped with crispy floss that's actually made from lemongrass!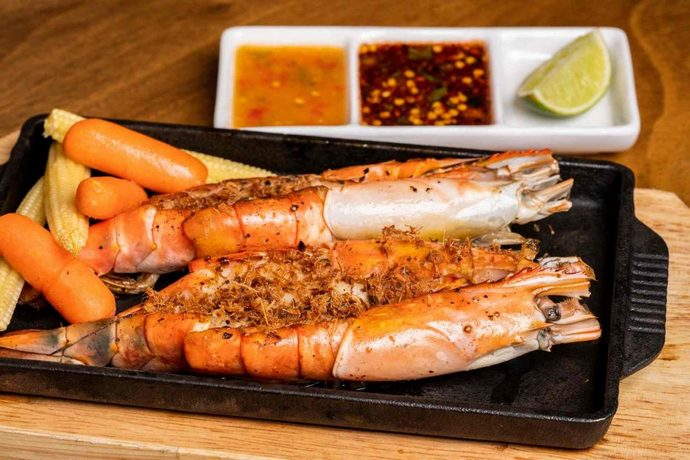 You need to be mentally prepared, as when they say large prawns they mean really large prawns. Two large sizzling prawns came to the table on a black hot plate, framed with carrots and some other vegetables I couldn't focus on as the prawns were just staring at me begging me to take a bite. The seafood here is extremely fresh, which I believe is a signature in Thai food. The prawns were plump, juicy and slid of their shells (and into my mouth) veeerrry easily. The lemongrass floss that accompanied the prawns were unlike anything I've ever had before.
The Semi-Buffet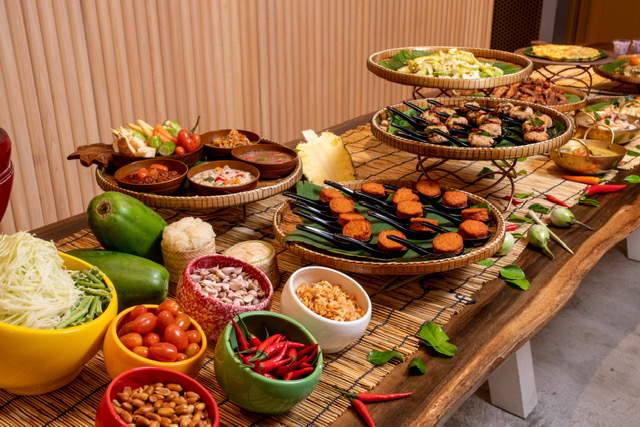 While the main has to be ordered from a menu, the brunch also includes a buffet. The dishes may rotate from day to day. But I have it on good authority that everything served there is simply magnificent.
At the time of tasting, I helped myself to the Salted Egg Yolk Fried Rice, Green Chicken Curry, Red Pineapple and Pork curry, among others. The pork curry was unique as it was made with pork belly – usually, Thai curries boast less fatty-cuts of meat. Also, it had an astringent sweetness, thanks to the deliciously soft and tender pineapple chunks in the richly red gravy. The star was the Salted Egg Yolk Fried Rice. It had actual chunks of salted egg yolk mixed in evenly with the rest of the rice. The rice was also very fragrant, and not wet or sticky (the worst thing that can happen to fried rice, IMO).
Essentially, there are many items I tried from the buffet that I simply could not get enough of. However, I shall limit my banter to three of my favourites: Larb Moo Tod (Thai Style Minced Pork Ball), Yum Pla Foo (Crispy Fish Flakes with Mango Salad Dressing) and the DIY Somtum (Fresh Green Papaya Salad).
Larb Moo Tod (Thai Style Minced Pork Ball)
This is straight-up fried food, and your soul will thank you for it. Minced pork is combined with delicious Thai spices, shaped into balls and then deep fried. It is served in a soup spoon, and one ball is not enough. There is also a sauce that accompanies this dish, a watery chilli infused concoction that adds a real punch to the pork. Golden on the outside and mouth-wateringly soft and meaty on the inside, I really hope you get to try this when you go down!
Yum Pla Foo (Crispy Fish Flakes with Mango Salad Dressing)
This is the most interesting thing – think deep fried floss that looks a little like the straggly bits of an egg fuyong, but tastes a lot more heavenly than eggs ever could. Tuna is the fish in question – it is flaked then deep fried, and served here with a tangy and mildly spicy mango salad. I helped myself to this repeatedly, I hardly noticed that it was deep fried!
DIY Somtum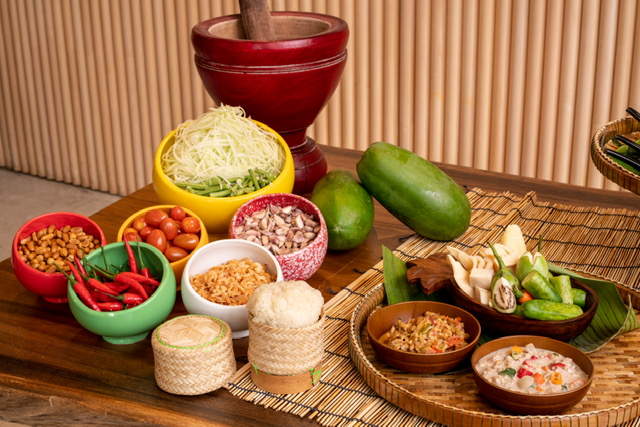 Green papaya salad is a mainstay in Thai food, and has a number of variants in itself! At Baan Ying, you can try your hand at making Somtum, with the ingredients provided. You can control the amount of chilli padi you throw in, and increase the amount of Thai dried shrimp if you want. I say Thai dry shrimp because these have a slightly different flavour profile compared to what you normally get at the wet market – they are not as salty and have a slighty sweet aftertaste.
Sweet Endings
For dessert, diners can choose from Rainbow Ruby, Homemade Coconut Jelly, Fresh fruits or Ice Cream. I had this really sinfully sweet purple coconut milk soup with bits of yam. They also have a Thai version of Chendol, though I didn't get around to trying that. Next time, for sure.
I seek out Thai food wherever I go; it has so much soul. Baan Ying fulfilled both my appetite for Thai food and insatiable cravings for Thai culture, all in one afternoon. I highly recommend you to get your own Thai experience, at the House of Ying (Baan Ying).
@baanyingsg
Availability –  From 26 January 2019, 11am to 3pm, every Saturday and Sunday
Prices – Adult: $38.80++ | Child (four to ten years old): $19.40++, Child (under three years old): Free
Free-flow wine and beer: top up of $29.80++
Address – 103 Irrawaddy Road, Royal Square @ Novena, #02-07, (S) 329566
Reservations – Phone: +65 9111 7852; Email: sawasdee@baanying.sg, Online: https://www.quandoo.sg/place/baan-ying-49217
Opening hours – Mon – Fri 11am to 3 pm, (Last order at 2:15pm)
5:30pm to 10pm (Last order at 9:15pm)
Sat – Sun 11am to 10pm (Last order at 9:15pm