Green Curry Pasta is not just easy to make, it is ridiculously rich and delicious. If you like fusion food and are up for a tantalising adventure, keep reading!
Green Curry, and Thai food in general, has become a way of life for me. I have the type of obsession with Thai food that cannot be explained; I will go out of the way to prepare a Thai meal for dinner, the day I land from Bangkok. And still crave a similar meal the next day.
Thai food for me is more than just fuel, it's food for the soul and body. The spices, the grassy, punchy ingredients all give me a wonderful sense of fulfilment. While I am still searching for the perfect Tom Yam, and probably will be all my life, I take great pride at having made Green Curry from scratch – I would make it again any day! This recipe uses coconut milk.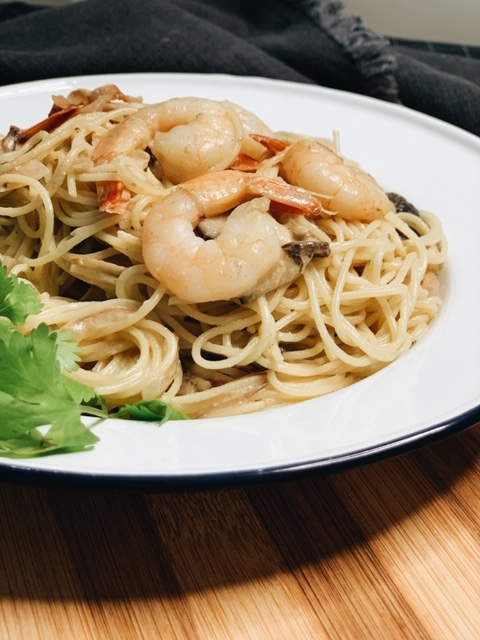 Store Bought Paste
This pasta is made with a store-bought paste, from Mark & Spencer, to be exact. I love this British brand, though I have just started trying their Thai Curry Pastes. This Green Curry Paste came packaged in 'shots', each shot enough to make curry for 2 people. Also, one should note that this green curry paste tends to sputter a lot when added to the pan dry, or with some oil for frying.
Is fusion food you cup of tea? Here's a Thai Red Curry Hummus to whet your appetite!
While I enjoy making the green curry paste from scratch, I completely acknowledge that this is not always possible. I mean, who has that time? While grinding up everything from scratch on a weekend is possible and quite the activity, weeknight meals require instant everything, from stove to table. While each store-bought paste can be different from the other, find a brand that you're most comfortable with. Then, make necessary modifications; no store-bought paste is perfect. Adjust the sweetness with sugar, tartness with lime and saltiness with fish sauce. Soon, you'll find the brand you love and prepare a delicious meal as close to one that is cooked from scratch.
Fusion Pasta
At the heart of this Green Curry Pasta is the concept of fusion food. I you're not crazy about Green Curry, try red or even yellow curry pastes. The taste will be different for sure, but what's important is that you enjoy the meal. 
Not a fan of prawns? No problem! Here's a similar recipe with canned tuna!
Feel free to substitute the prawns with a protein of your choice; shredded chicken is lovely here. If you're vegan, omit the fish sauce and prawns, and add some chickpeas or tofu!
Green Curry Pasta with Prawns
Course: Main
Cuisine: Asian
Difficulty: Easy
Green Curry Pasta is not just easy to make, it is ridiculously rich and delicious.
You'll need;

2 Tbsp Olive Oil


1 Red Onion, peeled, halved and sliced


2 Cloves Garlic, peeled and thinly sliced


100g Shiitake Mushrooms, stemmed and sliced


150g Prawns, shelled with tail on


45g Green Curry Paste


100ml Coconut Milk


2 Tsp Fish Sauce


150g Angel Hair Pasta
You'll need to;

Cook pasta according to package instructions. Coat with a bit of oil, set aside.

In a medium saucepan over medium flame, heat the oil. Then, add the onions and saute till softened, about 2 minutes. Add the garlic and the green curry paste. Fry for 30 seconds, before adding mushrooms and prawns. Cover and cook for 3 minutes.

Remove the lid and add the coconut milk and fish sauce. Stir through to mix, you'll get a nice sauce mixture. Reduce the heat and add the pasta to this sauce. Using a pair of tongs, toss the pasta around till it is evenly coated with the pasta sauce and ingredients within.

Serve warm, with a sprig of coriander.
Notes
The base for this is vegan, as the 'creamy' aspect is obtained from coconut milk.
Feel free to use any type of pasta you prefer. I use angel hair frequently, as it cooks quite fast.