Gusta Sourdough Pizza Co. brings the novelty of sourdough pizza to a neighbourhood in the heart of Singapore. Here's what you can expect.
Sourdough pizzas have become the next level, lending a unique flavour profile to a classic, well-loved dish. At Gusta, chef-owner Sean Lai serves up sourdough base pizzas like a work of art. Each pizza has gone through some rigorous R&D – his knowledge of developing the sourdough base is enough to assure any pizza fan that they are in good hands.
Where, what, why?
Located in Serangoon, just a stone's throw away from NEX and Serangoon MRT, Gusta Sourdough Pizza Co. is one of the many ways artisan foods are making their way into neighbourhoods away from the hustle and bustle of Orchard.
On the menu is a string of delightful creations, each with its own unique Gusta-twist, peppered with local touches. Each pizza is lovingly stretched by hand, with staff carefully baking them in a large oven and rotating them for even cooking.
Spanning Classic Pizzas, Premium Pizzas and Vegan Pizzas, the menu presents a variety of choices that are meticulously constructed with just the appropriate amount of fresh ingredients that complement, rather than overload the flavourful sourdough pizza base. Here's what I tried:
Mushroom & Truffle Oil Pizza ($27.50).
This Vegan option comes layered with homemade porcini salsa, white Swiss button mushrooms, kale, and truffle oil. The seductive, wafting scent of the truffle oil lulls you into a heady trance as this pizza arrives at your table. Sinking my teeth into a slice of pizza was an absolute pleasure – the mushrooms were perfectly cooked and while there was a delightful salsa to glue the shrooms' to the base, it didn't make the base excessively soggy.
Mala Chicken ($24.50)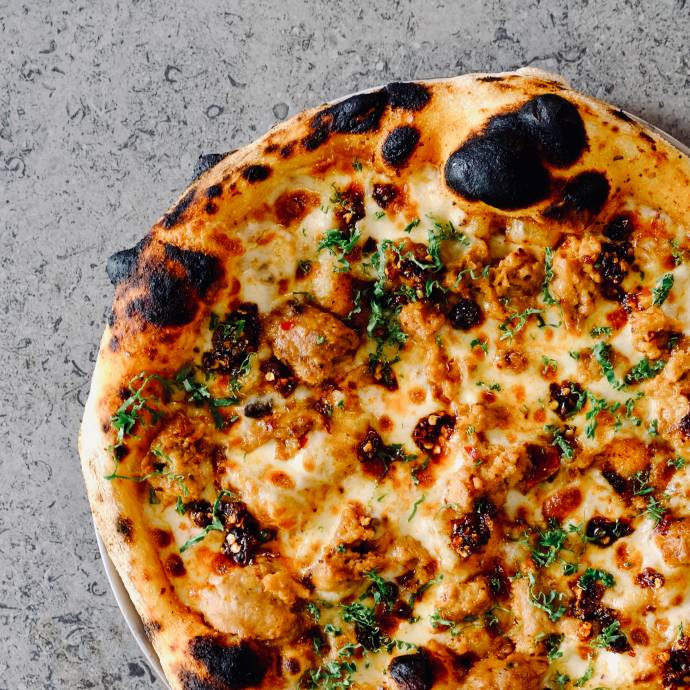 Featuring an addictive and tongue-tingling mala cream sauce base crowned with juicy chicken mince, mozzarella and punchy homemade chilli oil. Chef brought this number out last, and I completely understood why – this pizza was the crowning glory of my tasting! I would have never guessed that Mala would work on pizza, let alone sourdough pizza. I loved every bite of the juicy chicken and numbing mala, exacerbated by the sharp chilli oil. Though I must say, this really is a dish for those who like Mala, or food that bites back in general. 
Note that this is a premium pizza and will only be available based on a seasonal basis.
Raclette Cheese & Potato ($26.50).
I know what you're thinking – potato slices on sourdough a pizza does not make. Hear me out, please. I had the same thought as you when this pizza was announced, but just like with the other numbers, I ate my doubts along with the pizza as I greedily stuffed my face. The potato slices were cut so thin they were almost translucent. And chef ensured that the par-boiled potato slices had just the right bite, so they'd continue cooking in the oven on the sexy sourdough base. An unexpected treat this was, more than the Mala I daresay. 
I'm all for restaurants and hip eateries such as these making their way into neighbourhoods. Gusta Sourdough Pizza Co. is one such diner that's not to be missed. The folks behind this brand take great pride in making sure their customers are fed and watered with only the best ingredients. Plus the restaurant is swanky with a chill vibe – much like a cafe.
They don't take reservations, and the tables fill up very quickly. I'd recommend going during the week, or at off-peak times.
The deets you need:
Serangoon Ave 3, Block 326, #01-378, Singapore 550326
4.30pm to 9.30pm daily; last order at 9.15pm
QR Ordering and Credit Cards only (no cash)