Halal food is now available on Genting Dream Cruise, and the deal (or dishes) to dine on board cannot be more inviting. I had the delightful opportunity to check out the Halal buffet in January 2019 – here's what you can expect!
This is not my first trip with Genting Dream Cruise, but I am simply stunned at the service, hospitality and fantastic food every time I am on board the ship. Although my primary goal this trip was to taste the halal menu, I also managed to squeeze in a short excursion to Bintan, and catch a couple of the spectacular shows at the theatre on board.
To read more about the accommodation provided by Genting Dream Cruise, check out this article I wrote after my first trip with them. This was a 5 night cruise that took me to Port Klang, Penang and then Phuket before returning to Singapore.
If you're looking to get a taste of what Genting Dream Cruise can offer, but you're not quite willing to take a weeks' worth of leave, this weekend trip might just be for you – not only will it give you a taste of the ship, it will leave you wanting more (like it did me)!
The Halal Menu
The world is embracing inclusivity, and the Halal Menu at Lido Buffet (Deck 16) on board Genting Dream Cruise is certainly here for it. Launched in August 2018 under the careful guidance of Executive Chef Saifol, Lido buffet now has a dedicated section for halal food, certified by JAKIM Malaysia.
The extensive range of dishes include popular items such as Asam Pedas, Sambal Sotong and Lamb Kurma, among other mouth-watering creations. Chef Saifol, who himself is Malaysian, takes very good care in planning the menu and procuring the ingredients before preparing the food. He also says the menu is given a shuffle every quarter, so you can expect new dishes every now and then, coupled with popular classics.
Ikan Pari Asam Pedas
Ikan Pari (Stingray) is a classic fish used in making Asam Pedas, a traditional Malay dish which translates into 'Spicy Sour'. The spice comes from the fiery Malaysian sambal, while the tang comes from the full-bodied tamarind. Chef Saifol has captured tradition in this dish, by making it with the freshest fish, and a well-balanced gravy. In fact, I helped myself quite shamelessly to the gravy; the harmony between spice and sour was perfect.
Ayam Masak Madu
Ayam Masak Madu translates into chicken cooked with honey. I always find that the testament to a truly delectable chicken dish lies in how well the chicken breast is cooked. Chicken breast can be extremely fussy, become dry and paper-like if over-cooked. Happily, I can report that the sweet savouriness from the honey, spices and chillies in the sauce had tenderised the chicken meat, making it succulent and rich in flavour. You can see from the image how the chicken glistens invitingly; it is every bit as good as it looks.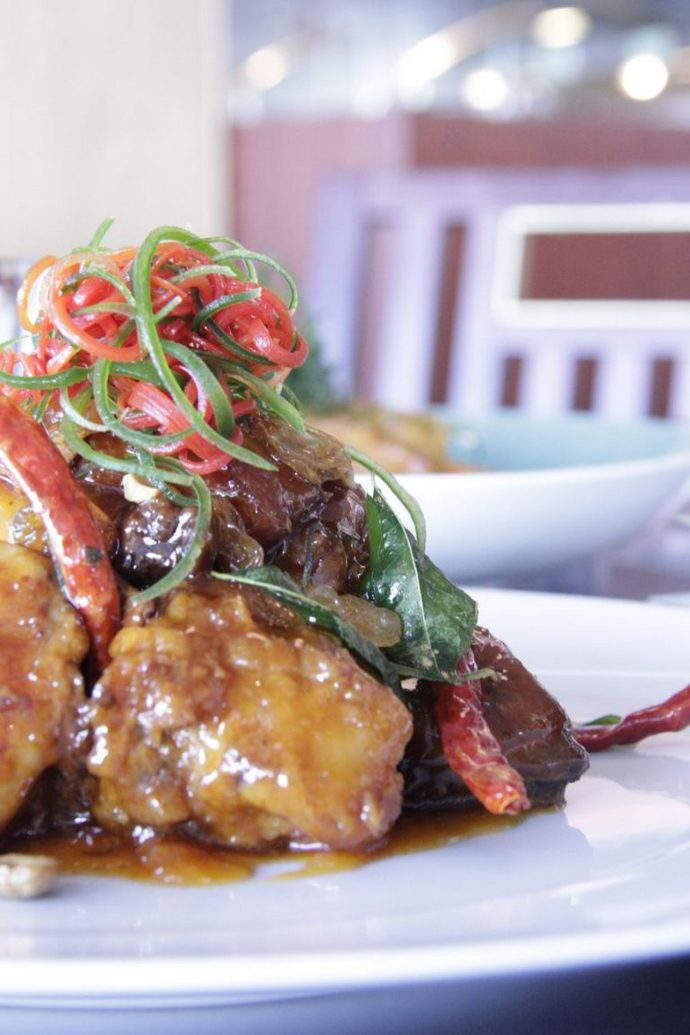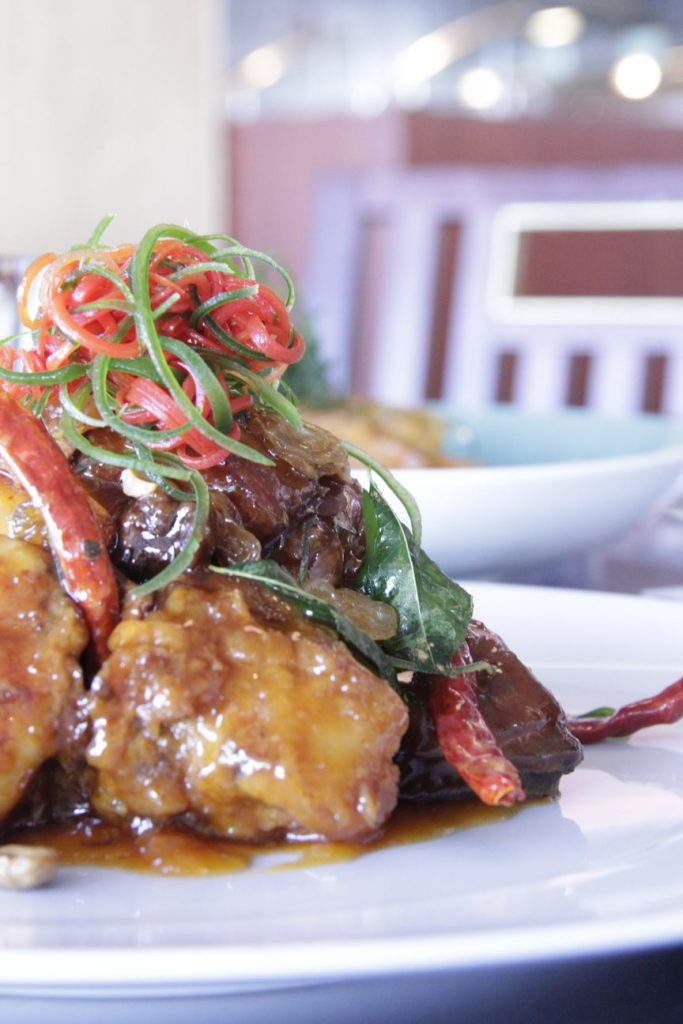 Udang Masak Lemak
Fresh prawns literally let themselves out of their shells – I truly believe in this adage. The prawns in this dish did just that. They easily slid out of their shells with little prodding, and were so succulent thanks to the coconut milk gravy. Chef Saifol had used a milder variety of spices in cooking the prawns, to ensure that the freshness of the seafood wasn't overpowered by pungent spices.
Sambal Sotong
Sambal is an essential part of Asian cuisine. While Malay in origin, different cultures within Asia have put their own spin on this classic chilli paste. At Lido Buffet, Chef Saifol created a fiery Sambal Sotong that's as potent as it looks! The sotong, or squid, was cooked till it turned soft and tender, and had bits of red-hot chilli sticking to its stark white flesh. This goes great with the rice Chef serves as part of the buffet.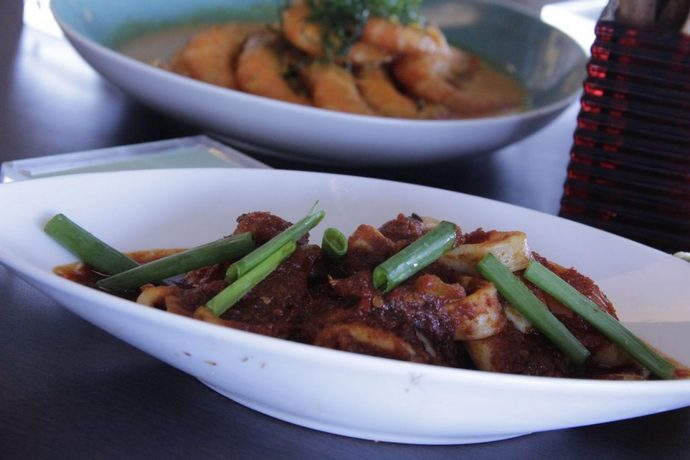 Lamb Kurma
Lamb has to be done right, especially when making curry out of it. Kurma is a delicious Indian gravy made with a variety of spices and thickened with coconut milk, I recently made a vegetarian version. The Lamb Kurma here was cooked to perfection – the tender, savoury chunks of lamb yielded to my knife and fork willingly. If you're worried about the lamb tasting gamy, lay those worries to rest. All you get from this one is pure, rich flavour from the soft meat. The accompanying gravy is also loaded with a collection of harmonious spices that pair swimmingly with the lamb.
Kueh Kueh
No malay meal (or any meal, IMO) is complete without dessert. You can find classics such as Kueh Lapis and Pulut Inti Ketan at the buffet. These items are both pretty to look at and very satisfying to bite into.
Shows on board
Genting Dream takes great pride in not only it's food and service, but it's line-up of impressive performances, too! I have watched 'China's Got Talent' before, and this time caught 'Some Like It Hot' and 'Sonio'. This musical sees talented singers, musicians and dancers in the most outrageous outfits put up a spectacular show for an hour. Sitting in the audience can be difficult – all I wanted to do was get up dance! However, the fact that people might see me and then run away stopped me. I tapped my foot to the rhythm, instead!
Bintan
This 2-night weekend cruise that I was on brought me to Bintan, and there were a number of shore excursions to choose from. I took the opportunity to explore Treasure Bay Bintan, which housed a man-made lagoon. This lagoon is actually made with sea water that had been cleaned up – what a difference that makes! I also managed to have a deeeeelicious Ramly burger with none of the usual 100 sauces, along with fresh coconut juice. If you're taking the Treasure Bay Bintan excursion, you'll get a 200,000 Rupiah voucher, which you can use within the Treasure Bay compound. Treasure Bay offers a slew of activities, from water sports to scooter rides. This is a great excursion to book for families, as there's a little something for everyone.
Other Dining Options
Including the four inclusive restaurants on board the ship, Genting Dream Cruise has up to 35 dining establishments peppered throughout the vessel, from Chinese fine dining (The Silk Road) to classic Singaporean favourites such as Char Kway Teow (The Blue Lagoon), all restaurants have been carefully created to serve every craving of the guests on board! If you're a fan of Hot Pot, they have that too, along with a gelato corner. Savouring rich and creamy ice cream as you watch the sunset is a luxury that was once only a dream, but is now a reality thanks to Genting Dream Cruise.
With the launch of their Halal section at one of their inclusive restaurants, Genting Dream Cruise has made the dream of cruising into a reality for our Muslim friends, too! The halal food on board is so scrumptious; everyone wants a plate of the Lamb Kurma and Udang Masak Lemak, Muslim or not!
Once again, Genting Dream Cruise has been a true dream. One that I really did not want to wake up from. If you're considering going on a cruise but haven't decide, then try their 2-night package. And believe me, you'll want more. I know I did!