Searching for which hotel in JB to book for your next staycation? We've got a list (that is always updated) with the latest and freshest hotels in JB!
Note: 'Hotel in JB' has been updated with new hotels since its original publishing date in 2016.
You've done it, and so have I: we've all gone on a staycation at one point or another in our lives. Famed as the to-do thing to get away from a stressful work-week, Singaporeans have kindly and most willingly adopted the 'staycation' concept as a part of their lives, and today this concept is increasingly stretching to include hotels across the border (despite the massive jams we've been experiencing).
I go on at least 4 staycations a year across the border and always stay in a different hotel in JB. Besides the value for money, the experience to be gained in Malaysia is unique – different from the daily humdrum of life in Singapore. Here are some hotels for you to consider the next time you decide to check-out of crazy corporate life in Singapore and take a break (even if it's just for a weekend!)
Apart from places to stay, here is also a list of what you can do during a 2D1N staycation in JB.
Hotel CIQ, Jalan Trus
Hotel CIQ along Jalan Trus is a relatively new property, built and established perhaps sometime in 2018. This was initially an old and dilapidated shophouse that has been transformed into a gorgeous hotel with a swanky lobby. The rooms can be quite small, however. And also look out for rooms without windows.
The location of this hotel is quite prime, similar to that of Amari JB. In fact, this hotel is a short walk away from Amari, closer to Double Tree Hilton. While this may not be the hotel to book if you'd like to stay indoors and chill, it's perfect for those who need a nice place to return to after all the manicures and pedicures. The street itself is connected to Jalan Dhoby, which is where you can find most of the cafes in JB. The famous Banana Cake store is also located here.
Bliss Boutique Hotel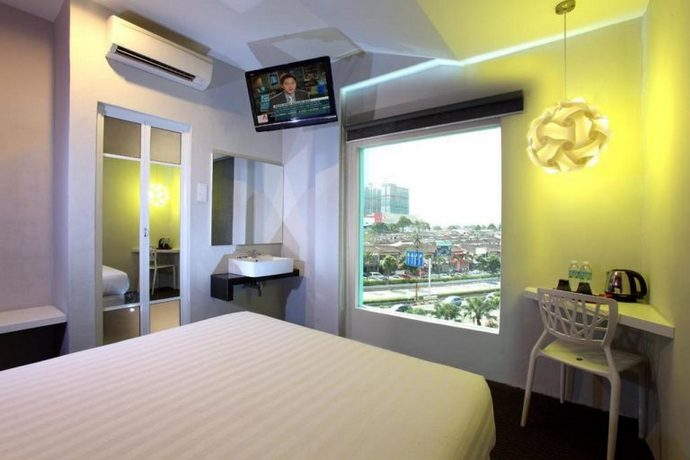 Bliss Boutique hotel is located close to Pelangi, another popular food haunt in JB. This hotel is definitely a grab ride away from the JB CIQ, and close to malls such as KSL and Holiday Plaza. The rooms here are smaller than perhaps some other properties on this list, and this is a slightly older hotel. Bliss Boutique has been on the corner of this street for a long time, along the same stretch is a local prata shop for breakfast if you'd like some.
Bliss Boutique Hotel is walking distance to the JB version of Naughty Nuri's, known as Naughty Bali. There is also a delightful South Indian Briyani shop here, and an Italian Bistro. Lovers of Lavender Bakery can rejoice, as Lavender is a 2-story establishment here. The first floor houses a cafe and bakery, while the second floor has a restaurant for romantic dinners.
Trove Hotel
Trove is a relatively new hotel in JB, visited by many Singaporeans. It's quite conveniently located, and is walking distance from New York Hotel and all the eateries around there. The hotel is clean and tidy, with comfortable beds and a view from every room.
However, they do not provide guests with bottled water. What you can find in the rooms is a water dispenser, so you can recycle plastic bottles. They have a decent sized pool, not too large or indulgent. The space is really lovely during Christmas as they go all out with decorations, lights and even a band that sings and plays Christmas Carols.
You will have to grab from CIQ when heading here, because it's not really walking-distance. The grab will cost you under RM10, which is a similar price you'll be paying when you take grab out to most of the surrounding malls. The nearest malls are KSL City and Holiday Plaza.
Hotel Capri by Fraser
Capri Hotel is another new player on the ground. Its location is convenient, situated right next to the woodlands causeway. In fact, I found this hotel because I booked a room to stay so that I can avoid a massive jam one night, just before a public holiday. The room wasn't cheap ($159 per night) but it was most certainly a very luxurious stay.
The facilities are modern and high-tech, complete with a mirror in the bathroom that lights up when you touch it. There are also fresh toiletries, towels and a very comfortable bed in the room. The view is also an absolute stunner, as it overlooks the causeway and one part of JB Town. I could see the cars lining up to clear immigration up until 4 am.
Location wise, it cannot get any better if you are not intending to stray far from City Square Mall and adjoining Komtar. One can literally walk to this hotel after you've cleared immigration, just up a hill behind the checkpoint. You'll also see that Capri Hotel is attached to a serviced apartment. You can grab out from here to other places, but grab drivers have a hard time finding this location because it's so new.
DoubleTree By Hilton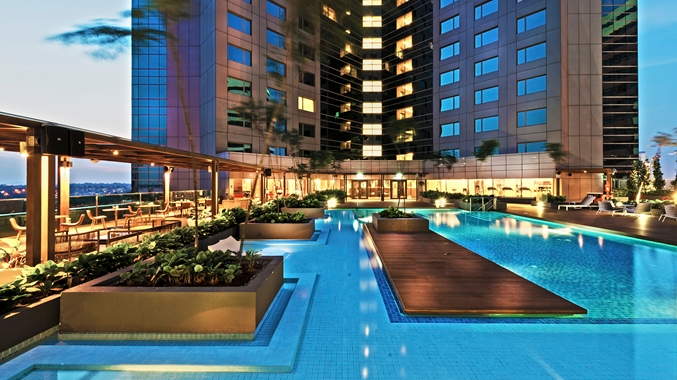 Located smack centre of it all, DoubleTree by Hilton has been providing a doubly pleasing experience. This hotel has a myriad of facilities, including a Jacuzzi, fitness centre, sauna and outdoor pool. This hotel also has facilities in place for guests with disabilities. Starting at $103 a night. Shutterwhale.com has done an awesome blow-by-blow review of this hotel, including a food review of 'Makan Kitchen'. This is the first Hilton Hotel in JB.
Thistle
Thistle is one that looks and feels and is in fact, a five-star hotel but doesn't quite pinch your wallet the same way. A great option to consider if you're planning to vegetate in the room for the entire weekend. They have a really large pool which can be viewed from the hotel's restaurant. I strongly suggest you head out for dinner, as the food isn't quite up to par compared to the rest of the hotel. The rooms have great views of the Straits of Johor (ask for high floors), though, and they surpass the food standards anyway. If you're planning to access nearby shopping centres from here, it's all a cab ride away, so you might want to factor that into your plans.
Grand Bluewave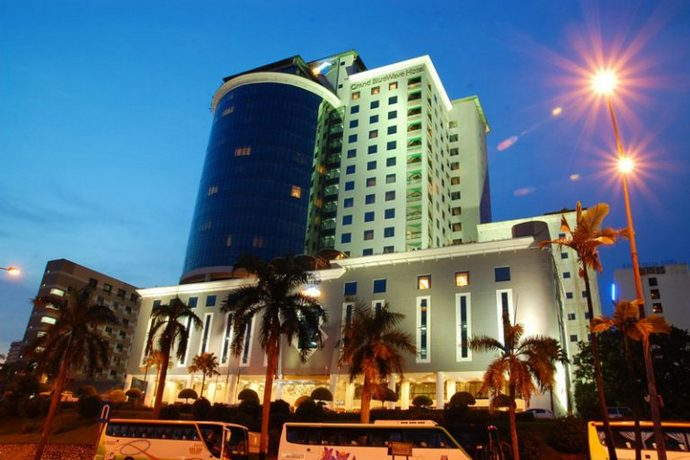 I couldn't resist this hotel because of its rate – $108 per night for a spatial suite overlooking the causeway. This is a fabulous hotel to stay in during New Year's; you'll get undisturbed views of the fireworks. However, I must say that the rooms aren't always kept in the best of conditions. I got a great room, but a friend's room had to be changed (way too dusty). The breakfast spread is also not so great and we did not get the opportunity to try the North Indian restaurant within the hotel. However, it's conveniently located close to City Square Mall, which is just great!
Update: The view of this hotel has been intercepted by the Princess Cove private condominium unit.
KSL Apartments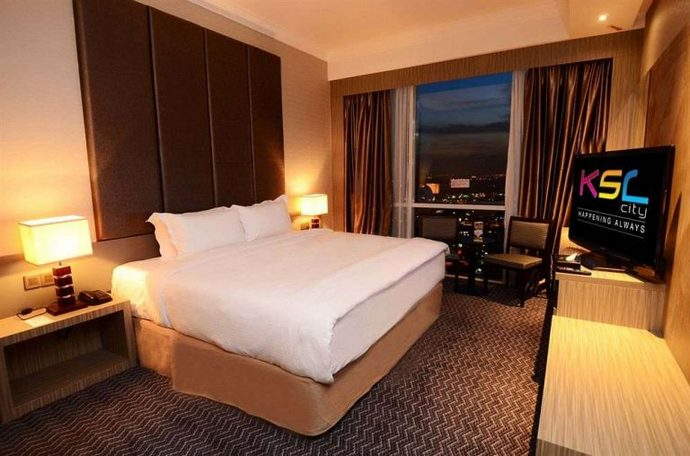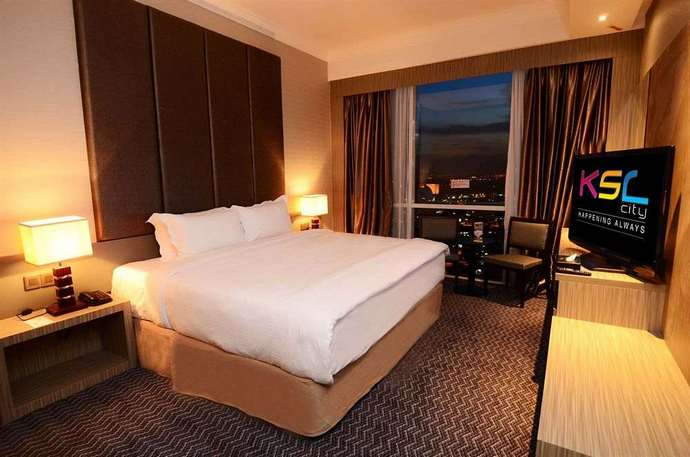 Here's the great thing about KSL: there's a mall (a major one) directly beneath the hotel. And when you're at the reception of the hotel, there is simply no turning back – opulence is the word to use here! The plush and royal looking cushions are a precursor to what the room actually is – an extension of this luxury. The KSL hotel rooms are carpeted and fitted with necessary amenities such as coffee machines and bathtubs. The KSL Apartments is a private residence that is owned by the KSL hotel group and can be rented for your stay. While it doesn't include breakfast, this is a cheaper and more spacious option for 3 or 4 of your friends. Plus, the mall is perfect for all the things you need to get done – such as replacing the screen protectors of your smartphone.
Trader's Hotel, Puteri Harbour
This one is a little away from Johor City Centre and is more easily accessible from Tuas second link by car. You can still get here by taking the bus into JB and then hopping into a taxi to get there. If you're going from JB Town (which is where you will end up if you go to JB through the woodlands checkpoint), then the cab fare is going to cost you about RM50 to RM60. When you go via Tuas, you can take bus CW6 from Boon Lay MRT Station to get into JB, then take a taxi from Gelang Patah or Bukit Indah. Either way, this hotel is an experience not to be missed.
A 2D1N stay here is all you need to get away from the buzz – did I mention it's right next to a tempting body of water? If you're doing this as a family or with a large group of friends, then Legoland is very close by – just a taxi ride away. Head out for a day of crazy fun at the theme park and then head back to unwind in your room – which comes complete with an 'evil' bed that you cannot get out of and a bathtub to soak your cares away!
Hotel Grand Paragon, JB City Centre
I've stayed at Hotel Grand Paragon on more than a few occasions. In fact, it's now my go-to hotel in JB. This property is not quite close to city square – you have to take a cab out from City Square to get here and if you'd like to get out from here to explore other places, a cab will have to do. However, this hotel is a stone's throw away from KSL Shopping Centre and Holiday Plaza. You can literally walk out of your hotel to these places! If you're into night markets, you can visit the night market just outside KSL on the weekends. This hotel has decent rooms, clean bathrooms, plenty of hot water and a good wifi signal – something we all need.
Amari Johor Bahru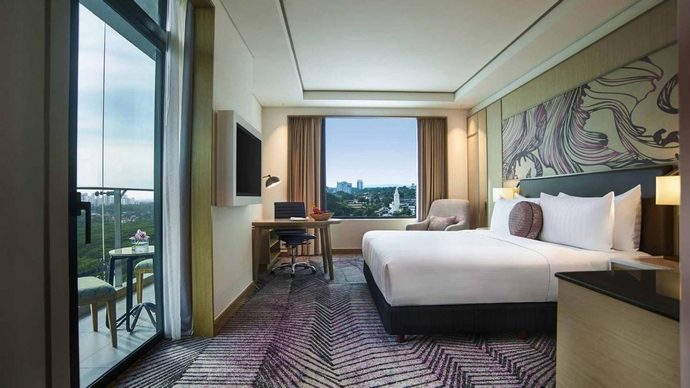 If you've stayed in Amari Bangkok before, then this won't come as a surprise. Amari is conveniently located next to Komtar in Johor Bahru. The main entrance for the building faces Jalan Trus, which is on the other side of City Square.
The rooms are incredibly clean, polished and come with fantastic room service. What works for this hotel is its location; you can pretty much walk over from the JB CIQ via Woodlands checkpoint, and walk around the area to get your fill of cafes, local food, shopping and night markets, too. If you're looking to visit malls that are a little further, such as Holiday Plaza or KSL Mall, you can get a grab for about RM7.

Hotel Granada, Gelang Patah/Legoland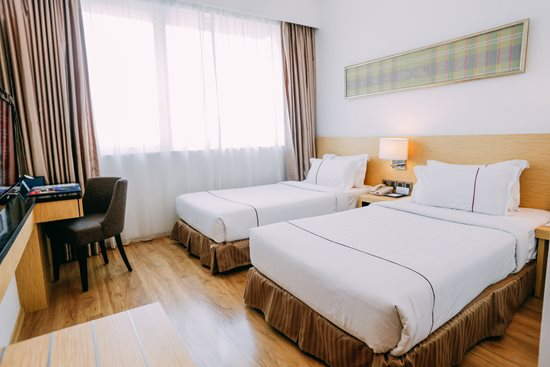 Hotel Granada is located on the other side of Johor Bahru, so it's convenient for when you want to go into JB via Tuas. This is a 4-star hotel with more than decent amenities, a clean environment and commendable room service.
However, the real draw of booking a room with this hotel is in its location, which is right next to Aeon Bukit Indah. This mall is quite large, even by Singapore standards. You can find everything you need here, from groceries and stationary to a Starbucks. They even have a J.Co Donut place, so you can buy some munchies back to the room to Netflix and Chill, if you're into that.
Bukit Indah also has a nice massage place around the corner from the McDonalds, if you need the respite from the usually taxing trip into JB.
Mutiara Johor Bahru
Mutiara is not a new hotel, it's actually been around for quite a while. This is a classic hotel situated right next to Holiday Plaza, where you can get your hair and nails done. Holiday Plaza is also one of the places to get a nice, authentic Thai Massage. Everything from the lobby to the room designs is classic, in this property. Aside from being walking distance to Holiday Plaza, you can also just walk across the street to the House Of Sweets – they sell all kinds of knick-knacks here, ranging from Julie's classic peanut butter biscuits to chocolate teddies.
Holiday Villa JB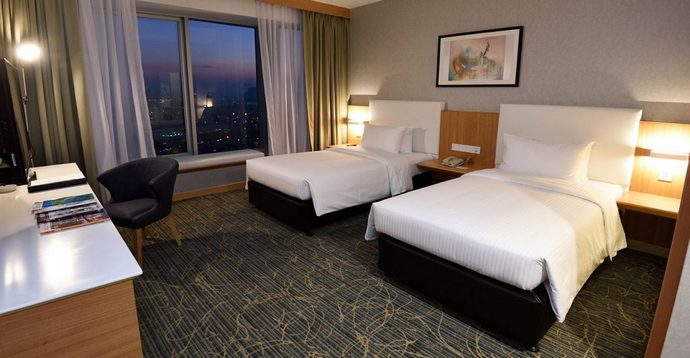 This is a reasonably new hotel. It has a Thai cafe (Doi Chang Cafe) on the first floor just outside the reception and a Thai massage parlour across the property. Holiday Villa is also located close to KSL and Holiday Plaza, should you want to head out for some shopping.
Hotel Granada Johor Bahru
Hotel Granada is one of my favourites, as its away from the main area of JB yet you don't have to travel too far to get there. This hotel is close to the Tuas Second Link Causeway as opposed to the woodlands one. If you're going in via woodlands, you can take a cab here in under 20 mins. You may not want to get out of this area once you've checked in, as there is plenty to do (and eat) here. For starters, the AEON mall is just next door to this hotel, so if you're looking to shop, this is your area. The nights here are pretty cosy as well, with many shophouses in the surrounding area housing brick and mortar restaurants. There are a few cafes around the area, too!
Midori Concept Hotel, Tebrau
The Midori Concept Hotel is nowhere near JB Town – it's a good 30-minute cab right away. But its also a great hotel for families. They have triple sharing rooms in the very green friendly hotel. While the map may make this place look residential – don't be fooled. The Midori Concept Hotel is right next to Austin Heights Water and Adventure Park – a theme park for the whole family. Just further down the corner of the road where the hotel is are several eateries. You can easily spend a whole weekend here.
So there you have it, 10 beautiful and central hotels for your next JB staycation. Have an alternative suggestion to the hotels? Let me know, comment below!