Sothi is a coconut milk gravy, made in a very Singaporean way. It's got a little bit of everything; here's how you can make this at home!
Sothi may not be Indian in inspiration, but it certainly is Indian once you've had it! As a largely Singaporean and Malaysian invention, Sothi is a creamy and rich coconut milk curry, made with a hearty helping of vegetables, tofu, prawns, and black fungus. Yes, you read that correctly!
Sothi was a luxurious indulgence growing up; my mother made this on special occasions. Not that it was incredibly expensive to prepare, but it was and still is quite an indulgence, flavour-wise. Owing to the rather quietly smooth flavours of this curry, sambal or something fiery seems to make the best companion when this gravy is served up, with rice of course. If you're not having this with sambal, add a touch of heat with 2 chilli padis that can be fried with the ginger and garlic.
Here's a recipe for hot and spicy sambal!
Coconut milk
Coconut milk is used liberally in this gravy. In the past, coconut milk has always been given such a bad rep for being cholesterol-heavy and quite bad for you. Come to think of it, this is probably why we had it only during special occasions! Thanks to the power of research, we can safely dispel the rumours that coconut milk consumption will buy you a ticket on heart-attack express!
Recent studies have proven that coconut milk can indeed be good for the human body. It contains a significant amount of HDL or good cholesterol, which can help to balance out and reduce LDL; the kind of cholesterol we'd like to avoid.
Vegan
This dish is versatile and starts with a vegan base! You can of course add meat if you like, although I've only even had it vegetarian or with prawns at most. If you'd like to add prawns, toss in some fresh, peeled and deveined, prawns into the pan when frying up the vegetables.
You can get Tahu Kering mix from a packet in the wet market, and sometimes NTUC. Sothi is just lemak curry without this special ingredient, so I would recommend making the effort to go find it before making this curry. In each packet you will find dried tofu skin, small strands of beehoon and a small amount black fungus. All of these can be soaked in tap water, then added to the hot pan.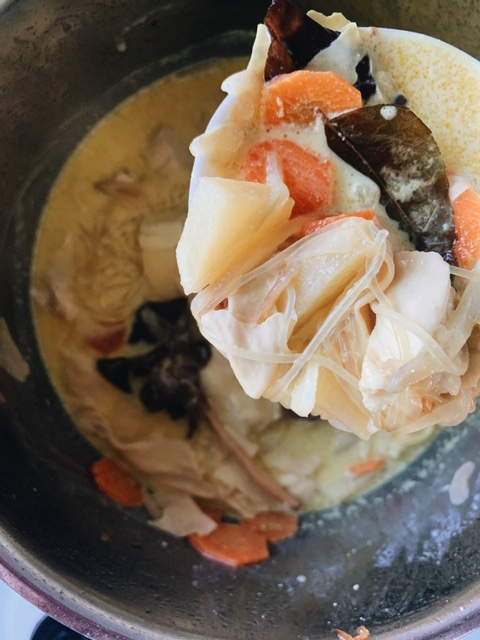 How to make Sothi
Course: Main
Cuisine: Indian
Difficulty: Easy
Sothi is a coconut milk gravy, made in a very Singaporean way. It's got a little bit of everything; here's how you can make this at home!
You'll need;

1 Packet Tahu Kering Mix


3 Tbsp Coconut Oil


1 Tsp White Mustard Seeds (or black)


1 Medium Red Onion, peeled and thinly sliced


2 Cloves Garlic, peeled and thinly sliced


¼-inch piece Ginger, peeled and thinly sliced


1 Medium Potato, peeled and cut small, thin squares


2 Medium Carrots, peeled and cut into thin circles (same size as potato squares)


1 Small Tofu, cubed


100 ml Water


200 ml Coconut Milk


1 Tsp Turmeric


½ – 1 Tsp Salt (to taste)
You'll need to;

In a large bowl, cover the contents of the Tahu Kering Mix packet with water. Leave to steep while you prepare everything else.

In a medium-sized, non-stick saucepan, heat the coconut oil over medium flame. Add the mustard seeds and wait for them to bubble slightly, before adding the sliced onions and frying till they turn soft. This will take around 2 minutes. Then, add the garlic and ginger. If you're adding chilli padi, this would be the time to do so. Continue to saute till fragrant.

Add the potato, carrots and tofu. Fry in the hot mixture for 2 minutes, taking care not to break up the tofu too much. Clamp on a lid and reduce the heat to a very slow burn. Leave for 2 minutes. Then, remove the lid and add the soaked Tahu Kering items. Stir through to mix evenly, add the 100 ml of water, and cover to cook for a further 2 minutes.

Uncover and check to see if the vegetables are cooked. When your fork goes through the potato slice, add the waiting coconut milk and give it a good stir. If you find the gravy too thick, add some water to dilute the mixture. At this stage, add the turmeric and salt and stir through.

Wait for the coconut milk gravy to simmer slightly, and switch off the stove. Your curry is ready! Serve warm with rice and of course, spicy sambal!