Hua Hin is a beach destination where locals go to unwind over the weekend. Here's what you can do while in Hua Hin!
Hua Hin is a popular beach spot for locals and foreigners alike. Locals visit during long weekends, so if you're travelling here during an especially long weekend, you'd better beware of the traffic.
Useful links:
Long car rides aside, I would recommend travelling from Bangkok to Hua Hin to anyone who is looking for a break from the bustling city that is Krueng Thep Maha Nakhon. Usually, about a 2-hour car ride away, visitors can find almost pristine beaches with friendly tides, historical landmarks and nature-centric activities to venture while here. A reasonable time frame would be 3 days, and 2 nights.
Getting to Hua Hin
Depending on when you're taking a car down, the road trip can take you anywhere between 2 to 6 hours. The traffic on this route can be unpredictable, and the roads aren't wide enough to accommodate many cars. The ride here can take up to 5 or even 6 hours during long weekends. I'd recommend using Google maps for an estimate of how long it'll take you.
Another way into this town will be via train. You can book any class of train tickets that'll carry you from Bangkok's Hua Lamphong train station to Hua Hin's historic train station (more on that later). Booking the train tickets can be a complicated process, as most websites are dodgy at best – going to Hua Lamphong train station directly to buy a ticket is your most reliable bet. Taking a train would mean a standard 4-hour ride – no jams to think of.
If you'd like to book train tickets, you can try this website.
You can also consider taking a bus; tickets can be purchased at a minimum of 50 baht, which is $2. However, different service providers have different routes, stops and subsequently time frames to reach your destination.
The best way here is to book a car – even if you get caught in a jam, at least you'll be comfortable! This is how I chose to travel to Hua Hin, and this is the website I used.
Where to Stay in Hua Hin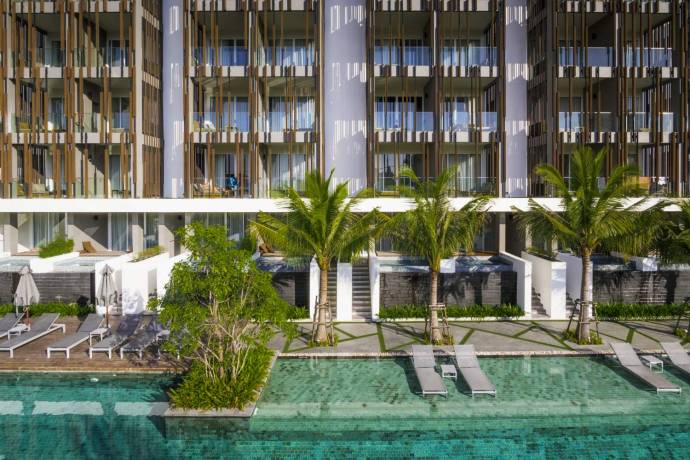 There is no shortage of luxury and/or budget-friendly resorts here, with big names like Marriot and Holiday Inn alongside local brands like G Resort Hua Hin. Each resort or property brings something new to your experience. Expect to pay more for resorts that line the beach – these are more premium and charge a high rate, especially for rooms that face the sea. However, bear in mind that the beaches aren't anything like what you'd find in Krabi or Phuket. Think more Desaru than Bali.
As with any destination, location is everything. I stayed near the Hua Hin Market Village, which turned out to be a fantastic location. Everything I could need as a tourist was available within 100 to 300 meters of walking distance. I found a laundry place, 7/11, a mall with a Boots and Pizza Company, and even had a fantastic pizza lunch near my hotel.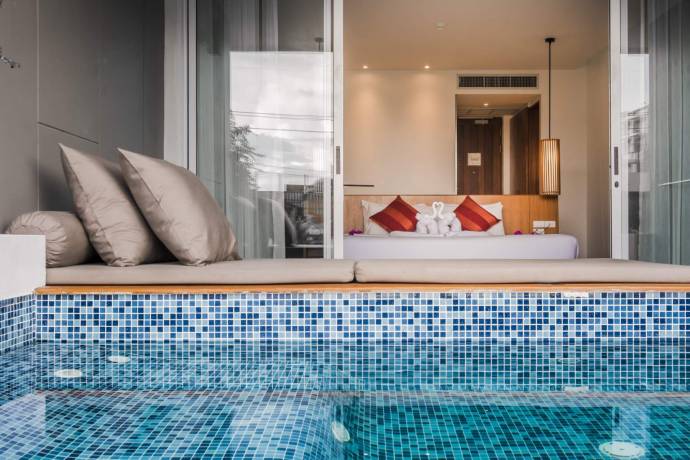 I stayed in G Hua Hin Resort and Mall, which set me back about SGD 90 per night. It was totally worth it, as I got a very spacious room with a large balcony facing the pool down below. The room was quiet, with very attentive staff who'd take care of you like family. I opted for breakfast in the hotel – this was not too bad if you're into Thai food for breakfast. I was quite happy with my stir-fried spicy rice noodles and Pad Krapow in the morning. If you prefer a western fair, the attached mall has cafes that serve western sandwiches and lattes.
What to do in Hua Hin
Hua Hin is a treasure trove for people who are into nature, from the expansive shoreline to caves and nature walks. While most people visit the beach, you can hire a car or private tuk-tuk to visit several hot tourist spots, including Khao Saam Roi Yot, a number of temples and even night markets!
Night Markets
The night markets here are pretty awesome, I daresay they are better than some in Bangkok. Tamarind night market is filled with many exciting and new food options, each stall more innovative than the last. You can find common local favourites such as Pad Thai and Tom Yum stalls, but also unique ones that sell soft crepes enveloping interesting ice cream flavours.
The Hua Hin Night Market is the main night market in this town, though I would say it's not as big as the Tamarind or Cicada Market. The Cicada and Tamarind Markets are located next to one another, literally 50 metres away. The Cicada market operates on coupons. There's a counter at the entrance where you can exchange your baht for coupons, and then use these coupons to buy food, drinks and other items. Don't worry about having to finish spending your coupons though, you can exchange them back for cash before you leave.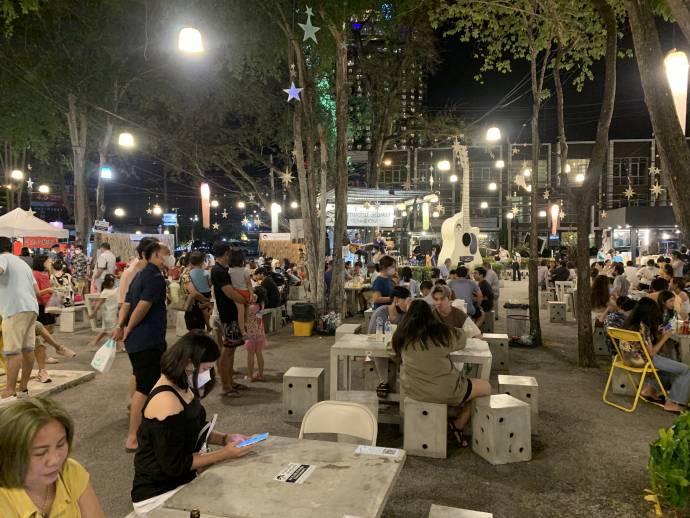 This market sells everything from clothes, shoes, bags, little trinkets and lots of food. If you're into pineapple jams, check out the store right smack in the middle of this market – they specialise in various kinds of pineapple jams. Probably because pineapple fields can be found in abundance in this area of Thailand, you'll even see them on the way to Kao Saam Roi Yot!
Being one with Nature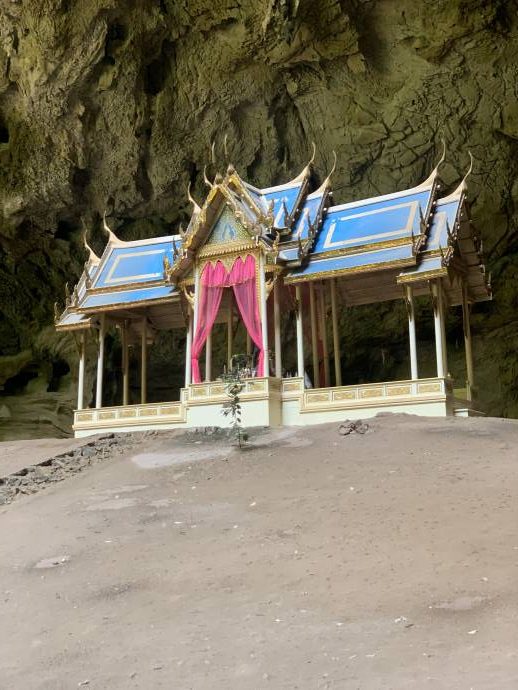 Kao Saam Roi Yot means 'Mountain with 300 Peaks'. Essentially, it refers to a National Park with a mountain range about 40 mins away from town. This mountain range houses many points of interest for nature lovers, such as mangrove swarms and caves begging to be explored. In addition to wildlife and bird watching activities, travellers can also explore the Phraya Nakhon Cave. This is easily the highlight of the National Park due to the four-gable roofed royal pavilion called Phra Thinang Khuha Kharuhat – a 200-year-old pavilion built in the year 1890 for King Rama IV (that's King Chulalongkorn).
I must provide a fair warning though; this cave is NOT an easy hike. I hardly have any exercise under my belt so climbing up this hill for 45 mins was quite a challenge. I was also not dressed for the part. So if you're planning to do this particular activity, I would recommend wearing dry-fit clothes and doing a warm-up. I still don't know how I went up and came back down in one piece.
I hired a private car to bring me to these attractions, and this is the company I used.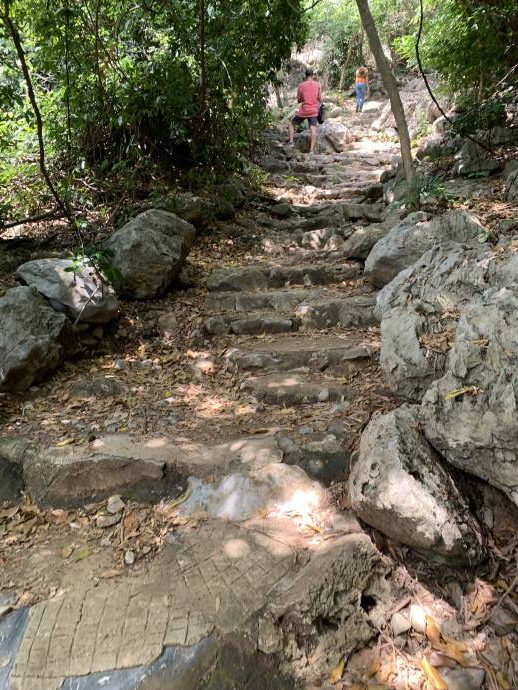 The Hua Hin Railway Station
This railway station is one of the oldest ones in all of Thailand, and it's the only one to feature a Royal Waiting Room. This room is still standing today, though unfortunately, my Kween status did not qualify me to be waiting in the room. Also, if you're taking a train to Hua Hin as mentioned at the beginning of this article, then this is where you would have to alight!
The train station itself is pretty basic and highly old fashioned, but that's part of its eloquent charm. If you're in the area, I would recommend visiting this station and taking a photo next to the waiting room!
Rajabhakti Park
This is another unique attraction in Hua Hin that's a must-visit. You can't miss it anyway because it's on the way to the Kao Saam Roi Yot. Although called a park, I wouldn't recommend walking around here as the sun will probably zap your energy rather quickly. This attraction is mainly 7 statues created to honour some of the notable kings of Thailand. It's an impressive monument, with each statue measuring up to 14 meters in height.
I visited in the afternoon when it was extremely hot. You could try to visit this park in the morning when it's generally less hot.
Why Hua Hin
Hua Hin is the less risque version of Pattaya, suitable for families with children and couples on their honeymoon. Some of the resorts here are all-inclusive, so those looking to have a weekend retreat from Bangkok can do so at their leisure. Aside from the awful traffic (depending on when you choose to travel), Hua Hin can be a nice experience!