Ikan Kichap is a classic Malay dish cooked in most Asian households. This doesn't have to be hard – Ikan Kichap is super easy to prepare during the weeknight!
Ikan Kichap: The concept of 'Kichap' is so common in malay households. It denotes a dark, almost treacly sauce that's both deeply salty and intensely sweet. Kichap refers to Soy Sauce, which lends this dish it's signature dark colour. This sauce has been applied to many dishes, including chicken and vegetables.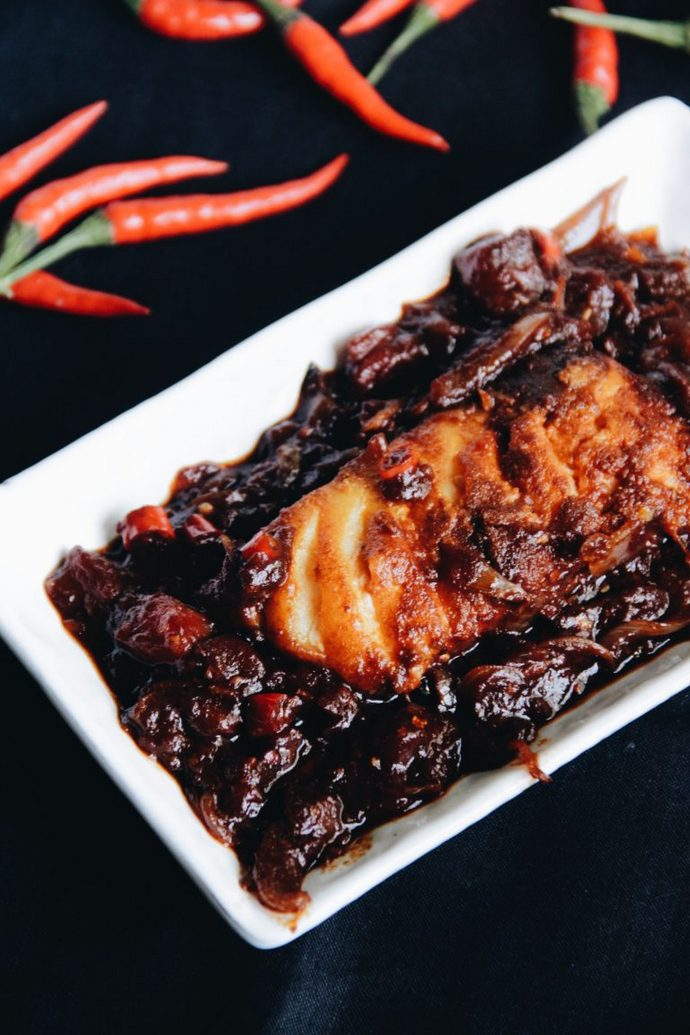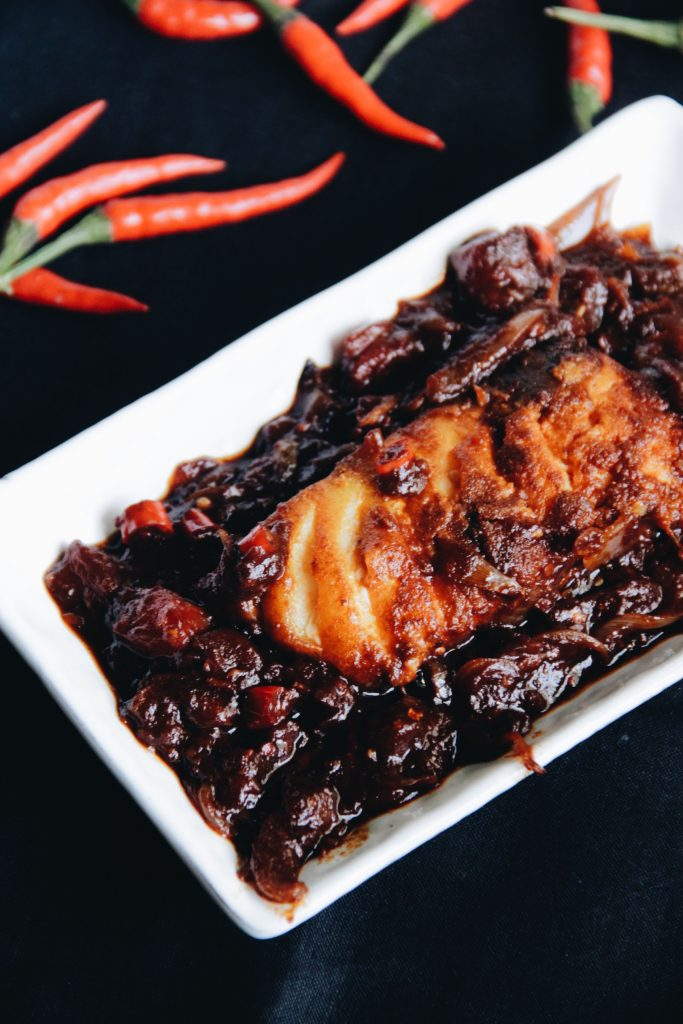 I have always enjoyed eating this, under the impression that it's very difficult to prepare. Oh how wrong I was. Not only is this easy to prepare, there are a multitude of ways to put this together! You can chop onions to fine, tiny bits like I did with my Chicken Kichap, or leave them sliced like I have here.
The Sweet
The sweet element here comes from half a can of tomatoes and 2 Tbsp Kichap Manis or sweet soy sauce. The can of tomatoes can be replaced with fresh ones, but the flavour will of course differ. Canned tomatoes tend to be more tangy, due to their concentrated nature. Because I have used only 2 fillets of Cod here, I used half a can of chopped tomatoes. You can substitute this with 1 large chopped tomato, or two medium ones. I also like a thick gravy with my kichap, you can reduce the tomatoes if you're not a fan of the gravy.
The Kichap Manis here is irreplaceable. It's thick consistency gives enhances the depth of this dish considerably. You might notice that there's no salt in the sauce; this is because the kichap ingredients are very salty on their own, no sense in adding salt to soya sauce.
The Fish
I have used Cod fillets here because I love Cod and there was a sale in NTUC for frozen Cod fillets. Typically for Ikan Kichap, white fish work great. I wouldn't use salmon or similarly oily fish, as they seem to carry their own flavour profile that may clash with the taste of the sauce.
Always remember to fry the fish before hand, then add them to the cooked sauce. The concept here is to enjoy a whole chunk of fish that's been doused lovingly in this deeply delicious sauce.
Ingredients
For the fish
200g Cod Fillets (100g each)
2 Tbsp Turmeric Powder
2 Tbsp Chilli Powder
2 Tbsp Fish Curry Powder
1 Tsp Salt
Enough Oil to shallow fry the fish

For the Kichap Gravy
2 Tbsp Vegetable Oil
1 Medium Onion, peeled and thinly sliced
3 Cloves Garlic, peeled and minced
½ Can Tomatoes
2 Tbsp Dark Soy Sauce
2 Tbsp Sweet Soy Sauce
1 Tbsp Oyster Sauce
1 Tsp Sugar
Method
Start by marinating the fish with the turmeric, chilli and curry powders, and salt. Set aside. Heat enough oil in a pan to shallow fry the fish. It is essential that the oil is hot when you lower the fish into it, simply because this will keep the fish from turning soggy later. Test the oil by dipping a chopstick into the oil – if it fries, it's ready. Hoist in your fish (taking dramatic license here), cover and fry till cooked on one side. Then, uncover and flip the fish to cook the other side. Cod cooks relatively quickly, so this shouldn't take more than 9 mins in total. Keep checking to make sure the fish doesn't burn.
Once cooked, set the fish aside on a couple of paper towels, placed on a plate. Get to work on the sauce.
Heat 2 Tbsp oil in a skillet and add the onions. You can have the heat at medium for this part of the dish. Cook the onions until tender and soft, about 2 minutes. You can add a pinch of salt to prevent the onions from burning. Then, add the minced garlic. Smoosh the minced garlic around in the heat, making sure that it's well spread out among the onion slices. About a minute later, add the canned tomatoes (or fresh ones if that's what you're using). To this, add the dark and light soy sauce, oyster sauce and a teaspoon of sugar.
Mix thoroughly and then add the fish back into the thick gravy. Carefully (without breaking up the tender fish), turn the fish over in the sauce. Turn off the heat and leave covered for about 5 minutes. Then, serve warm with a smattering of fresh coriander leaves. Perfect!