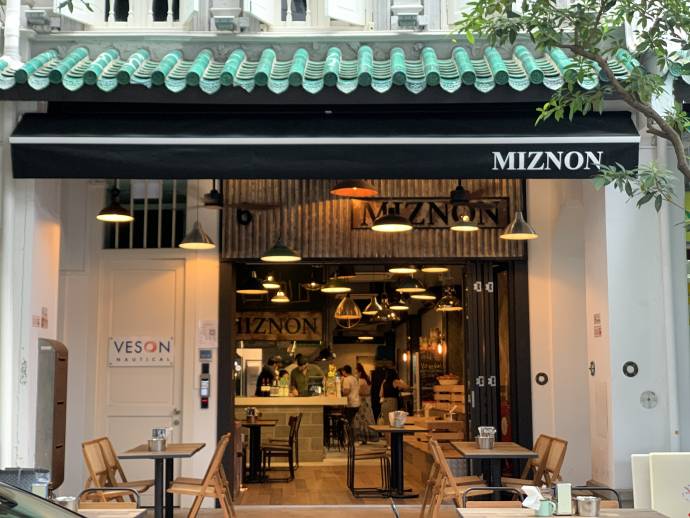 Miznon is helmed by Israeli chefs who enjoy loud music, the finest ingredients and messy, eat-with-your-hands food. So you know this is going to be an experience to remember!
Miznon is a spankin' new eatery located in the heart of Singapore, in Telok Ayer. Joining the ranks of other popular haunts in the area, Miznon brings the beat of Israel to Singapore with memorable food made with love and restaurant vibes that you'll be talking about on your way home. Although it opened its doors about a month ago, people have been clamouring to get a taste of everything Chef Eyal Shani has to offer. The Miznon brand has seen successful openings in major cities such as New York, Paris and Melbourne.
The Pita and The Sauce
The menu at Miznon has two primary categories (three if you count alcohol and drinks, of course); 'Pita' and 'Out of the Pita'. Needless to say, the star of Miznon is the pita bread. The pitas are made out of a unique blend of flours, resulting in nutty and yet pillow-soft pita bread. The superior hand-made quality of the pita makes it leak-proof, even though it comes to the table STUFFED with a delicious filling. 
I am a HUGE condiment freak; I literally put a little of whatever sauce available on the table in my food. Not intending to insult the chef or whatever, I just like my food with sauce! Miznon makes tahini so good, I felt angels singing when the tahini touched my lips. You may think I'm exaggerating, and perhaps I am but oh-my-god I could eat this Tahini with everything. It does have the requisite nutty flavour, but it's also smooth, melting and warms your soul. Now these qualities, not so easy to find in other tahinis.
Anyway, enough about my obsessions with Tahini. Here's what you can order in Miznon!
Ratatouille Pita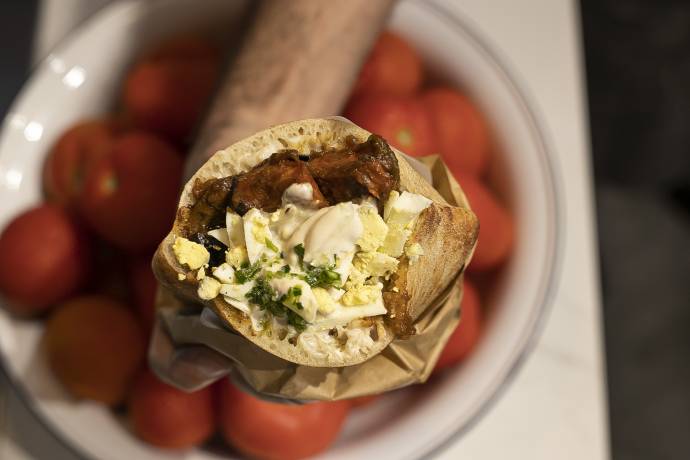 Diners looking for meatless options can enjoy this pita stuffed with chopped hardboiled eggs, eggplant, zucchini, tomato, carrot and onion stew. This dish serves everything you want in a pita; texture, flavour, and happiness. They serve their pitas just chock-full of mouthwatering filling, and this was the first one I tried. The eggplant is so soft and almost mashed, while the chunks of zucchini provide a bite in every other mouthful.
Chicken Liver Pita
I'll start by saying that I am not a fan of chicken liver. I avoid this when my mum cooks it, it cannot even touch the rest of the food on my plate. However, the chicken liver here has a surprisingly buttery texture. I tried a small piece (given my history with chicken liver). I experienced an almost foie gras like buttery melt on my tongue, with the seared edges of the liver giving a chewy, almost burnt umami flavour. It was a very good way to enjoy liver, and I actually ate it without the pita! I still won't willingly order a chicken liver dish anywhere, but I will surely pick at this when my friends order it!
Baby Cauliflower Flower
A whole roasted cauliflower is so trendy, but I have never had it served so simply before. This cauliflower is simply roasted, whole with its leaves curling around the sides like on a cookbook cover. The cauliflower is seasoned with olive oil, with a very precise measurement; however much you can hold in both the palms of your hands. The finished dish is charred on the top and deliciously creamy and soft underneath. What a surprising treat this was!
Hraime
Hraime is a Barramundi fillet stew, where the fish is braised in a Moroccan-style stew with garlic, paprika, cumin and harissa or fermented red chilli. This dish comes to table still merrily bubbling away in its skillet, with a side of their signature pita and of course, my favourite tahini! I spent most of my time during the tasting just dipping the bread into the tahini, as I'm sure you will too. The fish used here is really fresh and carries the flavours of the stew very well. If you're a fan of the Mediterranian Shakshuka, this dish is served in a similar fashion and just as irresistible. The friendly staff at Miznon can put this into a pita if you request for it.
Now you have the low-down, and know what to expect. But here's a summary: solid Israeli street food with fresh ingredients and inclusive options for vegetarians and vegans. Diners will hear this restaurant before seeing it, the music is upbeat, trendy and definitely inviting. When are you heading to Miznon?
Miznon Deets:
Address – 6 Stanley St, #01-01, Singapore 068725
Operating Hours – Monday to Saturday, 11am to 11pm
Reservation Number – 6223 0716