Caffe B is a fine dining restaurant in the heart of town with a unique blend of flavours: Japanese and Italian.
I first came across Caffe B in Marina Bay Sands back in 2014, when I had gone there for a tasting. I remembered the food to be immaculate and well presented, and the ambience to be very classy. Caffe B at Club Street is no different, food and interior wise.
The restaurant has 3 floors, with a bar on the ground floor (with alfresco seating), a private dining area on the 2nd floor and another dining area on the topmost floor. The setting is really private and exquisite – you feel like you're there with your companion alone, regardless of the place being packed with people.
This intimate setting is paired with extremely attentive staff who know their menu inside out. Starting with the cocktail menu (like all great beginnings), the staff are able to recommend you what you should have based on your preferences, from the cocktails to the wines.
This is a fine dining place and it is noticeable immediately. Each dish was served with a flourish of decor, mirroring the complex flavours packed into them.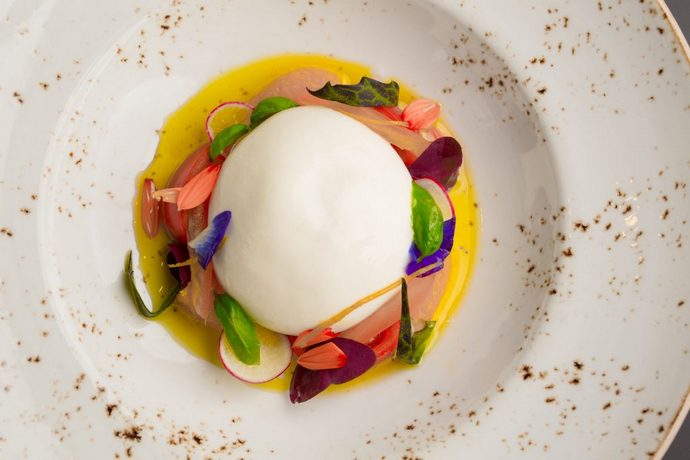 One of my favourites was the Burrata Cheese. Burrata Cheese is actually Mozzarella, just before the cheese turns into Mozzarella. Its soft but not stringy, and very, very indulgent. This luscious cheese ball (quite a generous helping of it) is served on an arrangement of fresh garden tomato salad. You might think this to be a simple dish, but the flavours are so amazing that simplicity is the best way to go for this.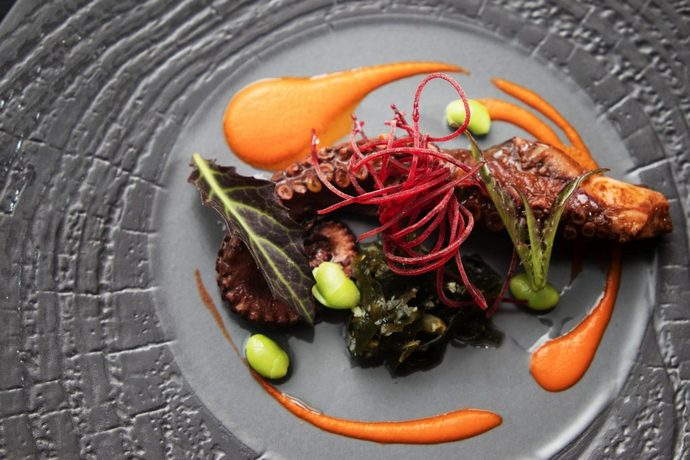 Another antipasti that is right up there on the must-try list is the Espelette Octopus Salad. This features a Spanish octopus tentacle marinated in espelette, a French chilli pepper. The heat is so mellow, you hardly notice it. Along with the espelette, the octopus tentacles are also marinated in lemon juice, burnt capsicum puree and champagne vinegar along with other exquisite ingredients.
The Farmer's Egg is also a dish that cannot be missed here, especially if you're one of those who loves a runny yolk and sea urchin. A half-cooked, perfectly creamy egg is served with Shio Konbu Seaweed, lemon jam, edible flowers and topped with intensely salty sea urchin meat. You can taste the ocean, literally, in an egg.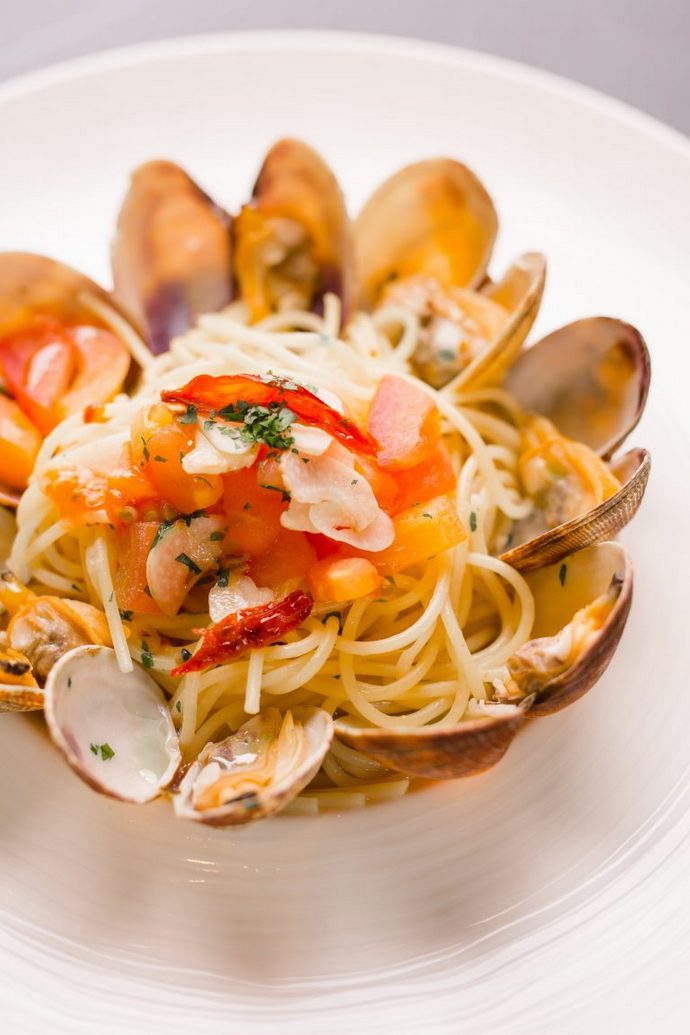 Also, try the Vongole Spaghetti. This is another dish the emphasises on simplicity and doesn't fail to deliver. Fresh clams are used in this dish, tossed delicately with the pasta, herbs and olive oil. The ingredients are kept simple while the flavour is served up in full glory.
Check out the latest Vegetarian Pasta recipe from thecraversguide.com!
For dessert, try the La Mousse, which is served in a wide bowl. This is really large chunks of sinfully chocolate brownies topped off with delicious Vanilla Ice Cream. I know it sounds very simple and it truly is. However, after a long line-up of fancy food, the palate does prefer something simple to kiss the meal goodbye – and that's exactly what this dessert was.
In addition to all the dishes described above, the menu comprises of other sinful desserts that you have to try. And the wine and alcoholic beverages more than help anyone who wants to recover from a long week.
Where to next? Caffe B, perhaps?