Jeera Rice is simply Cumin Rice. This easy recipe can be made by anyone and is a fun way to add some colour into plain white rice. 
Jeera Rice is an interesting thing – you either like it or you don't. I personally love it, while my sister doesn't. Jeera, or cumin, has a world of properties with resulting benefits for the human body. 
Benefits
I was told by an Ayervedic enthusiast that I should add a teaspoon of cumin seeds to a cup of hot water every night. Then, drink that water in the morning. Apparently this helps with digestion. Alas, I cannot personally testify this because I quite dramatically lack the discipline to make this happen. However, one can tell the far reaching impact of cumin seeds by this simple tale. 
Cumin seeds are known to help the human body in a number of areas, including improving digestion, blood cholesterol and inflammation, reducing the risk of diabetes, and coping with insomnia, among others. 
Tempering
Tempering spices is an important part in Indian and Malay cooking. Tempering really means just roasting the spices, or lightly frying them in hot oil. This helps to shock the dry spices and release their pungent flavours, making the spices more aromatic. 
In addition to this curry, other curries might also require that you either dry roast or temper spices in ghee or oil before adding the main ingredients. My chicken biryani, for example, involves tempering spices in hot oil before adding onions and other aromatics.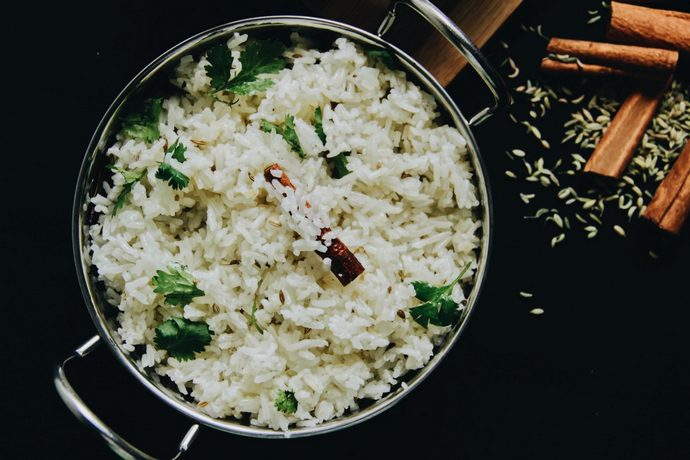 Ingredients
2 Tbsp Ghee or Vegetable Oil
1 Tsp Mustard Seeds
1 Bay Leaf
1 Cardamom Pod, cracked
2 Cloves
1 Star Anise
1.5 Tsp Jeera (Cumin Seeds)
1 Cup Rice, washed and set aside
1.5 Cups Water
Method
In a medium saucepan, heat the whole spices over medium heat until the mustard seeds start popping and there's a rich, spicy fragrance in the air. Then, add the washed rice followed by the water. Stir to mix well. 
Partially cover and bring the pot to a rolling boil. When this happens, reduce the flame immediately to the lowest possible flame and continue to cook, covered, for 10 to 12 minutes until the rice is fully cooked and all the water has evaporated. 
Serve warm with Fish Curry or Chicken Kurma.