Bangkok is an obsession for me, and every time I go there I have to find something new to do. It's not very hard, there's always something going on in BKK. This time, I took a day trip to Kanchanaburi, about 4 hours away from downtown Bangkok.
A small disclaimer: since my experience in Kanchanaburi, I have actually returned to Bangkok twice. While my obsession with Bangkok still has not waned, this will be one article where I don't wax lyrical about one of my favourite cities in the world. Here's how I got to Kanchanaburi, and what I did there!
Thinking of where to stay in Bangkok? Here's a guide you could use! 
Booking a tour
Before heading to Thailand, I scoured a wide variety of tour providers on the internet. The issue that I was facing was the price point, every single tour was charging me close to 3000 baht per person, and there were two of us. I had challenges finding one that was within my budget, even though I did not mind taking a minibus and going in a group of people.
Thankfully, my google research paid off and I was able to find a tour company that supported my request, at Asia-Discovery tours. Each of us paid THB 1250, close to SGD 70. This didn't strike me as exorbitant for a full day tour inclusive of lunch. While breakfast is not included, the pick up was still at 6.30 am.
I strongly advise you to get some buns and coffee or juice the night before to keep you filled up during the trip. We got a driver who kindly stopped at a 7/11 store on the way to Kanchanaburi, so we could stock up on some water and food to tide us up until lunch. The drive to Kanchanaburi is about 4 hours, give or take 30 minutes depending on traffic conditions.
Our tour included a visit to the Kanchanaburi JEATH War Museum, the Death Railway, the bridge over River Kwai and the street stalls along the railway. There's also a trip to the Memorial Cemetery, which we couldn't make due to heavy downpours.
Kanchanaburi: A History
Kanchanaburi is a town in the Western part of Thailand. While known for its Death Railway, Kanchanaburi is an actual small town in its own right. There are people who live here and spend time making a livelihood for themselves and their families, so it is possible for you to stay in Kanchanaburi for a night or two during your trip.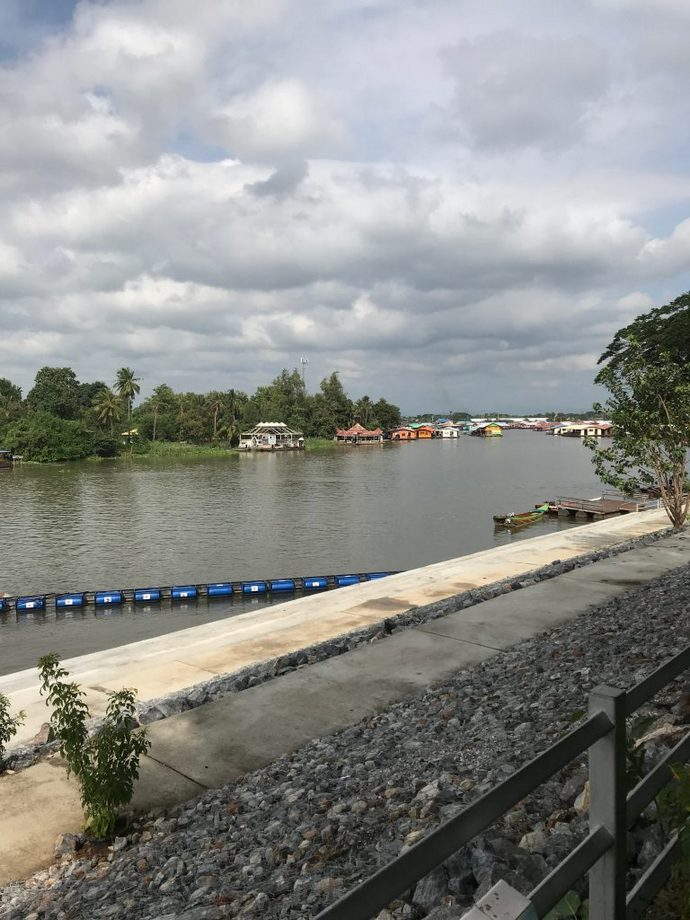 However, I wouldn't advocate it. Not just because I did not stay here, but also it is possible to catch everything that you ought to see at this town without having to lug your bags up and down to check-in at yet another hotel. Besides, Bangkok city has so much more to do than Kanchanaburi.
If you're not into taking a tour bus to Kanchanaburi, you can always catch a local train at 100 baht per person. Two train services run from Bangkok's Thonburi Station to Kanchanaburi, at 7.50am and 1.55pm. The train ride is about 2 and a half hours, and you get to pass by the death railway, though you'll actually be on it so you might not be able to see much.
This railway was a by-product of World War 2, in the 1940s.
JEATH Museum, Death Railway over River Kwai
JEATH stands for the nationalities involved in the construction of the Death Railway; Japanese, English, Australian, American, Thai and Holland. There are two parts of this museum, and tourists are only allowed into the second section.
This section of the museum is a reconstructed Bamboo Hut in the shape of a square – you enter through one side and exit through another. I must give you a warning that I wish someone had given me during my trip here: this museum is pretty heart to take. Along the walls of the hut are photographs and paintings that depict the different stages of life the POWs had to weather through while working in the railway.
Photographs aren't allowed in there, so you'll have to experience it for yourself. You can see the torture that the POWs went through at the hands of the Japanese through the visuals. However, if you studied history in school like I did, this will really just be a refresher course.
Outside the museum are street stalls selling satay, because street food is a monumental part of the Thai culture. However, we had to keep moving so I couldn't really explore much of the food scene. Next stop was the River Kwai Bridge.
The River Kwai Bridge
This part of Kanchanaburi is where the train stops for a short bit. This is before heading off to the Kanchanaburi main station. There are even more street food stalls here. You can explore at your given time (about 1 hour, after which you'll have to board the train). The train ride from River Kwai Bridge to Kanchanaburi was a part of the package we paid for, although the guide will ask you to top up about THB 100 at the station. This was not in the package, but would get us guaranteed seats for an hour, as opposed to standing in the C-class cabins.
This turned out to be a good idea, as the train ride is about 90 mins long. While on the train, you will pass by the greenest padi fields, and the humblest homes built by the locals. I tried hard to enjoy the sights and sounds but couldn't shake off the heavy-ness I felt from the visit to the museum. I was essentially on the tracks built by over 600,000 POWs, all of whom had died in batches while constructing the railway.
The train slows down to a stop just after River Kwai, and you can then take a walk out to the river. However, you will be really high up on the train tracks, so please practice caution. The tracks may seem steady, but if you're not so much into heights then this is probably not for you. Essentially, the tracks have been extended out from the surrounding rock formations with sturdy wooden and iron rods, so underneath the track are just rocks and river.
After about an hour of exploration, it was time for a (late) lunch. As with most tours, the lunch was less than spectacular. I found this peculiar in Thailand where it's hard to go wrong with the food. But the food was substandard at best – bland tom yum, customary plain fried rice and vegetables.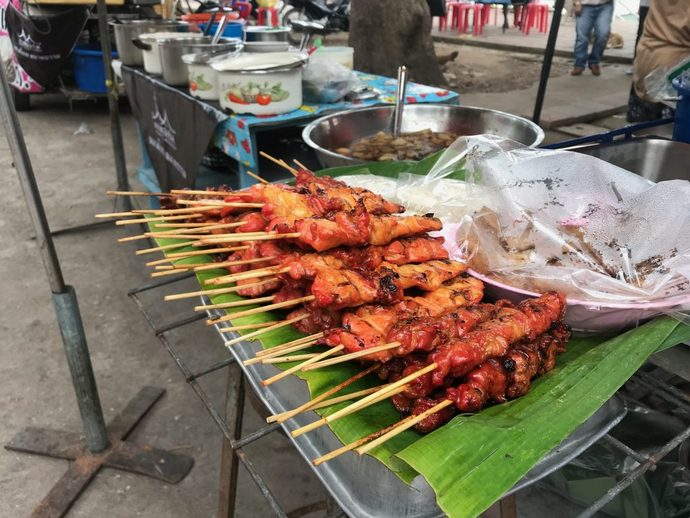 Back to Hotel
After lunch, we were driving back to the hotel, which is also where pick up was. Since it was another 4-hour ride, I used the opportunity to get as much of a shut eye as I could in the mini-van. The driver once again stopped at a nearby 7/11 on the way back for a toilet break, though we didn't feel the need to buy anything this time around. We managed to get back to the room at 7 pm, after which we headed out for dinner.
Kanchanaburi is a breathtaking experience and a reminder of a tumultuous past. Coming from Singapore, tales of the torture orchestrated by the Japanese army rang deep in my heart. Go with an open mind, and do take a look at your tour options. But most importantly, enjoy yourself! Besides my itinerary, there is also a world of other things to do in Kanchanaburi. Have you tried anything new?