Kang Kong in Sambal Belacan is a classic dish, popular with all races in multicultural Singapore. Here's a super simple recipe for a weeknight!
Kang Kong in Sambal Belacan is almost Singaporean, even though it really isn't. Sambal Belacan is used frequently in Malay and Indonesian food; it's a spicy chilli paste made with the addition of rather pungent fermented shrimp. This sambal is unique as it packs a salty, pungent flavour into the chilli paste, giving it a special flavour profile. 
In this dish, I have used store bought sambal belacan, as the actual process of making the sambal can be labour intensive. I have tried many brands of the sambal before, and due to recent shortages in the supermarket (thank you, Covid-19), decided to use what was available on the shelves.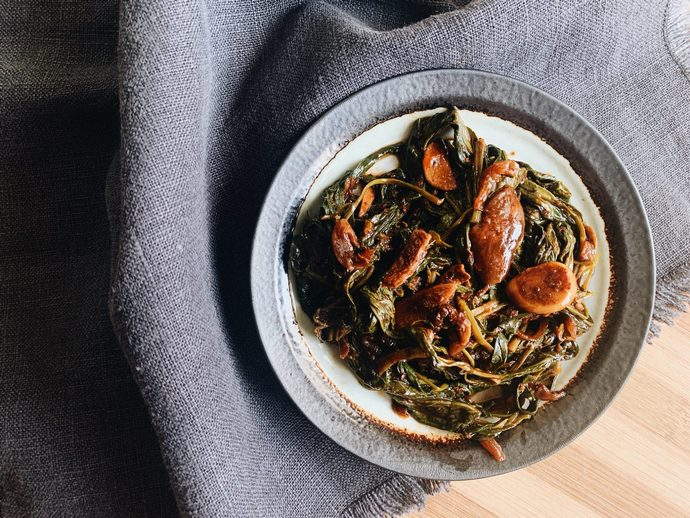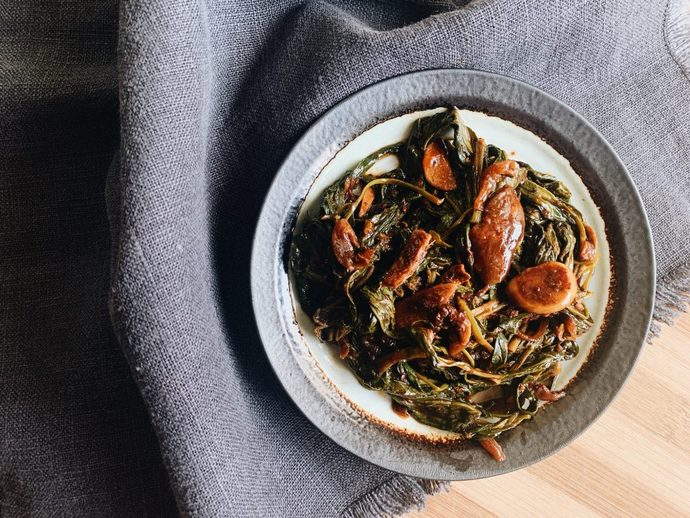 The Greens
While I have specified Kang Kong in this recipe, sambal belacan is quite versatile in its appeal. You can easily use this with other types of greens, such as Xiao Ba Cai and Kai Lan. Kang Kong takes some effort in preparation; I always say it's faster to cook and eat this dish than to prepare the greens for cooking. 
Kang Kong has plenty of dirt and sand. Most store-vendors clear the sand before selling it's good sense to rinse the greens thoroughly before cooking. To do this, I fill up a large bowl with water, then dip handfuls of the greens into the bowl and rinse them with my hand. Then, I transfer them to a colander to drain and work on the next handful. Once you've worked through the whole batch, do this process again. This will eliminate any granules of sand or dirt stuck to the greens.
Another way to reduce and eradicate dirt is to use only the leaves of Kang Kong, and not the stalks. But this is a personal preference, as some might prefer eating the stalks (don't know these people, but I am told they exist). But bear in mind that using the stalks would mean having to wash the greens more thoroughly. 
Kang Kong in Sambal Belacan
Course: Sides
Cuisine: Asian
Difficulty: Easy
Kang Kong in Sambal Belacan is a classic dish, popular with all races in multicultural Singapore. Here's a super simple recipe for a weeknight!
You'll need;

300g – 400g Kang Kong


2 Tbsp Vegetable Oil


1 Red Onion, peeled and sliced


2 Cloves Garlic, peeled and chopped


½-inch Ginger, peeled and chopped


2 Tbsp Sambal Belacan


½ Tsp Salt
You'll need to;

Prepare the Kang Kong as described in the introduction above. Set aside.

Heat the oil in a large wok, over medium heat. Add the onions and saute while they sizzle. When they become translucent and soft, in about 2 minutes, add the garlic and ginger. Cook for just under a minute.

Add the Sambal Belacan and stir quickly. I say quickly because this will sputter like mad. Then, add the greens and salt. Start wrestling to tamp down the greens; this will take about 2 minutes. That is to say, stir carefully and ensure that the sambal mixture coats the greens as evenly as possible.

The greens will be cooked by then, and there is no need to cover them and cook further. Serve them warm with rice.
Notes
Kang Kong cooks relatively fast compared to other stalky greens, so work quickly once you've added it to the pan.
To add texture or variations, you can add dried shrimp, or ikan bilis (dried and salted anchovies) to this during the frying process