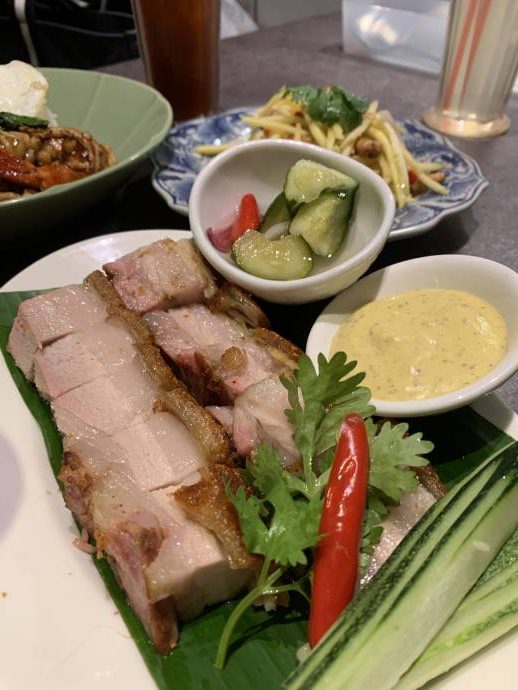 Krapow in Far East Plaza is fast becoming the go-to when it comes to affordable Thai food in Singapore. As you know, I am thoroughly obsessed with Thai food so it'll come as no surprise that Krapow has made it on the blog! Here's what I had and what you need to know.
Kra pow Thai Restaurant
Dine-in · Takeaway · Delivery
Far East Plaza, 14 Scotts Rd, #03-26/27, Singapore 228217
Vegetarian dishes are available, but not plenty
Krapow is located in the heart of orchard, and immediately shows up when you google 'Thai food Singapore'. Krapow is not the only Thai food joint in orchard, but it gives the same vibes as Tantric Thai. Most of you would know this Orchard Tower Thai Food restaurant by now, it's a hole-in-the-wall place with a fiery green curry. 
Anyway, a friend of mine introduced me to krapow and the way I suss out authentic Thai food is to see who cooks the food I order. Krapow makes no mysteries about the fact that their staff are from Thailand. Even the lady who seats you is Thai, I felt almost as if I was back in my favourite city (Bangkok; have you read this blog?)
The menu here isn't large but is sufficient to be spoilt for choices. Of course, you should go for the krapow if you're dining here for the first time. Or third, it doesn't matter. They've named their restaurant after their best dish! My first time here, I had only the Pad Krapow Chicken with a Thai Mango Salad. I got more adventurous when I came back to dine again, however! Here are the things I've tried, and think you should too!
The Pad Krapow (anything)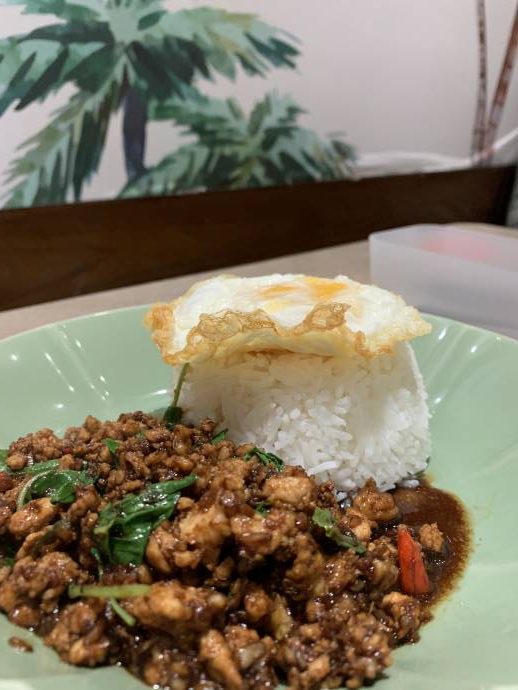 Obviously, the pad krapow is the star of Krapow. It appears at the start of the menu and in a number of protein varieties, from pork, chicken and seafood. They even clearly state that the chicken is thigh meat, so if you're someone who doesn't take thigh meat (like me) then you can choose alternatives. I have tried both the chicken and seafood krapow here, and I must say that this is their signature. The flavours are well balanced and rounded! The heat builds as you make your way through the dish so do watch out for that. 
Pork Belly
The pork belly here is by far some of the best I've had! And this comes from someone who does not enjoy fatty pork slices! The crackling on the pork is just that good – the loud crunch it makes when you bite into it is just fantastic! They serve this with a rich, punchy Thai mustard condiment which goes great with the fatty pork chunks. This dish is enough to make a meal on its own if you're feeling peckish and not particularly hungry.
Mango Salad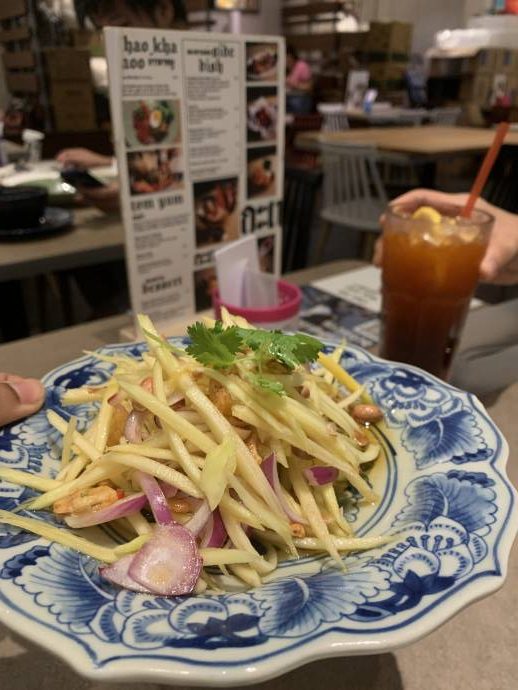 In December 2021, I finally got the opportunity to go back to my beloved Bangkok. I missed travelling and especially to this part of Thailand, and I made it my business to get a mango salad as soon as I could. It was so insanely spicy and memorable! The Som Tum here is the closest I can get in Singapore to an actual Som Tum from Bangkok – the salt from the shrimp, the sour from the mangoes and the sweet from the palm sugar – it all comes together harmoniously and is then held firmly in place with fiery, Thai bird's eye chillies. 
Drunken Noodles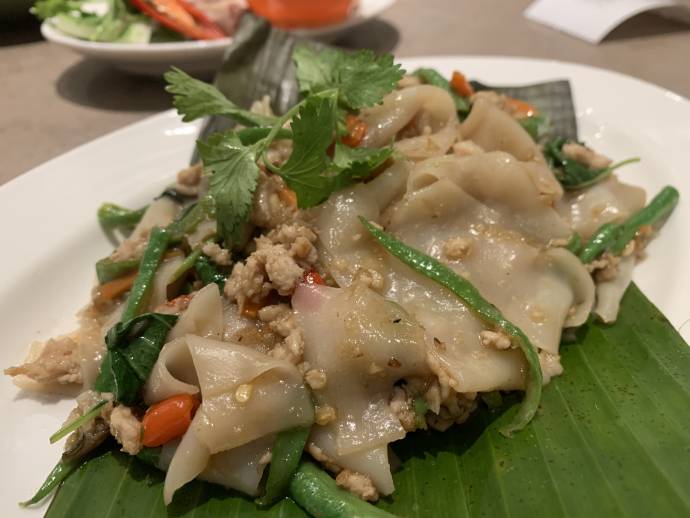 The story behind drunken noodles is this: the dish is so spicy that when you eat it, it can shock you out of a drunken stupor. So you can imagine the heat this plate of noods will bring to the table! I had mine with minced pork and of course, it contained plenty of fire in the form of chilli padi (which I wearily picked out of the plate). I would recommend this dish only for the brave of heart. However, if you're looking for a dark version of this dish, then this might not be for you – they go light on the soya sauce here. 
Pad Thai
This is a classic Thai dish that many can be quite fussed about. Some comment on the doneness of the noods, some comment on the sweetness of the base sauce while others give importance to additives like tofu and prawn. Personally, I hate it if the noods are overcooked. I like mine to have just a touch of chewiness and plenty of umami laced into the noodles. The dish here is so tasty that I've had it twice already. And probably will have them again when I visit.
Krapow has helped to put Far East Plaza back on the map. Although many 'classic' stalls remain, the queue at Krapow can start forming as soon as they open. The best times to go would be after lunch, say around 2 or 4pm.