Lobster porridge has successfully helped rice stew shed its 'sick people food' image and catapulted this dish into the limelight.
The idea of eating porridge is very much akin to eating chicken breast; people associate it with something not as desirable as regular food. In the instance of porridge, many would say 'sick people food'. I am guilty of saying this, too. So you can imagine my reaction when I first heard about Lobster Porridge.
A part of me recoiled in disgust at the idea of eating porridge when I am not sick (not to say that porridge is my go-to when I really am sick), but the monster of greed that lives within every food writer was curious as hell.
It's a lot easier to get to Orchid Live Seafood via a grab ride or car than it is to depend on public transport. Quite ulu, if I may say so, but Singaporeans are known for travelling to eat so this is a non-issue. I took a Grab from Kathib MRT, an option you might want to consider. If you're planning to drive, get there early as lots are limited.
Address: 1 Bah Soon Pah Road, 769959
The menu is varied and quite wide, and I went with a friend who had been there once before. She suggested we get the lobster porridge pot (small) and a number of other dishes recommended by the staff. In full disclosure, the staff are from China but make every attempt to speak clear English and are very attentive.
The menu is designed to streamline the decision making process based on the number of diners per table, which I found convenient. The sets even come with 'dessert'; Red Bean Ice Cream (Ice Cream Potong, old school and delicious). We ordered Set 1, which was $98 Nett and meant for 2. I was a tad apprehensive that the food might not suffice, but there was more than enough food.
On the set was the Boston Lobster Porridge, Steven Chicken, Stir-fried Baby Kailan, Topshell Crispy Tofu (which we changed to Ngoh Hiam) and the aforementioned Red Bean Ice Cream. The small pot of porridge (I use the word 'small' loosely) had 2 large lobsters halved lengthwise, making 4 pieces. They were stewed and fully cooked through in a delicious broth the colour of pleasant sunshine, a true sign of happiness.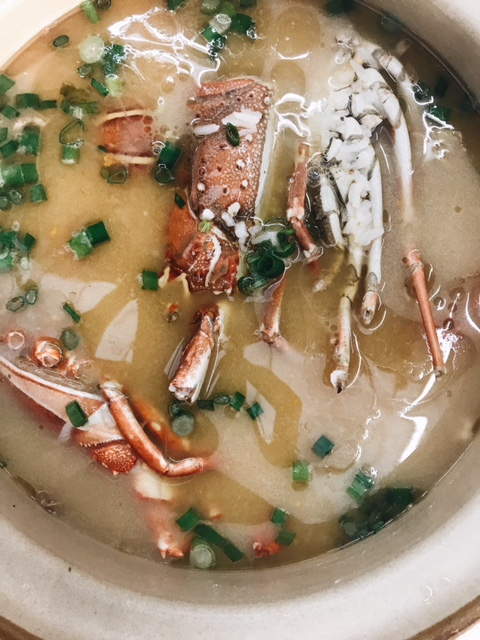 The cooked rice piled at the bottom of the dish had absorbed the creamy liquid, smashing the stereotypes of 'porridge' with a smooth, velvety blow. I fished out the lobster, and pried the buttery, white flesh out of its bright orange cage of a shell. The tender meat yielded lovingly to my fork and dear cravers', it tasted magical. The lobster was succulent and fresh, while the broth piquant and milky. The rice was also not cooked into mush; which was as far away from sick-people food as I could possibly imagine.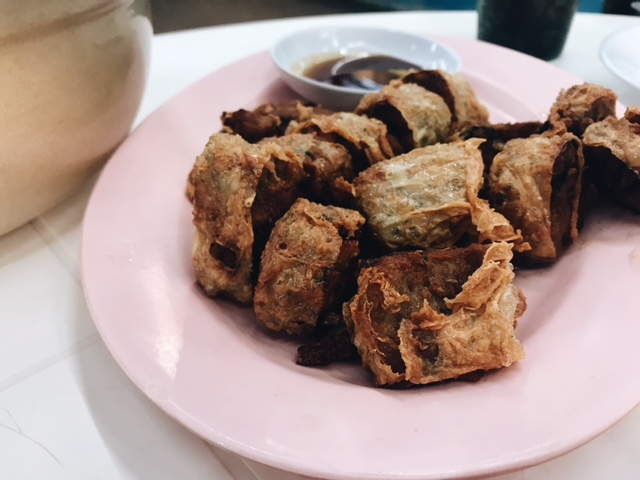 The Ngoh Hiam was very well made; there were bits of pork left that had evaded the mincing, adding texture to the filling. The beancurd skin was crispy and crackled delightfully as I bit into it. This was also served with a thick, salty soya sauce which complemented the Ngoh Hiam filling.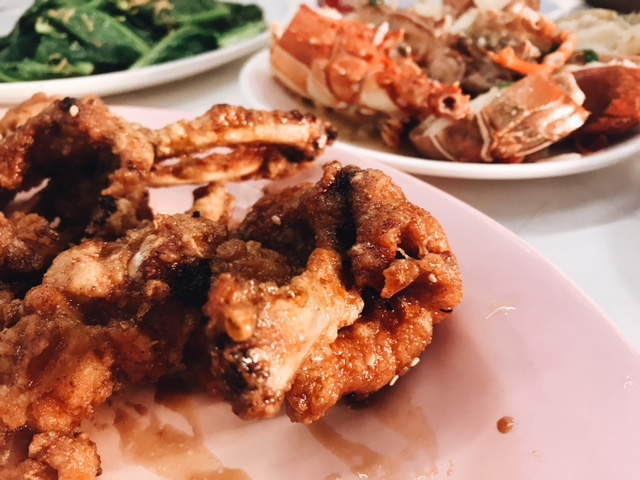 With this came Steven Chicken and Stir-fried Baby Kailan. Steven's Chicken is by Chef Steve (don't tell me you didn't see that coming) and is a dish that does chicken justice. Chef's intricate blend of spices coat the meat before the chook is deep-fried till crispy. Simply put, this is one hell of a fried chicken dish that you've got to try when you visit Orchid Live Seafood.
I was forced to keep an open mind at the idea of lobster porridge, and I am glad I did. The star of the show, Lobster Porridge, was rich, creamy and a seafood lover's dream. I am only sorry that I did not get the chance to try other dishes here, though there's always next time. When are you headed to get yourself some Lobster Porridge, then?