Pulut Hitam is a Malay dessert best served warm. Made with coconut milk, palm sugar, pandan and black glutinous rice, this sweet rice pudding joins the rungs of many Asian dishes that can be highly subjective to the food critic.
I made this simply because I found the black rice at NTUC when walking around one day. Yes, I walk around NTUC, it's like a park to me. Anyways, I picked it up and having never made Pulut Hitam before, I had to consult my very own, personal culinary Goddess – my mother. After penning down instructions clearly, I made this. Here are some things that'll be good to know before you start:
The black rice needs to be soaked overnight.
And when you do that, the rice swells to twice its original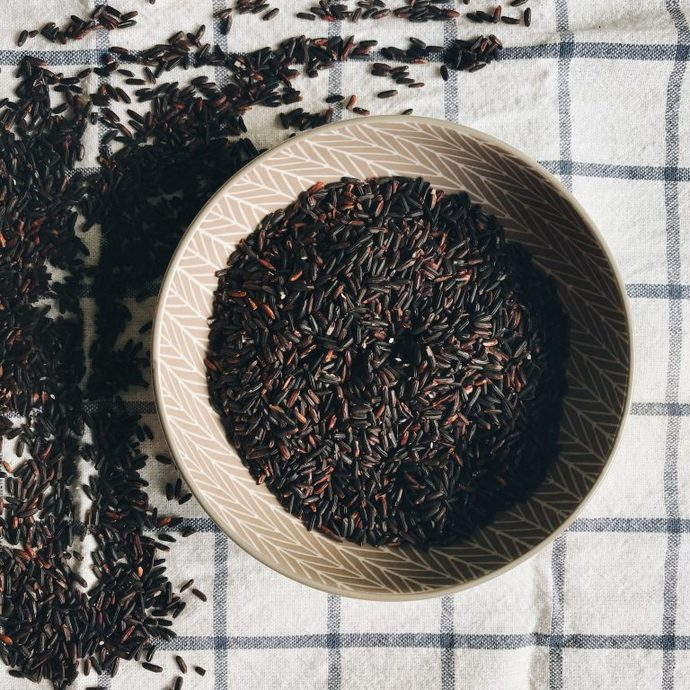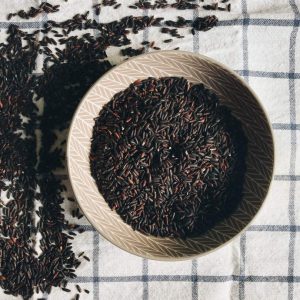 size, so please use a large enough container for the soaking. I exclaimed because I got a shock at how much these rice grains swell! The soaking part is essential, it makes cooking the rice so much easier.
The cooking of the rice is time-consuming. I found it best to bring the water to a boil, then turn down the heat to a low simmer and continue simmering it until the rice is soft. The water will never evaporate completely, and in fact, you might have to pour in some more if you feel the water is evaporating. This pudding is rather gloopy, so you'll need water to achieve that.
Thinking of a Malaysian Getaway for an upcoming long weekend? Here're some suggestions!
My mom also said that I should use white sugar. Instead, I've used dark brown sugar. This helps with lending the pudding a more complex sweetness and mellows the almost chemical bite of the black rice. Dark brown sugar is sugar with molasses added, it won't be needed as much compared to white sugar as well. And the molasses in this adds so much depth to the final dish and goes great with the coconut milk.
Most people brew this with a knotted pandan leaf in the pan when cooking the rice. I did not have a pandan leaf about my person when I made this, hence I have left it out. But please feel free to include it when you're making this.
Ingredients
3/4 Cup Black Glutinous Rice
3 - 4 Cups Water
1/2 Cup Dark Brown Sugar
200ml Coconut Milk (not cream)
Pinch of salt
Method
Pour out the rice into a pot and cover it with water. Allow to soak overnight.
The next day, wash and drain the rice (don't be alarmed at the colour of the water). Fill it with 3 Cups of water and bring to a boil over high heat. If you're using a knotted pandan leaf, this is where you put it in. When boiling, turn the stove down to the lowest setting and partially cover the pot (this helps speed up the cooking).
Test to see if the rice is cooked by picking up a few grains in a spoon and squeezing them with your thumb and forefinger. If not soft to the touch, then continue to cook. You need to go by eye here - if the water is evaporating quickly, add more. Don't go overboard, though. The mushy, sticky rice and water should form a thick porridge.
Once the rice is cooked, add the sugar to pot while still on low heat. Please remove the pandan leaf knot at this stage, if using. Stir to dissolve the sugar, then add the coconut milk and stir through. At this point, the rice pudding should be thick in consistency.
When the mixture starts to bubble, turn off the heat and serve with coconut cream or crumbled palm sugar.
https://thecraversguide.com/making-pulut-hitam/
Copyright belongs to thecraversguide.com.