Can making a smoothie be cheap(er)? Do they have to be so expensive?
This is the question a few people have been asking me, and I have been asking myself, too! Shopping for smoothie ingredients, such as chia seeds, and coconut oil, can be slightly pricey, and not the kind of cash you'll want to drop at Cold Storage all the time. However, smoothies are all about winging it these days, and just making sure to put in food that are beneficial to your body and keeping you fit, alert and in shape. Here are a few substitutes that you can choose to use the next time you're planning your weeks' worth of smoothies!
Cacao Nibs VS Cocoa Powder.
Cacao nibs, the new superfood of 2017, are really great for you and really expensive too. Not commercially available in Singapore in most stores, this prime ingredient has to be bought online. A good substitute for cacao nibs is cocoa powder ($4.90 from Redman). Unsweetened and raw, cocoa powder gives you the same flavour and heavy punch of magnesium, helping the body produce serotonin to keep you happy :P.
Chia/Hemp Seeds VS Ground Flaxseed
I've got to admit – didn't really think too much of flaxseed ($3.95, Mustafa) until I found it at Mustafa when I was looking for a few superfoods to feature. Loved it so much, especially its very friendly price. Ground flaxseed meal is a better investment as opposed to the unground version – otherwise it just passes through the digestive tract and out. Flaxseeds are packed with phytochemicals, omega-3s, and fibre – all that can help lower your body's bad cholesterol.
Coconut Oil VS Peanut Butter
A few years ago, coconut oil and other coconut products exploded on the food scene as a must have ingredient in almost everything. Coconut milk is also a great vegan substitute for regular milk when baking – the fat content and nutritional value sometimes surpass regular milk. However, coconut oil is not as wallet friendly as peanut butter. PB (under $5 for most brands in NTUC) is packed with proteins, vitamin-E and healthy fat. You can get this almost anywhere, even the mama-shop under the block.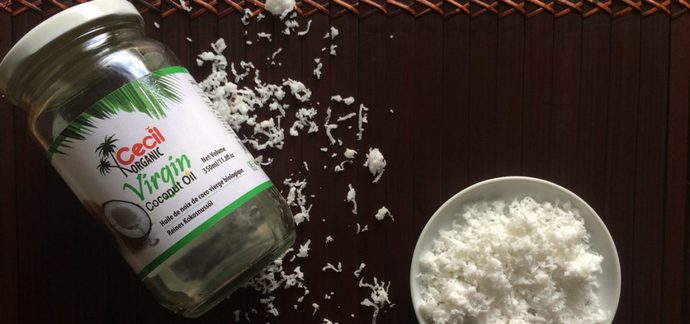 Goji Berries VS Frozen Blueberries
This, I again buy from Mustafa. If you're not a fan of blueberries, cranberries ($5.50 per 500g) will do as well, just be prepared for a smoothie that's more tart than what you bargain for. The polyphenols and anthocyanin in blueberries can help reduce the risk of heart attack, and improve cholesterol health. While purists may frown on frozen berries, I love them – they are packed with the nutrients these berries naturally carry as soon as they are picked.
Superfruit Powders VS Fresh Kiwi
Powdered fruit powders, such as camu camu and baobab, are normal fixtures in smoothies for their extremely high content of Vitamin C. But here's the miracle of Kiwi – just 1 kiwi packs more Vitamin C than your body needs in a day.
Green Powders VS Fresh Greens
Powdered greens are great for smoothies – they give it a rich colour and pack it with nutrients. But I've always been a little iffy about powdered additives to drinks – and you should too. Here's why: you were not there when they prepared the powder, you don't have a clear picture of everything that goes into it. But with fresh greens (which cost less than half of these powders) are a lot more reassuring to use in your smoothies. Parsley, spinach, Swiss chard or beet greens are all just as good for green additions to your smoothie.
Are you a big smoothie drinker? I have to say, I'd like to be more of one than I am now. I am working on it, promise. But just taking the effort to put things together in the morning, or even the night before, puts me off. Plus, I loathe washing up, and washing a blender everyday can get on my nerves. But for those more committed to their smoothie journey, I hope you'll find these substitutes useful. Let me know how I can improve on this!