Pizza in Singapore: O Mamma Mia Sapore Italiano is now in Singapore, and closer to you than you think!
If you've seen this already and not tried it, please go out and do so or I'll have to severely judge you. I first encountered O Mamma Mia at Clementi Mall, when I was looking for a grab-and-go dinner and did not want to settle for a certain other grab-and-go pizza place at the basement of Clementi Mall (hint hint). What got me about O Mamma Mia is the smell of that clay oven… there's just nothing else like it.
Brought down here from the company that brought us Ilao Ilao, O Mamma Mia is the next big thing (pizza-wise) to hit our sunny (ok, fine, blazing hot!) shores this year. The concept is simple; grab your favourite pizza or pasta type and keep going. But fear not – for those who like to sit and enjoy your lunch/dinner/supper, they have dine-in seats as well. The outlet in Clementi is mainly just a huge oven, with a beautiful (Italian, you can tell) display of their collection of pizzas, all thin-crusted, colourful and tempting you to ditch that low-carb diet. Prices range from 3.90 to 5.90 per slice, and do not go in expecting the usual triangular slice – these pizzas are stretched and made into large rectangles, which are then divided into individual portions (pizzas are not sold otherwise here).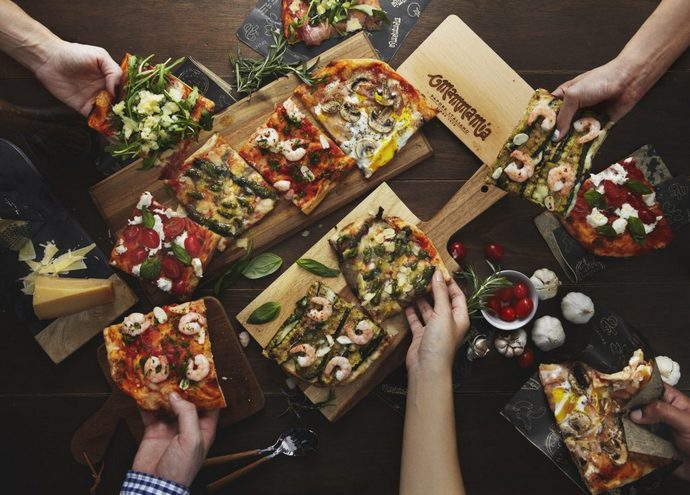 Mauro Bracci, the founder of this brand, brings the same authenticity he built his business upon in Spain to Singapore – everything is made fresh and with love. The premium ingredients used in the pizzas and pastas are imported straight from Italy as well, in keeping with the originality of the cuisine. You may be wondering why I mention Spain but I'm talking about pizzas and not paella? Bracci is an Italian (two-snaps for you if you'd already figured that out) who upped and moved himself, pizza oven in tow, to Spain in search of opportunities. What he got was a new life with a wife and kids, and a new business that spans over 23 outlets in Spain today. The secret to staying relevant? The pizza dough. Made in Italy and frozen to seal the freshness, only the best Italian '00' flour, extra virgin olive oil and an in-house sourdough starter are used to make the dough that'll then be leavened for 24 hours. After being baked in a very, VERY hot oven (400 degrees, if you must know, and I know you must), the pizza bases meet their toppings. Some toppings include pesto sauce, fresh mushrooms, homemade tomato sauce and the best Italian Ham. There's even one that's got a Mozzeralla base. Excuse me as my mouth-waters!
Singapore currently houses 3 outlets of this soon-to-be-everywhere pizza place, at Causeway Point (#01-K04, 11.30am to 10.30pm daily) , Clementi Mall (#01-11, 12pm to 10pm daily) and Changi City Point (opening in May 2017). Please go get you a slice, you won't regret it. If you don't live close by, take the train. Its worth it.