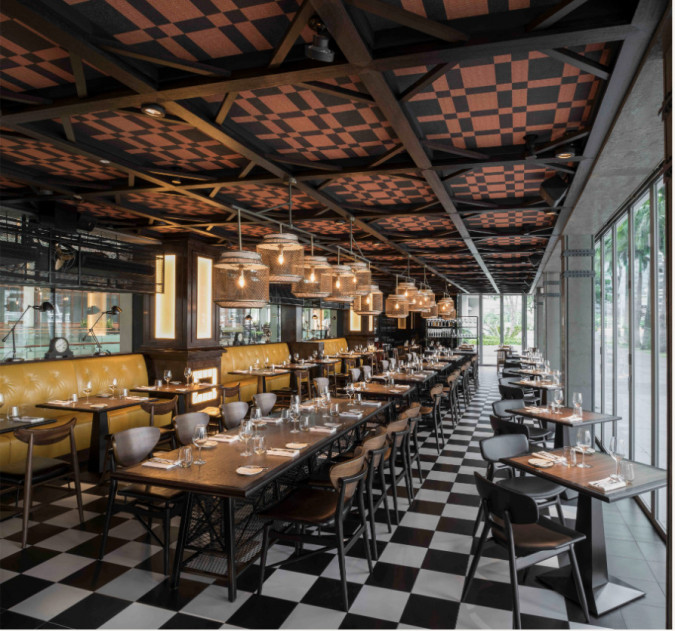 Marina Bay Sands has a spectacular line-up of exciting events and dishes to celebrate the nation's birthday. Here's what you can look forward to!
Black Tap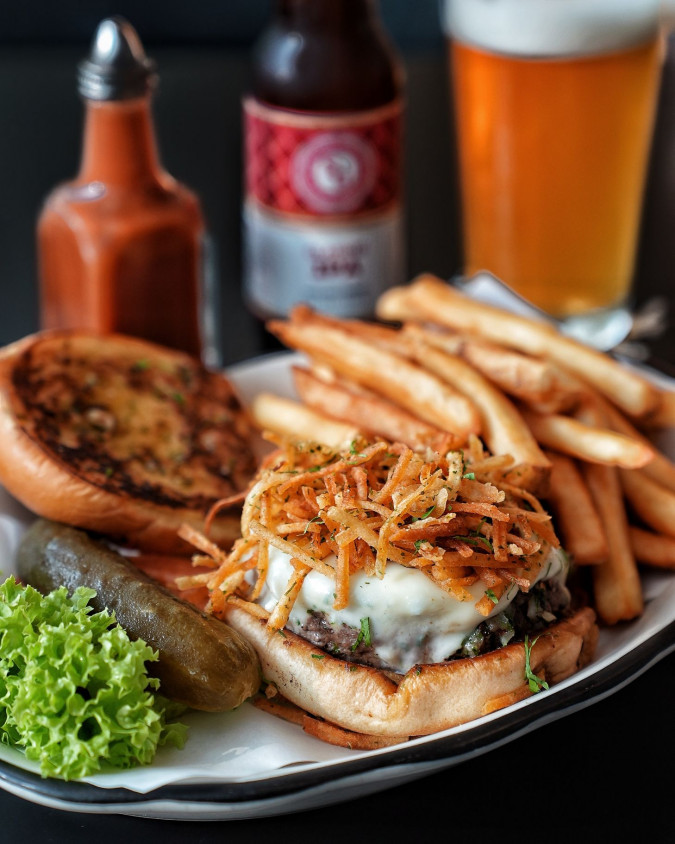 Come August, Black Tap at Marina Bay Sands puts a tantalising twist to Singapore's signature flavours and must-try delicacies with the SG Pepper Crab Burger (S$26++). Satisfy seafood cravings with the burger's tempura soft shell crab. The homemade black pepper rub will set your tongues wagging! Complete the feast with a creamy black pepper slaw served with fries. 
The Singapore-exclusive National Day CrazyShake® (S$23++) also awaits. Get your IG stories ready for this pastel pink-hued bandung CrazyShake®! This shake reaches your table photo-ready, with red and white star sprinkles on a vanilla frosted rim. A red and white slice of cake, whipped cream, crescent icing cookie, red sprinkles, and bright red cherry on top finish the indulgence. Click here for reservations.
Bread Street Kitchen & Bar
What better way to commemorate the birth of our nation than with our favourite sea-dweller? Bread Street Kitchen & Bar at Marina Bay Sands will be serving up mud crab soused in XO sauce, available during lunch and dinner on National Day. This modern remake of the iconic chilli crab retains the familiar fiery taste, elevated with spicy seafood sauce. Pair this with Bread Street Kitchen's all-time signatures, from scrumptious appetisers such as the seared scallops and tamarind spiced chicken wings. End the meal with sticky toffee pudding and dairy-free pineapple & kiwi carpaccio. Click here for reservations. 
KOMA Singapore
On 9 August, guests will get to enjoy four special items in addition to menu mainstays. Start the feast with refreshing Fruit Roll Sushi (S$28++). This creation is a colourful medley of avocado, dragon fruit and mango wrapped in soy rice paper. It's topped with caviar and gold leaf for the lush touch. Move on to the Tuna Carpaccio (S$38++), a cold dish featuring generous slices of big-eye tuna. This is dressed with micro cress salad, tomato, radish, and capped with caviar. These appetisers are available during lunch and dinner.
Ready for the night? KOMA will offer limited sets of its special National Day dessert omakase (S$88++) in the evenings. This means you get to savour nine delectable sweets in the patriotic colours of Singapore. Feast on red and white versions of KOMA's signature chocolate bell and bonsai. Not a chocolate fan? Try the Japanese cheesecake, pistachio raspberry dome, strawberry and vanilla macarons and more. Round off the memorable evening with KOMA's National Day cocktail (S$27++). This is a modern remake of Singaporeans' favourite rose and milk beverage with fruity touches of lychee and raspberry. Click here for reservations.
Lavo Italian Restaurant & Rooftop Bar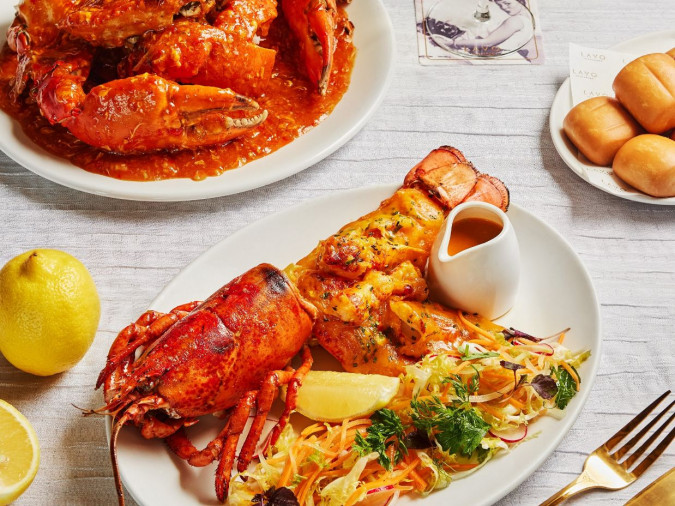 This sky-high restaurant has three splendid one-night only specials this National Day. Gather around the table for the whole chilli crab (S$69++). This is a combination of fiery chillies, ginger, garlic, ketchup and fermented soybeans. As always, it's best enjoyed with crispy mantou.
All crabbed out? Try the Grilled lobster thermidor (S$80++). This comes with crispy salad and a side of lobster bisque. Cool off from the heat with LAVO's National Day edition of ice cream sandwich (S$19++); strawberry and vanilla gelato respectively between two red velvet burger buns.
Pair these indulgent creations with LAVO's signature series of handcrafted cocktails in hand as you enjoy unparalleled views of the fireworks from 57 storeys above. Click here for reservations.
RISE at Marina Bay Sands
Over 100 dishes await here on 9 August for lunch and dinner. This one-day-only feast includes Alaskan King Crabs, Boston Lobsters and Irish Sea Whelks. Trace Singapore's food culture through the best of Chinese, Indian, Malay and Peranakan delights. Up on offer are responsibly sources steamed barramundi fillet, pickled Guangzhou mustard leaves, preserved chillies at ikan panggang with garam rempah. This comes alongside a jubilant assortment of Peranakan Tok Panjang staples. In the mood for Indian? Try lamb roti kebab malai (lamb marinated with yogurt, cream and spices). Others include murgh malai tikka (chicken marinated with Indian spices) and lahsuni jheenga (tiger prawns marinated with fresh garlic and spices). 
The stars of the show are the Singapore-style Sri Lankan chilli crab and the glorious 12-hour slow-cooked Australian wagyu beef cheek rendang. Sweeten the celebrations with local treats like kaya tart, durian ball and more.
Thirsty? Refresh your palate and keep the glasses flowing with three special local beverages!  RISE will offer local favourites such as limau asam boi (calamansi lime juice with preserved plum), teh ice limau (iced black tea with lime),and even classic bandung (rose syrup with milk). Booze-lovers can top their feast with Tiger Beer, available in a bucket of five (S$35++). Beer nit your thing? The iconic Singapore Sling will come at a special price on National Day (S$15++; U.P. S$22++). Click here for reservations. 
Spago Bar & Lounge
Get ready for 'Shades of Spago', a one-night only collaborative menu on 29 July (6 pm till late) with Singapore's first-ever modern Indian barbeque restaurant—Meatsmith Little India.
East meets West menu featuring Spago's crispy cauliflower (S$16++). This is served with a spicy jalapeño coriander dressing and dusted off with chat masala powder. Pulpo fans will love the bincho grilled Spanish octopus (S$29++). Tender and succulent octopus will be served on a bed of lime aioli and miso sand. On the side will be Meatsmith Little India's ikura papadum (S$14++), an Indian crispy flatbread topped with red caviar on a bed of smoked crème
Fraiche. Their spatchcock tandoori chicken (S$26++) will also be available, accompanied with spice yoghurt and lime crema. Pair these delicacies with the Bespoke Negroni (S$26++), Spago's cocktail of the month, to round up the evening on a high note.
To complete the National Day festivities, 'Shades of Spago' will see the alfresco bar & lounge transform into a party venue decked in shades of 'Burgundy & Red', complete with swanky beats by renowned DJ Patrick Oliver from 8pm until midnight. The best dressed of the night will stand a chance to win a round of four shots. Admission to 'Shades of Spago' is free, and reservations are strongly recommended.
WAKUDA Restaurant & Bar
From 5 to 12 August, you can enjoy Homage to Singapura (S$18++), a bespoke cocktail that reflects Singapore's dynamic arts scene. Boasting a vibrant red crescent, the cocktail embodies Singapore's national identity and forward-looking spirit. Expect dry, citrusy notes with refreshing hints of floral and herbs. This limited-time cocktail is best paired with WAKUDA's delectable array of sushi, octopus, sashimi and the signature yuba (fresh beancurd skin). All this is topped with generous amounts of Hokkaido sea urchin and mountain caviar. Click here for reservations.
Yardbird
Come National Day (9 August), welcome the early evening with two hours of free-flow Deveaux champagne (S$150++ per person) from 6pm to 8pm at The Loft on Level 1. Set against the the backdrop of the glistening Marina Bay waterfront, the semi-alfresco spot offers prime views of the majestic fireworks display and is available for guests to chill back and lounge throughout the evening with a minimum spend of S$100++ per person. The restaurant has also specially concocted the Majulah Singapura (S$22++), a refreshing cocktail with touches of sweet cherries and lime with a bold Aviation American gin and tonic base. Click here for reservations. 
Ready to celebrate Singapore's independence in style? Marina Bay Sands has got you covered. Reservations are highly recommended, so get to clicking now!