Masala Mashed Potatoes are exactly what you think they are – all the goodness of a regular mashed potato but with a flavourful kick from spicy chilli powder.
Masala Mash is a variation of a classic comfort dish: Mashed Potatoes. Yes, I hear ya, I shouldn't be fixing things that aren't broken. But here's the thing. Last year for Christmas, I made Nigella Lawson's Brown Butter Colcannon, and my life was changed forever. I could never look at mash potatoes the same way again.
Mashed potatoes are one of the first few dishes I learnt to make in the kitchen, and continue to make this day when I have nothing else to eat. You can dress up a mashed in many different ways; with cheese, with spice, with greens such as scallions or dill or even spinach. But my life's ambition of incorporating a little curry powder into everything made me wonder, how I can add spice to this in a very personal way.
If you're not a fan of mashed potatoes, why not roast them? Here's a quick and easy recipe to make Bollywood Potatoes!
Just for the rounded edge, I added 2 bulbs of roasted garlic into the mix. This brought the flavour to next-level goodness!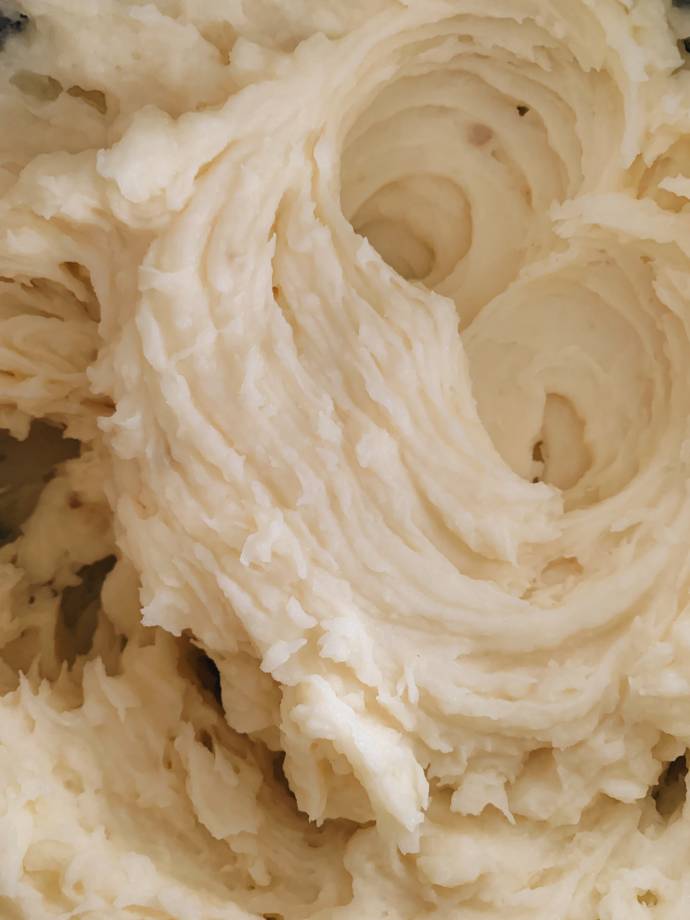 A Masala Mash fit for a party
Adds a kick to regular mashed potatoes
Is ready in under 30 mins
Can be made in advance *
*the mashed potatoes can be made in advance, but I would make the spicy butter just before your guests arrive.
Enter Masala Mash. Strictly speaking though, this is not a typical masala mash. I used a very specific Andhra chilli powder called Kura Karam. I chanced upon this blend while looking for chilli powder in Mustafa Shopping Centre. It's a unique blend of chillies, coriander, fenugreek, chillies, garlic and even tamarind. It lends a sour yet robust heat to the dish. If you're not buttering it up with potatoes here, you can use it for a simple chickpea masala.
Kura Karam Substitutes
Kura Karam is quite specific in this recipe and hard to substitute to get the exact flavour. However, if you are in a pinch, then I would propose using a combination of the flavours that are present in the spice powder. So that would mean, instead of adding kura karam to the butter, you'd add minced garlic, chilli powder, coriander powder, cumin powder and salt. The flavour won't be the same, but it will also give you more freedom to adjust the heat the way you prefer.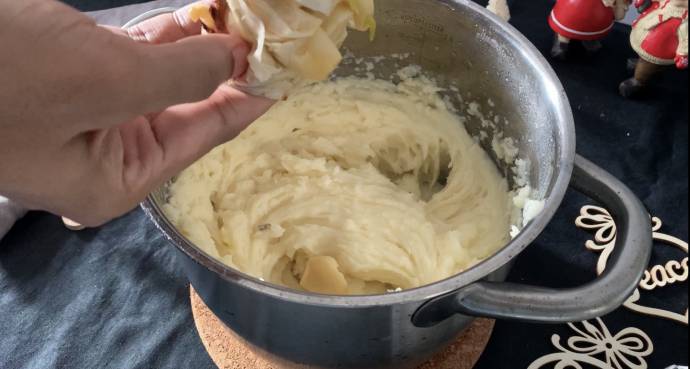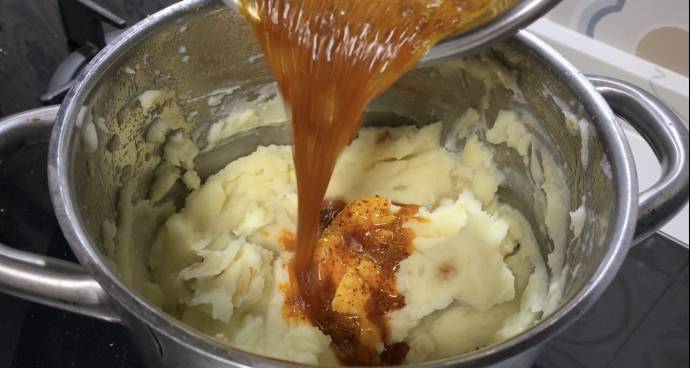 Budget
I thought I'll do something different this year and present the costs for the ingredients in the recipe. Many websites will probably give you pricing and value based on the quantity of each ingredient used in the recipe. You'll find things a little different with this 'budget' section. While pricing the Kura Karam as 3 Tbsp would keep the overall budget for this dish low, you will essentially have to buy a small box of this spice to get what you need. So the prices here are what I spent in total for this recipe. Obviously, as with all recipes, you will have some ingredients leftover. Use them however you please. 
US Russet Potatoes – 6 pcs, $3.95 from Cold Storage
Roasted Garlic Bulb – 4 Bulbs for $3 from Sheng Siong
Whole Cream – I used the same cream for this recipe as for my cakes
Golden Churn Butter, $5.30 at NTUC Fairprice
Kura Karam – $2.90 for 150g at Mustafa Shopping Centre
Types of potatoes
You don't strictly have to use US Russet Potatoes here, let's be real. However, russets are well recommended for fluffy and light mash potatoes and that is precisely what they'd give you if you were to use these. You can use regular potatoes from NTUC if you prefer. If you'd really like to indulge though, I would suggest using Yukon Gold Potatoes. Those siinnggg in a mash, especially a Masala Mash!
Masala Mashed Potatoes
Course: Sides
Cuisine: Fusion
Difficulty: Easy
Masala Mashed Potatoes are exactly what you think they are – all the goodness of a regular mashed potato but with a flavourful kick from spicy chilli powder.
You'll need;
4 Large Russet Potatoes, peel and chopped

2 Bulbs Garlic, roasted whole

2 Tbsp Cream (full fat please!)

75g Butter

3 Tbsp Kura Karam Spice Powder (see above for substitute)

Salt to taste
You'll need to;
Boil the potatoes in salted water until tender, then drain and place in a large bowl. Squeeze the garlic out of their paper casings – roasted garlic can be like boiled sweets. Add these to the potatoes, together with the cream.
Using a cake beater or whisk, whip up the potatoes until they are light and fluffy. Set aside.
In a small saucepan, melt the butter. When it comes to a simmer, add the Kura Karam spice powder. If you're using the substitute as mentioned above, then this would be the time to add in all the spices and garlic. Mix and mingle and let the spices roast in the heat slightly, about 45 seconds to a minute.
Then, pour this bubbling butter into the mashed potatoes, and fold it in very sexily. Bring to the table hot after drizzling some olive oil in it.
Happy days.
Notes
Do take the amount of butter in this recipe as a mere suggestion. I do believe, and this is true, this dish loves butter and butter loves this dish.