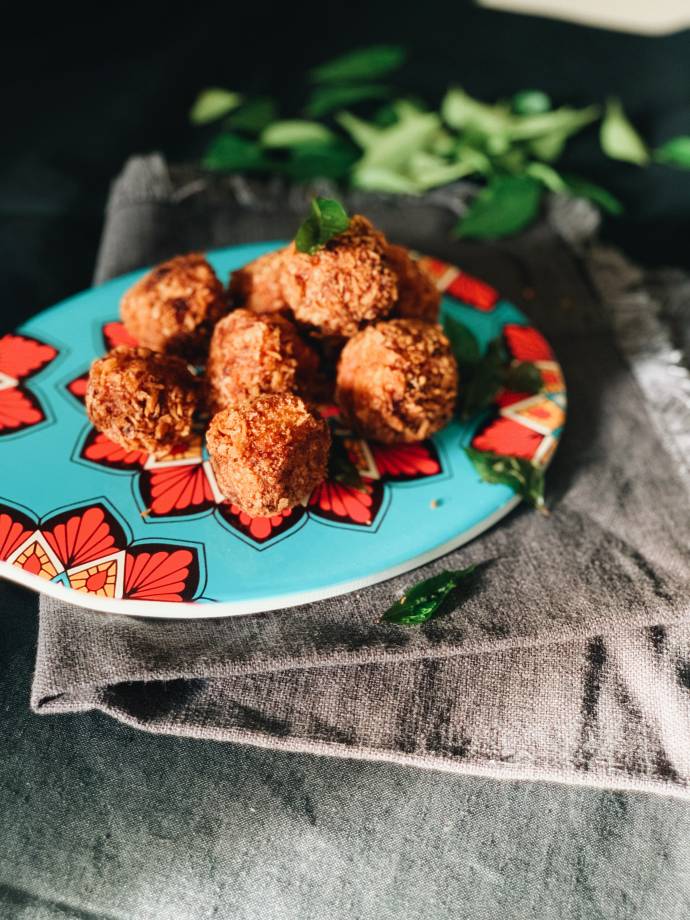 These Masala Meatballs have a soft, juicy and spicy interior. And the exterior is so crunchy; it cracks when you bite into it. Sounds good, no? Keep reading!
Jump to Recipe
Masala Meatballs is a dish I used to make frequently when I was a child. I loved the complexity of it; the mixing, the mess, the frying. It made me feel so grown up. And the grown ups themselves were extremely delighted at the prospect of fried food which was both homemade and that they didn't have to prepare.
When I made this back then, I never bothered dunking it an egg wash and then breadcrumbs; that was a recent addition. Back then, I used to fry this as is. This caused the masala and some potato bits that were sticking out to burnish in the hot oil. Some say it's burnt, i just say it has more flavour that way.
Fancy something else for Deepavali? Check out my Chicken Curry Recipe and Nalli Nihari Recipe!
Essentially, this is a fried snack. Perfect as a starter. During Deepavali, we don't usually have starters. You just sit at the dining table and are served a wide variety of curries, vegetables, rice, and of course, papadams. These meatballs are my take on creating a difference in the Indian Kitchen – we should make a thing of starters too! This recipe is then my attempt at making a thing of starters during the most festive time of the year for Hindus; Deepavali!
Alternatives
If you're not a fan of the breadcrumbs I've used (Japanese Panko) to coat the masala meatballs, you can skip it altogether. Or, you can mix a little parmesan cheese into the breadcrumb mix instead of the Kashmiri chilli powder used here – note that this will make your starter salty, though.
Although these balls look quite fiery, Kashmiri Chilli Powder hardly packs a punch. It has more of a sweet, husky hum from the chillies in the region of Kashmir. I like them because they are so vibrant with their shocking vermillion colour.
I like the potatoes to be a tad chunky in here, as opposed to having it homogeneously mixed with the meat. If you prefer, you can mash the potatoes before you add them to the chicken. This will keep the mixture smooth and easy to handle. I have snipped in a generous helping of curry leaves, which I understand aren't everyone's favourite. You can swap the curry leaves for coriander leaves, stalks and all if you like. You can also put in chunkily chopped red chillies for a bit of heat in each bite.
Chicken Masala Meatballs (Deepavali Special!)
Course: Appetizers
Cuisine: Indian
Difficulty: Easy
These Masala Meatballs have a soft, juicy and spicy interior. And the exterior is so crunchy; it cracks when you bite into it. Sounds good, no?
You'll need;
180g Minced Chicken

150g Mashed Potato

1 Medium Onion, peeled and chopped

3 Cloves Garlic, peeled and chopped

1-inch Ginger, peeled and chopped

1 Tsp Turmeric Powder

2 Tsp Kashmiri Chilli Powder

1 Tsp Cumin Powder

1 Tsp Coriander Powder

8 to 10 Curry Leaves, snipped

1 ½ Tsp Salt

For the coating

150g Panko (Japanese Breadcrumbs) mixed with 1 Tsp Kashmiri Chilli Powder

2 Eggs, beaten with ½ Tsp Turmeric
You'll need to;
In a large bowl, combine all ingredients needed for the Masala Meatballs. Using your hand, mix and mash till they become well-blended. Shape little balls out of it; you should get about 25 balls.
Coat each ball in the beaten eggs, then drop it into the breadcrumbs and toss it around to coat evenly. Set it aside, ready for frying.
Heat a wealthy amount of oil in your frying pan, I daresay the oil should come up to about 4cm in your pan. Once the oil is hot (test with a wooden chopstick; if little bubbles form around it, the oil is ready to be balled), add each ball in, gently. Fry up to 8 balls at a time and nothing more, as you want to keep the temperature of the oil stable.
Remove once the balls are golden brown, and enjoy hot with your family and friends. This goes great with chai!
Recipe Video