Cheesecakes are an indulgence, and have seen so many transformations over the years (burnt cheesecake, anyone?) Here's an easy recipe for mini-cheesecakes!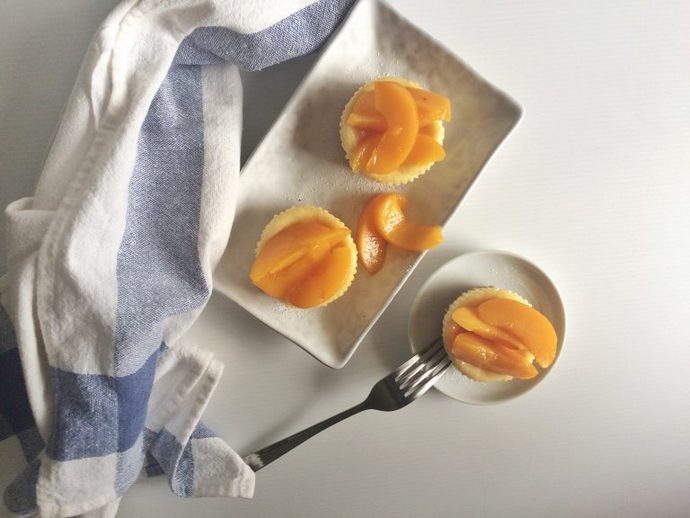 When I was younger, I used to love making cheesecakes. But I only ever made the ones that did not require any baking. For some strange reason, I always thought this was a lot easier to handle than the baked ones. Fast-forward to many years ahead into the future, and I made this cheesecake that graced the oven.
Not a fan of cheesecakes? Here's a Lemon Curd Cake!
When I first made this, it was one very large cheesecake. While that seemed like a lovely idea, I was wondering; why not break up the flow and make smaller cheesecakes instead? Have the glory of a cheesecake is in its pristine appearance; this way I don't have to ruin its beauty with my knife! Besides, it's easier to portion out these cheesecakes, especially if you have a large party of friends coming over.
The Base
I made this base with Speculoos Biscuits, otherwise known as Lotus burnt caramel biscuits. I love the flavour of these cookies, they help to offset the sharp taste of cream cheese. The biscuits are provide fantastic texture to the dish. If you're not a fan of these for whatever reason, feel free to substitute with regular digestive biscuits, or even chocolate sandwich cookies (read: oreos). The butter quantity can remain the same.
Fruit Topping
I've used canned peaches to top these cute cheesecakes, as that's what I had in the pantry cupboard. You can use fresh strawberries, blackberries or most fruits of your choice. Mangoes would work wonderfully here! If you're not a fan of fresh fruits, you can top each cake with a dollop of your favourite jam!
Mini-Cheesecakes with Speckuloos Base
Course: Dessert
Cuisine: American
Difficulty: Easy
Cheesecakes are a treat on their own, and somehow feel more sinful when they are mini-cheesecakes!
You'll need;
For the Base

150g Lotus Biscuits (biscoffi)

40g Butter, Melted

For the Cheesecake

230g Cream Cheese

½ Cup Icing Sugar

Scant ¼ Cup Yoghurt

2 Eggs

1 ½ Tsp Vanilla Extract

1 Tbsp Lemon juice
You'll need to;
In a food processor, blitz the biscuits until rubble, then add the melted butter and continue till the mixture turns into damp sand. If you can't quite achieve this, just add in more melted butter.
Line a muffin tray with paper cases. Then, divide the cookie crumble into the 12 waiting paper cases, as evenly as you possibly can. Press down on the cookie mixture to compact the base (you can use your hands for this, or the back of a spoon), then put the muffin tray into the fridge.
Preheat the oven to 160 Degrees Celsius. While the base is firming up in the fridge, make the cake layer by softening the cream cheese in a bowl. To do this, you can beat it with a whisk or push it around with a spatula. It helps if the cheese is at room temperature. Once softened, add the sugar and continue to beat, followed by the yogurt. Then, add one egg at a time and beat the mixture.

Finally, add the vanilla and lemon juice and stir through until well incorporated. Remove the muffin trays from the refrigerator and pour the cake batter atop the biscuit bases. Aim to fill the cases ¾ of the way up; though this cake doesn't rise too much.
Bake for 25 to 35mins. The top of the cakes should brown slightly and a skewer inserted into the cake should come out crumbly and not damp.
Serve with a few slices of peaches placed on top of the cakes. Although you can have these cakes warm, I suggest chilling them for at least 2 hours. They are great cold.
Notes
The Cream Cheese and eggs must be at room temperature when you make this.
If you'd like to make this into an actual cake, then use an 8-inch Springform cake tin, or one with a removable base. You will also need to make a water bath to bake the full cheesecake, to keep the top from cracking.