It's mooncake galore once again! I've compiled a list of 5 mooncakes below to satisfy your cravings! It is time to indulge so go out and get yours!
The Shang Palace, Shangri-la
The Shang Palace Mini Snow Skin Eight Treasures Gift Set (S$88) features two new flavours: Yuzu Bird's Nest and Chocolate Salted Toffee, with four pieces of each flavour. The Yuzu Bird's Nest mooncake has a yuzu filling with premium bird's nest in its core, wrapped in delicate snow skin. The Chocolate Salted Toffee snow skin mooncake was created with an exclusive French chocolate blend made of 40% cocoa milk chocolate and 66% cocoa dark chocolate at the core, mixed with sea salt toffee, and encased in a layer of crisp milk chocolate.
The Shang Palace Mini Eight Treasures Gift Set (S$88) includes eight mini bakedmooncakes– Low Sugar White Lotus Seed Paste with Quarter Yolk and Red Bean with Almond – with four pieces of each flavour.
The Shang Palace Four Treasures Gift Set (S$78) is an ideal gift comprising four traditional hand-baked mooncakes: Low Sugar White Lotus Seed Paste with Double Yolks, Low Sugar White Lotus Seed Paste with Single Yolk, Low Sugar Plain White Lotus Seed Paste and Mixed Nuts with Chicken Sausage Ham, with one piece of each flavour.
Mooncakes may be ordered at Shangri-La Hotel, Singapore's lobby, Shang Palace or at the pop-up shops at Takashimaya, Vivocity, Parkway Parade, Jurong Point, NEX, Suntec City and Raffles Xchange. For orders and further enquiries, please call (65) 6213 4398/4473 or email shangpalace.sls@shangrila.com .
St. Regis
This year, the St. Regis is debuting its brand new mooncake: Champagne Truffle with Chocolate Paste ($73 + per box of 8). Wrapped in a black sesame skin, this mooncake is filled with a bittersweet chocolate paste with a centre bursting with truffle goodness. Another new mooncake to hit the shelves is the Green tea paste with almond flakes snow skin mooncake ($75 + per box of 8).
If you're looking to enjoy the mooncake creations but are concerned about your health, try the Reduced Sugar Green Apple Paste with Macadamia Nut Snowskin mooncake ($75+ per box of 8). These surprisingly delicious mooncakes see healthy, omega-rich macadamia nut pastes encased in an enticing green apple filling.
Old Seng Choong
Old Seng Choong has a selection of four snow skin mooncakes, with 2 pieces of each flavour in one box.
The four heavenly mooncakes start with the Cranberries with Choya Snowskin 冰皮蔓越莓梅酒, which combines the lip-puckering taste of fresh cranberries with a white chocolate truffle ganace centre filled with Choya; a premium Japanese umeshu plum liqueur. Passionfruit with Martini Mint Snowskin 冰皮百香果马丁尼 is the second one, which has a lotus paste filling (infused with the sprightly hit of passionfruit) that mirrors a crunchy white chocolate truffle ganache centre with the scent of martini and mint.
This is followed by the Coffee with Whisky Snowskin 冰皮咖啡威士忌 , inspired by Irish Coffee. This punchy mooncake has a coffee infused lotus paste and a chocolate ganache/Macallan Whisky centre. Perfect for the guys (and girls, of course) who love Whisky. Chocolate Rum Snowskin 冰皮兰姆酒巧克力 brings the rear, where the light mooncake skin holds a rich chocolate paste filling with a rum-filled centre.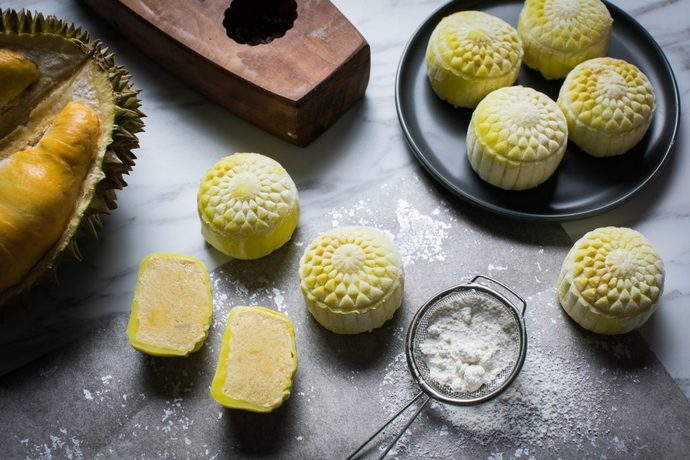 The Mao Shan Wang Durian Snowskin 冰皮猫山王榴莲 is packed with flesh from the famous King of Fruits – the Mao Shan Wang durian. Well-known for its rich and creamy texture with a balanced bitter-sweet nuance, this heavenly mooncake is a durian fan's ideal choice this festive season.
ON-LINE SALES
Old Seng Choong's Mooncakes go on sale online: 22 August – 3 October 2017
Online orders are available at www.oldsengchoong.com
First day of collection: 31 Aug
Last day of collection: 4 Oct
First day of delivery: 31 Aug
Last day of delivery: 4 Oct
Swensen's
 The all-new Sweet Medallions mooncake range from Swensen's has four decadent chocolate covered ice cream mooncakes: Rocher Crunch, Sticky Chewy Chocolate, Durian Royale, and Cookies N Cream Surprise. These are available from 15 August to 4 October 2017, at all Swensen's and Earle Swensen's outlets islandwide. The Rocher Crunch mooncake consists of Rocher ice cream with slivers of almonds and hazelnuts; a hazelnut truffle 'yolk', encased in an elegant dark chocolate shell and finished with edible gold dust.
The Sticky Chewy Chocolate ice cream mooncake is sure to delight chocolate lovers, with a dark chocolate truffle 'yolk' coated with a layer of dark chocolate. It's basically chocolate heaven. And no mooncake set is complete without a durian one; the Durian Royale comes enclosed in white chocolate, with D24 ice cream and a glorious Mao Shan Wang truffle core. The Cookies N Cream Surprise comprises Cookies 'N' Cream ice cream and a strawberry truffle 'yolk', encased in a white chocolate shell.
Swensen's mooncakes are on sale from 15 August – 4 October 2017 Online orders are also available at www.swensens.com.sg from 15 August – 26 September 2017. Last day of sale and collection at all outlets: 4 October 2017
SWEET MEDALLIONS
$48.80 for a box of 4 pieces (mix and match flavours)
$12.20 for a single piece
Hello Kitty Orchid Garden
Calling all Hello Kitty lovers! I'm sure you've been to the Hello Kitty Cafe – the 24-hour themed café built around the world's most iconic feline, celebrates Mid-Autumn Festival this year with the return of its popular traditional baked mooncake, embossed with the cute kitty ($33.80 for a box of 2 pieces), available from 17 August to 4 October 2017. Each delicious mooncake is filled with creamy white lotus paste, melon seeds and a single yolk.
The mooncakes are on sale at Hello Kitty Orchid Garden: 17 August – 4 October 2017 (walk-in only and whilst stocks lasts). Early Bird price of $29.80 per set for purchases made from 17 August – 14 September 2017.