Moru Curry, or buttermilk curry, is a simple vegetarian dish to make during the weeknights and goes great with rice!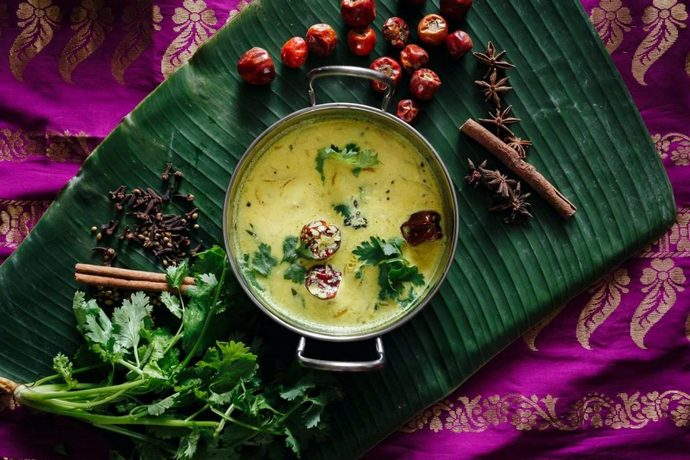 Moru is very popular in South India, therefore it's hardly surprising that we've made a curry out of it. Very vegetarian and not as popular as sambar, this understated gravy is what I crave when my meals are heavily laden with spices and meat.
Moru Curry (Buttermilk Curry)
Ingredients
2 Tbsp Vegetable Oil
¼ Tsp Mustard Seeds
¼ Tsp Fennel Seed
1 Stalk Curry Leaves
4 - 5 Dried Chillies
1 Medium Onion, peeled, halved and thinly sliced
3 Cloves Garlic, peeled and minced
1 Tbsp Turmeric
¾ Cup Yoghurt
1 Cup Water
Method
To make this very simple curry, heat the oil with mustard and fennel seeds in a pan over medium heat. Once the mustard seeds start popping, add the curry leaves, dried chillies and sliced onion. Saute in the oil till the onions soften, about 3 to 4 mins.
While the onions are cooking, mix the yoghurt and water together. Set aside.
Then, add the minced garlic into the onion mixture and stir to mix. After 1 minute, add the powdered turmeric. Remove the pan from the heat and add the buttermilk that you had set aside earlier. Mix thoroughly to combine.
Then, place this golden, sunny concoction over medium heat once again. Watch the pan carefully. The minute there's a soft boil, switch off the stove and serve warm. If you let this curry boil, the yoghurt tends to split, which is not something you want.
https://thecraversguide.com/moru-curry-buttermilk-curry/
Copyright belongs to thecraversguide.com.