The Beast at Jalan Klapa has the best of the Southern food! Think crispy fried chicken and creamy Jambalaya pasta!
American food or cuisine is typified by the sinfully deep-fried and elaborately large portions of food. Not that I am complaining, but sometimes it can be a little too much of too good that'll get tough to push down, after a while.
A few Fridays ago, I decided that I'll give my reservations about portion sizes a break and visit the Southern-inspired bar/diner The Beast. Located at Jalan Klapa, just off Jalan Pisang (I am not making these names up, I swear), The Beast is fairly accessible if you're taking the train. Alight at Bugis and walk over – simple.
I had made reservations, but the restaurant portion of the place was pretty empty at 7 pm. The alfresco area was teeming with folks drinking and being loud (yes, at 7 pm), but you can hardly hear them when you're indoors. The tables are recycled wine barrels, and the chairs are bar chairs with little to no back support, so don't go expecting comfortable seating.
What you can expect is comforting Southern food, which more than makes up for the seating. They also have fantastic service here, going out of the way to ensure that guests are comfortable, happy and take advantage of the happy hour. The happy hour was from 6 to 8 pm, and all house pour ciders, beers and wines were going at $7 a pop. Of course, I took advantage of that.
On the menu, you can find traditional Southern food – Snapper Jambalaya Pasta, Shrimp & Grits, Corn Bread, Mac & Cheese and some really, really good Fried Chicken, among others. Needless to say, I tried all of the above and they were ALL very good. Before I go into the food, though, a fair warning: portions are very big. Please consider sharing.
The Fried Chicken
This was done beautifully – crispy and crunchy on the outside and soft, juicy and tender on the inside. Each order of fried chicken comes with 4 large pieces of chicken (1 enormous breast piece, 2 thighs and 1 drumstick) with a dipping sauce. Unfortunately, I am unable to comment much on the dipping sauce as I forgot it's existence once I sunk my teeth into the chicken. The piping hot chicken came topped with a sprig of rosemary and on a wooden serving board. How rustic!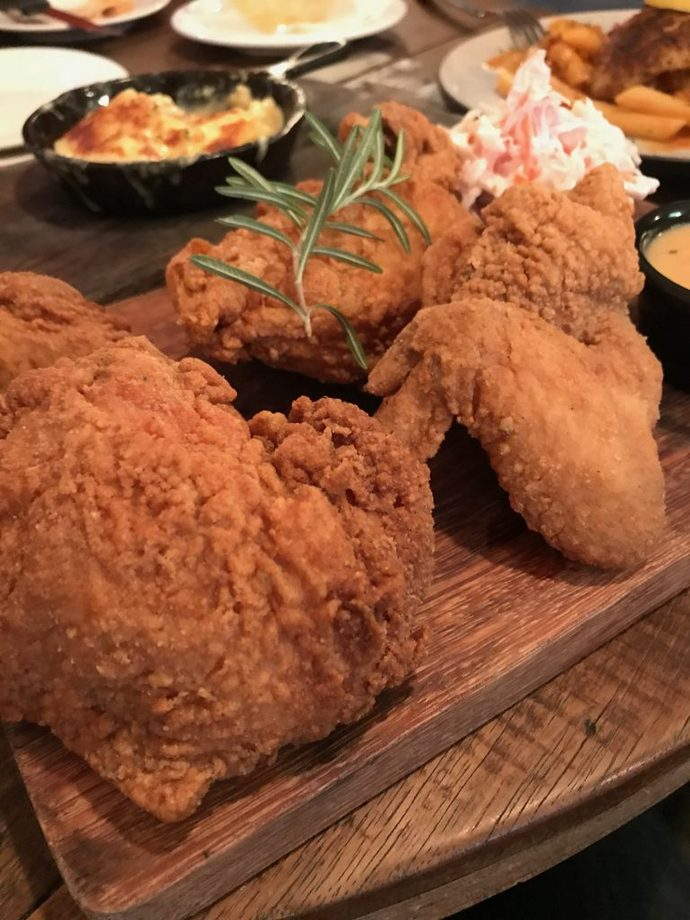 Shrimp & Grits
The Shrimp and Grits was a generous serving of four fat shrimp pan-seared with traditional southern spices (think paprika and dried herbs). The sear had given the prawns a fiery, red outlook. They were perched invitingly atop a mount of grits. For the uninitiated, grits is a truly southern fare going all the way back to slavery in West Africa. Grits (coarsely ground corn bits) were even used at currency at one point, and villagers started cooking it with whatever food they could get. Here, the grits are infused with creamy cheddar cheese and presents the texture of soft mashed potatoes with gritty corn bits.
Corn Bread
Cornbread is another dish The Beast did with such perfection. The traditional bread was baked with such care – the bread was soft, almost cake like. But it still had the right, dry bite to it that bread has. The cornbread is served with a side of homemade cranberry sauce and whipped honey-butter – though you probably don't need it to dive into this. My suggestion is to dip the cornbread into the Shrimp and Grits, or even the Jambalaya.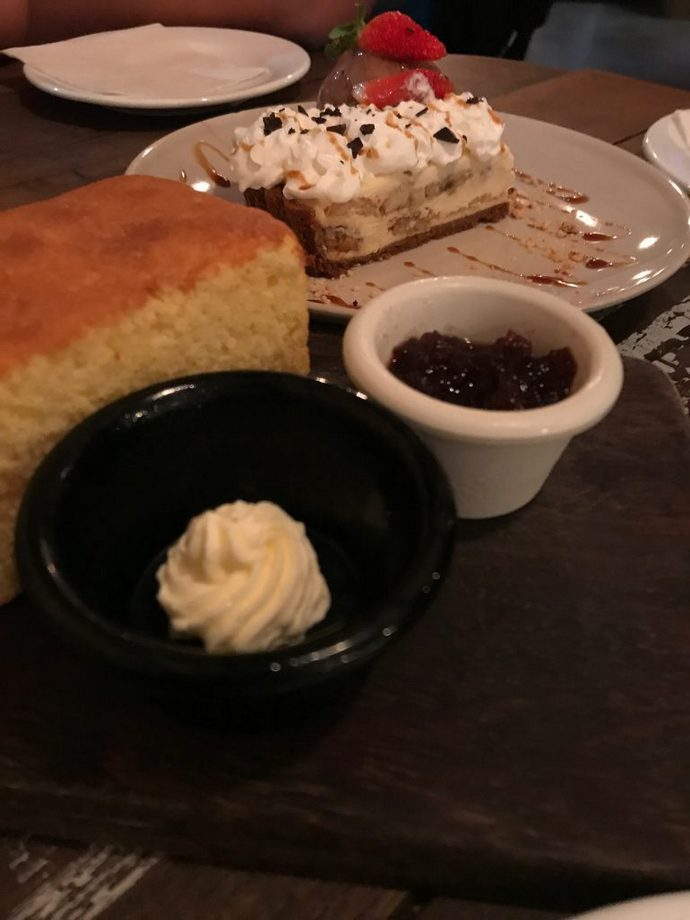 Jambalaya
The Spanish-inspired Jambalaya gets a southern twist here, with a pan-seared snapper fillet and pasta. Traditionally, Jambalaya is served with rice and made with chicken, sausage, shrimp. All these ingredients are cooked with minced meat and rice in a large pot. You can think of this as a variation on a Paella, but without the extremely large pan. The spicy creole tomato sauce in which the pasta was soaked was too good! If you're not too big on the fish, try the chicken sausages in this dish with a bit of that sauce – divine.
Mac & Cheese
Now, I know most of you would have had one or another version of Mac & Cheese. The Beast does an interesting version of this – though I am happy that they did not deviate from the original too much. Mac & Cheese is one of those sacred dishes. Instead of the classic macaroni, they use shell-shaped pasta. Which is fine, as I find it holds the mixture of cheddar, mozzarella and bechamel sauce perfectly.
For desserts, two things you should try: The Bourbon Pecan Pie and Banana Cream Pie. I was unsuccessful in snapping a pic of the Banana pie. Tt literally evaporated into our mouths the minute they brought it out. I can describe how melting, rich and rewarding the desserts were, but I shall leave you with just one word instead: sigh.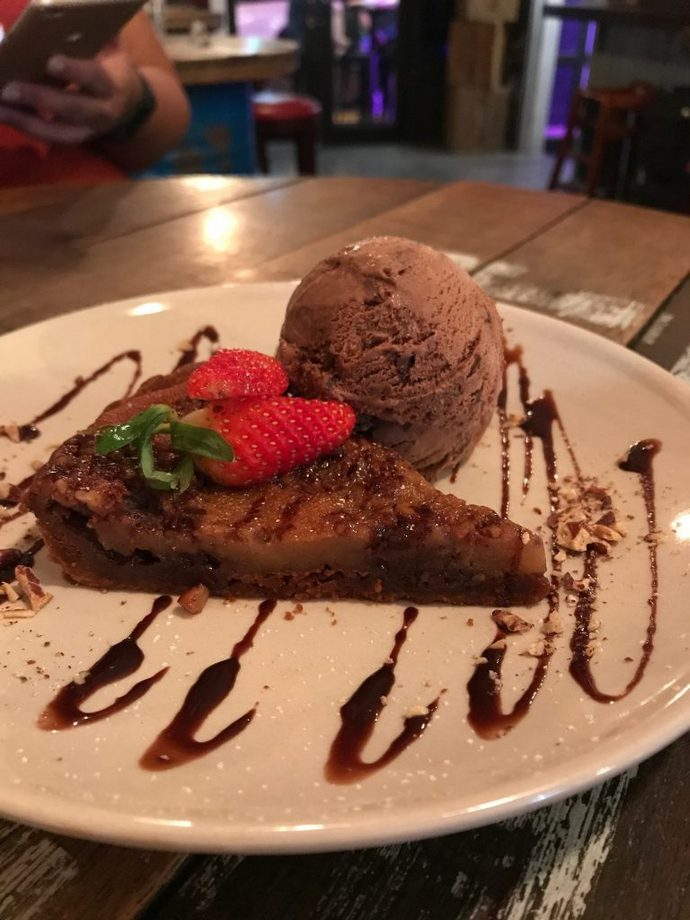 The Beast knows its place in the F&B world really well and plays its game like a pro. The location is apt, the crowds for alcohol are magnificent and the food is out of this world! Obviously not an everyday indulgence, but Southern food at its best in Singapore.