Located in a quiet space within the CBD of the Sukhumvit area in Bangkok, Movenpick Bangkok offers a much-needed respite away from the city, within the city. What stood out most about this property was its grandeur and monochromatic interior, high ceilings contrasted with the greenest of plants – you feel instantly calm, simply by being in such a well-planned space.
The resident restaurant in Movenpick Bangkok is also where breakfast is served every morning to hotel guests. Delicious as it may be, I was there to try their special menu designed for the festive season. Here's an interesting fact that you might not know: Movenpick chefs take their instructions (right down to the recipes) from their headquarters in Switzerland. Every dish is held to its highest standard, every ingredient either locally sourced at its freshest or imported from around the world. The cuisine is also very different – what they try to do here is to introduce a new way of appreciating the foods to guests, by introducing different dimensions to rather traditional dishes. For example, did you know that there was a European version of curry, that is served with tropical fruits such as pan-fried bananas and caramelized pineapples? While there were no traditional Thai food items on the menu, it was easy to tell that the chefs and the brand don't hold back on flavour.
Starter
To start off, we had a wonderfully deconstructed Niçoise salad. Unlike the traditional salad (which is a deviation I've now come to expect and appreciate of the Movenpick brand), this salad had all the ingredients leaning on one another, with a handsome chunk of grilled tuna as a nice compliment to the aesthetics of the dish. The capers were fresh, tomato slices were varied and olives deliciously salted. And of course, the usual chunk of green vegetables and boiled eggs with a rich, almost custard-like yolk.
Mussels were a big feature on the menu, doused in aromatic white wine and cream. The mussels were perfectly cooked and we were each given a cute little metallic mussel puller to remove the scented, perfectly cooked meat from their dark shells. The mussels were cooked with plenty of care; they were tender as they could be with very little to no chips and bits of shell stuck everywhere.
Mains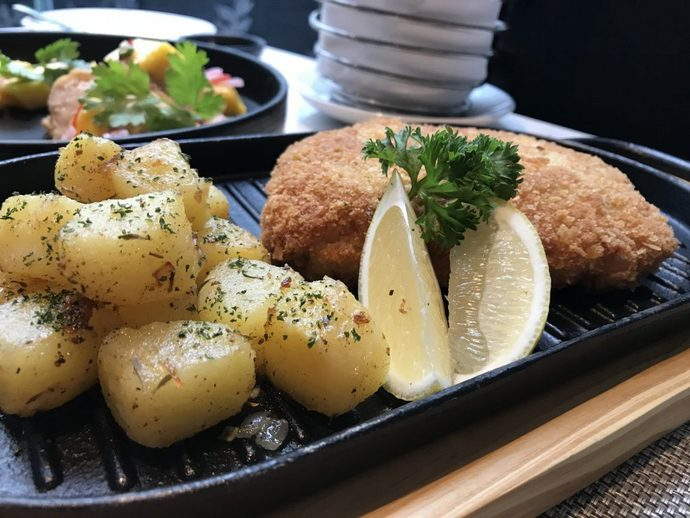 Now, the Cordon Bleu here is very different. Instead of chicken, Movenpick Bangkok uses pork tenderloin instead. The treatment is the same, the stuffing is made with delicious ham and good quality cheese and the entire meat chunk is coated with a crunchy layer of panko (breadcrumbs). Cordon Bleu is best consumed warm, as that's when the cheese is at the optimal temperature to ooze out delightfully.  Traditionally, Chicken Cordon Bleu is served with a side of French Fries – here, however, you get a side of tender roasted potatoes in perfect chunks, herbed and oiled with oregano, salt and olive oil.
The chicken that was lacking in the Cordon Bleu was present as a star on its own, along with its hip new partner – mango. Thailand is known for its obsession with Mango; in fact, there's a store along Sukhumvit Soi 55 that sells ONLY Mango Sticky Rice with the warmest coconut milk, but that's a story for another day.  Mangoes are becoming popular accompaniments to savoury food, and their pairing here with Chicken and a fresh helping of coriander made this dish irresistible. The sweet and tangy mango was delicious with the chunks of grilled chicken.
Dessert
Dessert was a mouth-watering treat, with a Gluten-Free Queen of Sheba Cake and a traditional Movenpick Carrot cake. The carrot cake was also made vegan, using a plentiful helping of nuts, raisins and of course, carrots. The Queen of Sheba cake I was eager to taste, as I am a huge fan of this particularly rich and nutty chocolate cake. My Mother introduced me to this cake when I was a child – since then I grew into baking and have my very own recipe, but it is not gluten-free. This cake was made with almond flour (or ground almonds) in place of regular flour to give the cake its volume and delicious nutty taste. The cake melts in your mouth and is not overly sweet.
Movenpick Bangkok is a wonderful place to dine and stay at while you're in Bangkok, simply because you can get away from it all while still being in the centre of it all. You can easily get to the destination by popping into the complimentary Tuk-Tuk from Terminal 21 Shopping Centre, adjacent to Asok BTS Station.
Movenpick Hotel Sukhumvit 15 Bangkok
47 ถนน สุขุมวิท 15, Khwaeng Khlong Toei, Khet Khlong Toei, 10110, Thailand
Closest BTS: Asok, take the free Shuttle Tuk-tuk from Terminal 21
Disclaimer: This was a tasting sponsored by Movenpick Bangkok for thecraversguide.com. While I appreciate tastings, I am also very honest with the opinions I post up on this website for you, my readers. Hence, please be assured that this review is not contrived as a compliment to the dishes or the restaurant for a free meal, as I don't believe in making bad food sound good. Thank you! Now enjoy feasting the dishes with your eyes 🙂 Krishy.