How are you celebrating National Day? Over the years, Singapore has become a hodgepodge of cultures from all over the world. Yet, we've maintained some homogeneous traits as a society, specifically in our love for good food. Here's are some sweet National Day deals!
Publico Ristorante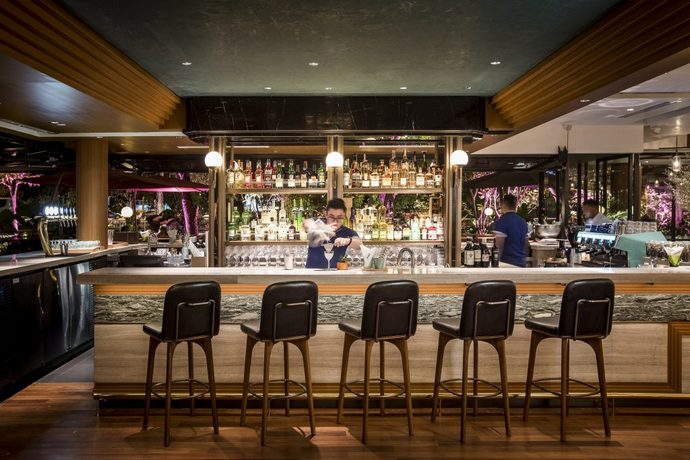 Celebrate our little red dot's birthday with a riverside soirée, with live music and locally-inspired dishes. Executive Chef Marco Turrati's Special Singapore Inspired Pasta is a local twist on Italian fare, whilst a trio of special sling cocktails, including the Passion Sling made with Gin, Apricot Brandy, St. Germain Elderflower, Passion Fruit and Grapefruit Juice, will be priced at $19.65++.
On Thursday 9th August, Publico Ristorante will extend their opening hours, offering lunch from 12-3pm, cocktails and pizzas from 3-6pm and dinner from 6-11pm.
Publico Ristorante
Level 1 InterContinental Singapore Robertson Quay
1 Nanson Road, Singapore, 238909
Reservations: +65 6826 5040
The Lion Remix at W Singapore – Sentosa Cove
W Singapore – Sentosa Cove is celebrating our proud nation's birthday in style this August! True to the spirit of Singapore, W Singapore – Sentosa Cove knows the way to the republic's heart is through a hearty local feast with well-loved favourites. Signature hawker dishes such as Laksa, Hokkien Mee and Steamed Hainan Chicken will greet eager diners at SGD88++ per person. Premium Lobsters and Chilli Crabs are also available.
If your birthday falls on 9 August, you get to dine for free (I've fallen 4 days short of this). If you don't share your special day with Singapore, worry not – W Singapore – Sentosa Cove is still knocking 25% off your bill. All diners also get free access to WET®, the largest resort outdoor pool area in Singapore.
Details of Lion Remix below:
Date: 9 August 2018, Thursday
Where: the kitchen table, W Singapore – Sentosa Cove, 21 Ocean Way
Time: 12:30PM – 3PM, 6PM – 9PM
Price: $88++
Wolfgang's Steakhouse
Wolfgang goes local this National day to pay homage to our populous nation, with a specially curated selection of locally-inspired cocktails and dishes. The National Day Bundle, at $53 nett, will feature a Clear Chicken Soup and Black Pepper Beef. This dish is created to strike a balance between the black pepper dishes famed in Singapore and the establishment's classic dry-aged USDA Prime Black Angus Sirloin. This will be Wolfgang's first National Day in Singapore.
The stir-fried beef, with bell peppers, will be served alongside rice. The bundle also includes 1 drink – diners can choose between the 'Wolfgang Sling' (Bombay Sapphire, Kirschwasser, Dom Benedict, Fresh Lemon Juice, Sparkling Water) or 'Orchard Road' (Bombay Sapphire, Honey Syrup, Fresh Lemon Juice). Both these cocktails have been created to sing the Singapore spirit.
Wolfgang's Steakhouse Singapore is open daily from 11.30am to 11.30pm, and offers lunch, happy hour and dinner daily.
For more information, please visit www.wolfgangssteakhouse.sg
For reservations or enquiries, please call: +65 6887 5885
Crystal Jade
@Crystal Jade La Mian Xiao Long Bao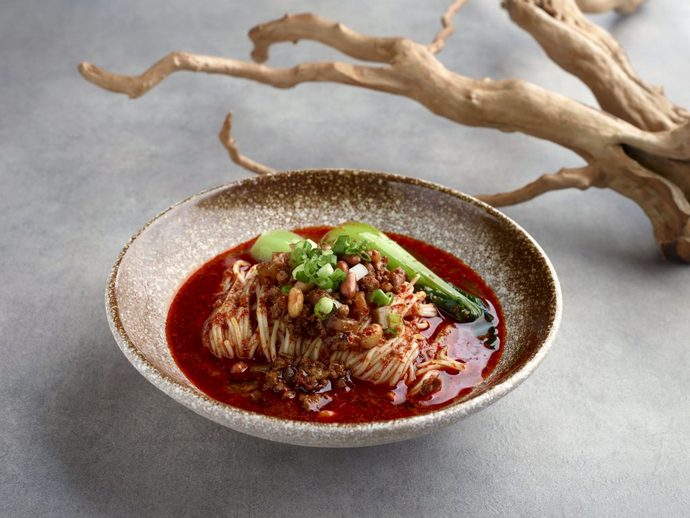 We now live in a world ruled by the Mala Hotpot, thanks to Szechuan Chilli Peppers. The enterprising team at Crystal Jade has created five special dishes with this chilli to set tongues wagging (literally, and most sinfully).
Diners can expect Sautéed Spicy Tea Tree Mushroom 干锅 茶树菇 ($15.80), Sautéed Spicy Pork Collar with Potato and Lotus Roots 辣子猪颈肉 ($16.80), Chongqing Spicy Noodles 重庆小面 ($8.80) and Pan-fried Mala Pork Buns 麻辣香煎包 ($6.80 for 3 pieces). I am particularly excited about the mala pork buns, as I have a soft spot for both mala and pork.
The buns are fattened delightfully with minced pork, pork loin and cabbage, all marinated in a signature mala spice mix. These plump babies are then pan-fried to give them each an inviting golden crust! DBS/POSB cardholders and Jadeite cardmembers enjoy $1 off the usual price for all five dishes, during the National Day promotion period.
@Crystal Jade Kitchen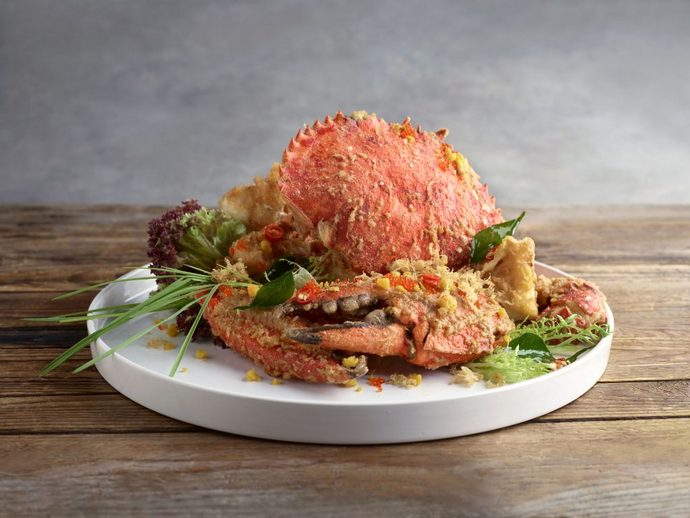 Sri Lankan Crabs are also available during this festive period to honour Singaporeans' first love – Chilli Crab! Diners can indulge in 5 different crab dishes; Chilli Crab 辣椒螃蟹, White Pepper Crab 白胡椒螃蟹, Steamed Crab with Chinese Hua Diao Wine 陈年花雕蒸蟹 and Sautéed Crab with Ginger and Scallion 姜葱炒螃 蟹. My personal favourite is the Salted Egg Yolk Crab 咸蛋 黄炒蟹 but that's because I like salted egg yolk everything (except ice-cream. Ew.)
Each crab; weighing about 600-800g each, will be priced at $88, inclusive of preparation of the dish (DBS/POSB cardholders and Jadeite members pay $68 per crab). Between 6 to 12 August, Crystal Jade Kitchen will introduce a limited time offer available only for DBS/POSB cardholders and Jadeite members. Crabs will be available at $53 each as part of the nation's 53rd birthday, with a minimum spend of $50.
The National Day Promotion will be held from 2 July to 31 August, at Crystal Jade La Mian Xiao Long Bao and Crystal Jade Kitchen.
Ding Dong
We know Chilli Crab inside out, but have you ever tried it with sambal instead of the usual ketchup? Ding Dong has added this quintessential chilli paste to its 'Singapore Chilli Crab', specially created for National Day.
There is also deconstructed Satay on the menu; think Duck Leg, with Satay Sauce and Ketupat, and no skewers in sight.  Ding Dong has also created a local version of the popular 'Baked Alaska, with the nation's favourite durian. The sweet treat is essentially homemade durian ice cream paired with fluffy pandan chiffon cake, finished with a caramelised Pandan Meringue outer shell. This is accompanied by a thin biscuit spread generously with homemade kaya. Did someone say Singaporean?
Din Tai Fung
I take Din Tai Fung's Steamed Chilli Crab & Pork Xiao Long Bao 辣椒螃蟹小笼包 return as a personal victory! If you haven't had this amaaaazing dumpling already, here's the rundown: juicy crab meat is paired with a tantalising pork filling, in a chilli crab broth. This is then tenderly wrapped, promising to explode with umami goodness when bitten into.
The Steamed Chilli Crab & Pork Xiao Long Bao is available at all Din Tai Fung restaurants island-wide, from 1 July – 31 August 2018, at S$7.50/$8* (4 pieces) per serving. UOB Cardmembers enjoy 10% off Steamed Chilli Crab & Pork Xiao Long Bao.
Open Farm Community
We cannot get more local than Open Farm Community, where all ingredients are sourced locally. Open Farm Community encourages the connection with urban communities in our busy little red dot, through ingredient sourcing from home and neighbouring farms.
This National Day, the Open Farm Community is serving a local classic with a modern twist. The Southern Malay Laksa is creatively reinterpreted in Crab & Prawn Laksa Pappardelle, a delightful pasta dish. Imagine all the comforting flavours of a classic Laksa with homemade pasta, complete with fat, plump prawns!
Open Farm Community has also created the Black Bean Strozzapreti, a special pasta dish for vegan and vegetarian diners. This dish features organic tofu, mushrooms and sorrel – all from various local farms and production companies.
SE7ENTH at Oakwood Premier OUE Singapore
SE7ENTH at Oakwood Premier OUE have pulled out the big guns for our little red dot's birthday. In their arsenal is 1 for 1 Singapore Slings and a 2 Course dinner set menu featuring a burger dedicated to satay!
From 1 to 12 August 2018, SE7ENTH will be serving up a specially created National Day 2-Course Set Dinner (S$53 for 2) with locally-inspired dishes such as the Chilli Crab Pasta, Curried Pumpkin Soup with Chinese Sausage and sous-vide egg and the Oakwood 'SE7ENTH' Satay Beef Burger. The Bar will feature a 1-for-1 deal on the the Singapore Sling, a classic local cocktail. Tiger Beer gets a salute, too, with a special price of S$5.30++ per bottle (U.P. S$12) from 9 to 31 August 2018.
Facebook: https://www.facebook.com/SE7ENTHsg/
For dining reservations and more information, please contact 6812 6050 or dining.opsg@oakwood.com.
Set menu items are subject to change without prior notice. All prices are subject to 10 % service charge and 7% GST, unless otherwise stated.
Opening hours:
Breakfast: 6.30 am to 10.30 am
Lunch: 12 noon to 2 pm
Mondays to Fridays – Set Lunch Only
Saturdays and Sundays – A la carte
Dinner: 6 pm to 10 pm
Address:
Oakwood Premier OUE Singapore, Level 7
6 Shenton Way, OUE Downtown 1, S 068809
Marina Bay Sands
Marina Bay Sands always does enough to deserve a standing ovation – I mean, have you seen their restaurant line up? A handful of these restaurants are riding the National Day wave this year with a line-up of exciting dishes on their menu, crafted especially with our National Holiday in mind. Adrift by David Myers is serving up light bites and a barbeque sharing platter on the Singapore's Birthday! Expect dishes such as King Crab Slaw with fish crisps and jalapenos and Japanese Flying Squid with white soy dressing. Adrift will also be serving up one-for-one Singapore Sling (S$23++).
So, how are you planning to celebrate the Lion City's Birthday?