Happy National Day folks! Well, not quite, but heck, I don't see why we cannot celebrate our great nation's independence for a whole month. A believe, that I may point out, seems to coincide with that of Marina Bay Sands' as well. This August, enjoy special promotions and exclusive offers on selected dining outlets in MBS, as well as ongoing exhibitions at the ArtScience Museum.
National Day White Chocolate Peach Cake
Everyone's favourite spot for sweets at MBS, SweetSpot (pun completely intended) has created a delectuable White Peach cake to help you celebrate our nation with flags raised high and mighty. Not kidding, this cake is modelled after the Singapore National Flag. A delicious almond sponge cake with peach jelly and mousse, the decorations in this cake have been carefully sculpted to mimic the iconic crescent and five stars on our flag. If the cake is not your thing (though I cannot imagine why), try their DragonFruit Strawberry Banana Smoothie ($9) – sounds like a filling and healthy way to fill up the dessert stomach.
White Peach Cake is available for a limited time only at SweetSpot MBS, for the month of August. Each slice is $9, while $58 will get you a 1Kg Cake.
RISE for our National Day Dishes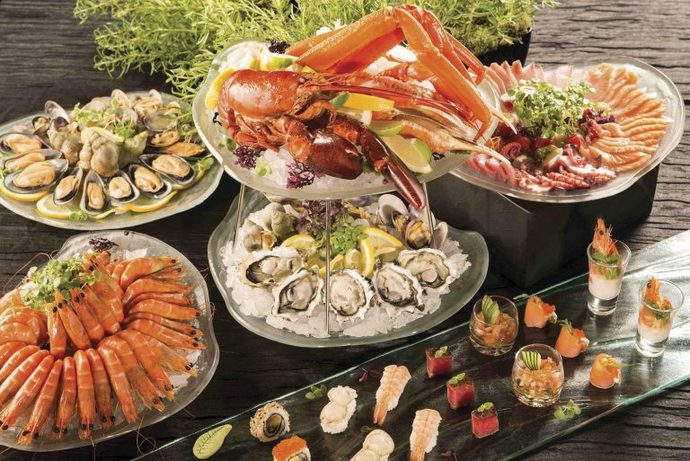 Its Laksa, Prawn Mee and Yong Tau Foo delight at RISE, which has taken this spectacular opportunity to serve up dish after dish of Singapore's wide range of exotic yet familiar food fair. Expect Gula Melaka desserts, too. Available on the 9th of August only during lunch and dinner. $68++ for lunch and $88++ for dinner buffets respectively.
A National Burger
Independence Days across different nations get homage in db Bistro and Oyster Bar. Singapore's very own 'National Burger' has been updated, now served on an Aged Cheddar Bun, along with a Coconut Jackfruit Sunday. This burger is joined by its American and French counterparts, both dishes designed to celebrate the respective nation's special day. Each burger is an explosion of hand-picked ingredients that reflect the country's culture at its best. On from now till 9th of August, 12.30pm to 5.30pm at $45++.
Wish on Wellington
Bread Street Kitchen has a special surprise this National Day for its avid diners: they're bringing back the popular Beef Fillet Wellington for one day only, the 9th of August. The wellington will be served with a red wine sauce, mash, glazed carrots and seasonal vegetables. At $80++.
Cut by Wolfgang Puck
This swanky new joint in MBS pays tribute to National day in the coolest way. How you ask? Here's one of the items on their menu: Kaya Toast Baked Alaska. The nice people at Cut are offering a two-course set ($51++) meal on National Day; a starter of blue-cheese and butter lettuce salad with with Champagne-herb vinaigrette. The exciting main is a Flat Iron Steak with hand-cut fries. The three-course set ($65++) option includes the mouthwatering Kaya dessert, flexing the local flavour muscle quite a bit. Available for dinner on the 9th of August.