Chicken Rice is a very popular dish in Singapore, needless to say. I had my apprehensions about creating a recipe for this dish, but I figured, what's the harm? Everyone has their own favourite version of this classic Singaporean dish. This is mine – a homemade one. With chicken rice pastes so readily available, cooking at home can be a breeze! Give yourself 30 mins and dinner is ready. This recipe serves 2 generously, by the way. And it freezes well too, so if you live alone then you can have lunch and dinner in under 30 mins – great huh? Okay I'm done yapping – check out the video and the recipe below!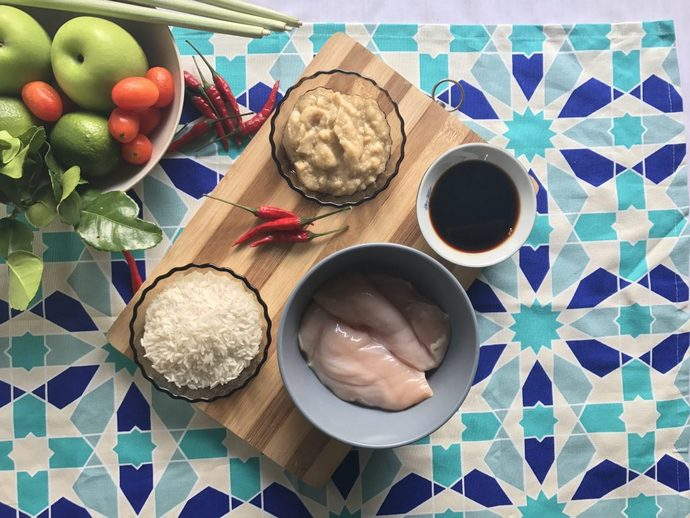 New Video: 2 Step Chicken Rice under 30 mins
Ingredients
1.5 Cups Rice
3 + 2 Tbsp Woh Hup Chicken Rice Paste
5 + 3Tbsp Vegetable Oil
1 Chicken Breast (about 200g)
Soy Sauce
2 Bird Eye Chillies
Method
Start with the Chicken. Marinate the chicken breast in the soy sauce, cut chillies, 3 tbsp oil and 2 tbsp chicken rice paste. It doesn't need salt as there is plenty of salt in the soy sauce. After 30 mins, lay out the meat on a baking tray. Roast, covered, in the oven at 170 Degrees Celsius for 15mins to 20 mins.
While the chicken is roasting, work on the rice. Wash and drain the rice and place it in the cooker with 3 Tbsp Chicken Rice Paste and 5 Tbsp Oil, plus 2 cups of water. Stir to mix and cook the rice in your rice cooker.
Serve rice and chicken sliced up with Chicken Rice Chilli Sauce (which also comes out of a bottle). Enjoy!
https://thecraversguide.com/new-video-2-step-chicken-rice-30-mins/
Copyright belongs to thecraversguide.com.