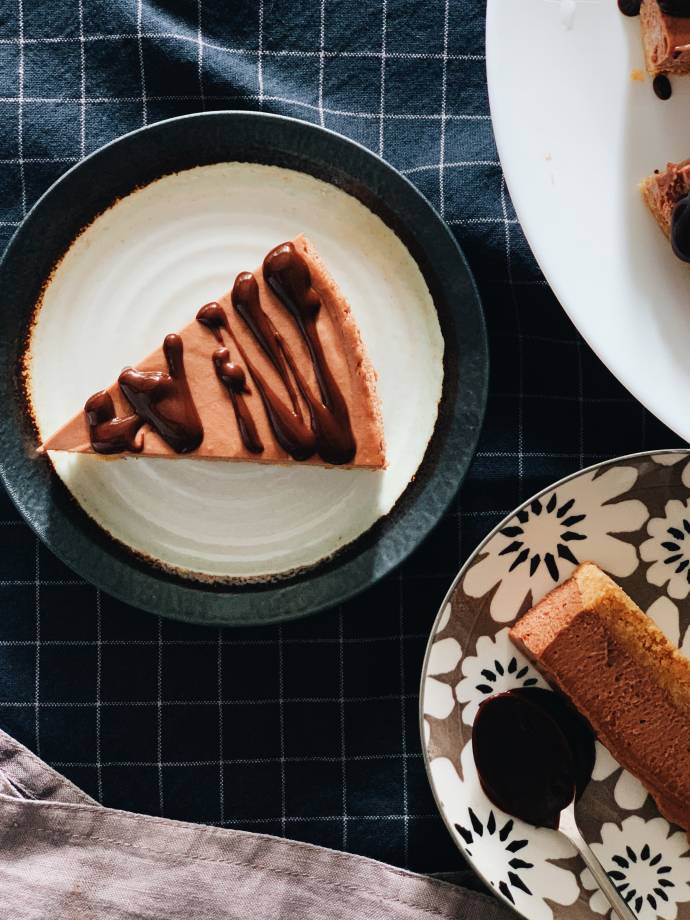 A Nutella Cheesecake without gelatine or heat and with very few ingredients! Impress your friends and family with this super easy and delicious recipe!
Nutella is a universal ingredient. No, hear me out. It's the ingredient that can invoke a certain kind of magic in both children and adults that few other foods, or a single ingredient, in the context of this recipe, can!
A Nutella Cheesecake
This is not a new concept – if you search for it on Google you'll find tons of Nutella Cheesecake recipes. All of them have their own way of bringing this universal ingredient to life. I don't claim that my recipe is the best, but it will suit those who like the brand of desserts I create – indulgent but also not too sweet.
This cake uses no added sugar other than what's already present in the Nutella.
What makes this Nutella Cheesecake
There's a total of 5 ingredients that goes into this cake. 3 of those ingredients make up the filling of the cake, while the biscuits and butter are for the base. To summarise, you'll need to do just these few things for the filling:
Whip room temperature cream cheese
Add the Nutella and process
Fold in whipped cream
Then you pour on the biscuit base and chill! 
The biscuit base is another no brainer, made simply with crushed digestives and melted butter. 
Nutella Cheesecake proportions
I've provided an easy-to-remember proportion for the ingredients here. Essentially, everything that goes into filling the cake is 200g. So that's 200g of Cream Cheese (you can use the pack that comes in 227g, I would not worry about the extra 27g), 200g of Nutella and 200g of fresh cream which you need to whip to soft peaks.
However, this will yield a cake that's not too high. When I made this cake, this was what I was after. I wanted a relatively thin cake to make a simple end to an elaborate meal at home. However, the portions here are a rough guide and you need not worry too much about getting this wrong. If you'd like a higher/thicker cake, you can use 230g to 250g of each ingredient.
Cheesecake Base
The cheesecake base is quite traditional, made with digestives and melted butter. This is not to say you can't get creative with it. Use whatever additional ingredients you like, I mean a tablespoon of cocoa would go a long way in making this base dark and sexy. Or you can use an oreo base instead. Or to cut the sweetness of the chocolate, you can add a tsp of ground ginger even! 
No-Bake Nutella Cheesecake
Course: Dessert
Difficulty: Easy
You'll need;
175g Digestive Biscuits

80g Butter, melted

227g Cream Cheese, at room temperature

200g Nutella

200g Double Cream, whipped to soft peaks
You'll need to;
Place the digestive biscuits in a food processor and crush them to rubble. Or you could place the cookies in a ziplock bag and bash them with a rolling pin. This is more violent but infinitely more pleasing!
Mix in the melted butter, and press this into a lined 7 in a loose-bottomed cheesecake pan. This is so that you can easily push up the cheesecake later. Once you've achieved a flat cheesecake base, place the pan into the fridge and get on with the cheesecake.
Place the cream in a cake mixer and whip it till you get soft peaks. Place this in the fridge for a second while you get on with the cake. In a food processor, whip the cream cheese until it's smooth and creamy. Then, add the Nutella and continue to whip till you get a smooth emulsion.
Fold the whipped cream into this cheese mixture, slowly but surely. It will take a while but things will eventually come together and you'll get a beautifully smooth mixture. Coax this mixture onto the biscuit base, and smoothen out the top. Place the cake back in the fridge overnight to firm up.
You can slice this and drizzle some melted chocolate over it for extra oomph. Eat with love!