No oven? No fear! This no bake salted chocolate tart can be made without an oven; you'll just need to chill it, and then dive in happily.
A chocolate tart that doesn't need baking? Yes, please!
I created this tart with the guidance of culinary Goddess Nigella Lawson, who made this as part of her Simply Nigella show. I never thought making tarts would be possible, or at least that it was something I could do. However, after buying a tart case recently, I've decided to brave making a tart and now I cannot seem to look back.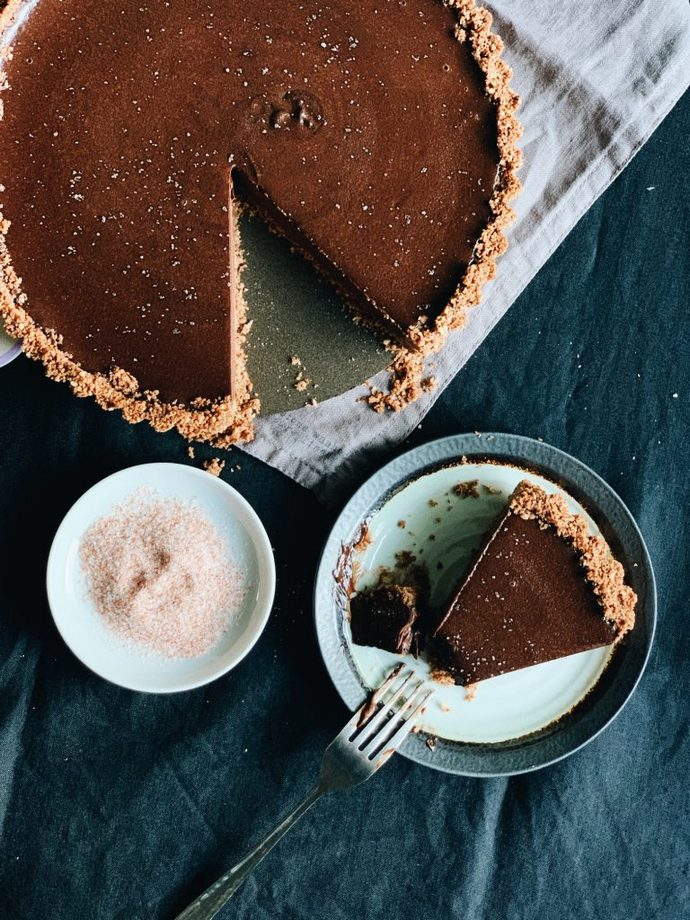 This chocolate tart is indeed a salted one, and does not need an oven to come together – which is fantastic! Borrowing from Nigella's recipe, I have changed a few things here to adapt this better to our palate, and also ingredients that are more available to us in the market.  I have used Pink Himalayan Salt here, instead of the smoked sea salt required in the original recipe. Pink salt is so much more accessible, though it gives a slightly different flavour here. 
Thinking of a fruity tart instead? Try this Apple one with Shortcrust Pastry!
This is a very chocolate-y tart though, there's no denying that. There's a good portion of dark, bitter chocolate and cocoa powder in this. However, don't assume that it's all bitter – the cream and sugar help to balance the bitterness of the chocolate. Everything is so rich and exuberant here, it's almost impossible for one person to plough through it. I said almost.
The Crust
The original recipe called for an oreo cookie crust, which I have replaced here with digestives. I love the taste of crushed digestives with butter, not least because this can last longer than the oreo crust. You can use chocolate covered digestives and regular digestive biscuits. Or, plain chocolate with regular biscuits, the combination of biscuits is really up to you. Just ensure that you keep to the butter to cookie ratio. I've used a food processor here to crush the biscuits; you can simply crush them in a plastic bag with a rolling pin or a heavy ladle. This is indeed a good way to get rid of the day's stress.
No Bake Salted Chocolate Tart
Course: Dessert
Cuisine: Western
Difficulty: Easy
No oven? No fear! This no bake salted chocolate tart can be made without an oven; you'll just need to chill it, and then dive in happily.
You'll need;
The Base

200g Chocolate Digestives

100g Graham Crackers or Plain Digestives

100g Unsalted Butter, softened

The Filling

25g Rice Flour

60ml Full-Fat Milk

100g Bitter Chocolate (min 70% cocoa solids)

500ml Full-Fat Cream

50g Cocoa Powder, sieved

75g Fine Sugar

1 Tsp Vanilla Paste

2 Tsp Olive Oil

1 Tsp Himalayan Pink Salt
You'll need to;
Making this tart is a straightforward thing.
Start with the base, of course. In the bowl of a food processor, place the biscuits and pulse until you have a fine rubble. To this, add the softened butter and pulse again, until everything is combined.
Tip this mixture out into the waiting tart tin (I've used a 23cm fluted edge tin here). Using the back of a spoon and your hands, shape the biscuit rubble to line the tart. There will be a lot of rubble, so you can afford to give the sides a nice, thick layer of crust.
Move this to the refrigerator to chill. This has to chill for at least 4 hours, overnight is fine as well.
For the filling, mix the flour and milk together in a jug and set aside.
Place all other filling ingredients into a large saucepan, and over medium to low heat. We do not want the cream to boil here, so proceed cautiously. Stir with a wooden spoon until the chocolate melts completely. The cocoa powder may take some time to dissolve, so you can use a small whisk to help this along in the initial stages.
Once the chocolate dissolves, remove the pan from the heat, keep stirring. Add the slaked cornflour into the chocolate mixture. Stir to combine, then place it back on the lowest heat setting possible.
Keep stirring until the chocolate filling thickens to an almost custard consistency. You'll be able to tell this simply by drawing a link on the back of your wooden spoon. If the line stays, the custard is done (this will take anywhere between 5 to 10 mins).
Once you reach this stage, switch off the heat and move the pan away from the hob. Then, tear off a piece of cling film and cover the top chocolate filling. Make sure that the cling film sits directly on top of the custard; this will prevent a skin from forming later.
Allow this mixture to cool enough to pour onto the buttered base without it melting. This will take about 30 minutes. Then, remove the base from the refrigerator, and slowly ladle in the chocolate custard filling. The tart should be filled to the brim.
Now comes the really challenging part; moving this to the refrigerator. It'll be heavy, and very wobbly, so proceed with caution.
Once in the refrigerator, leave it there for at least 8 hours. Remove after and serve with sprinkling of more pink salt, or a scoop of your favourite ice cream.
Notes
This is a salted chocolate tart, though you can just as well make it without the salt.
This is an eggless tart, which makes this vegetarian. However, it is NOT vegan due to the use of butter and cream.
Do not use a large whisk, as we're not looking to incorporate any air into the chocolate filling.