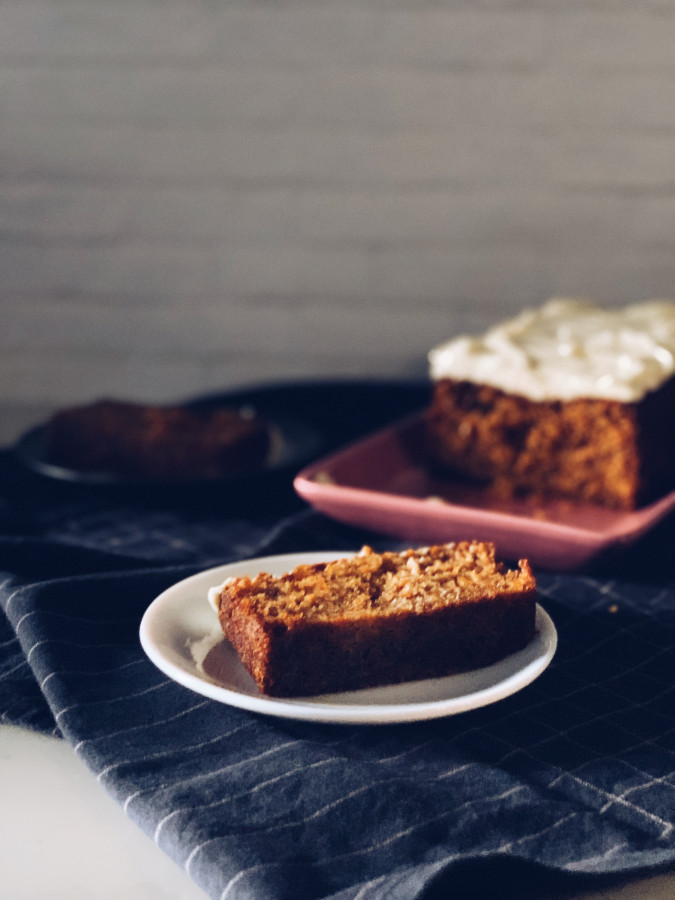 Fan of carrot cake, but hate nuts, seeds, raisins and spices? Keep reading — I may just have the perfect recipe for you!
Carrot Cake is a classic dessert and my preferred way to eat this vegetable (#truestory). I've had this many times in restaurants, and almost every time there's always an unnecessary addition, such as raisins. What sets this carrot cake apart is its simplicity—no nuts, no spices, and no raisins. While these traditional elements are often beloved, I've crafted a recipe that focuses on the natural sweetness of carrots and a moist, tender texture. Sometimes less is truly more. Don't believe me? Try out this recipe, then.
This recipe is
Quick and easy
Has no nuts, raisins, spices
Can be ready in an hour
Here's what you'll need to make this fuss-free no-nut carrot cake:
Whole, Full-Fat Milk
Whole milk adds richness and creaminess to the carrot cake and contributes to the moistness of the final cake. For a vegan alternative, you can use unsweetened almond milk or soy milk, which will still lend a creamy consistency to your cake.
Melted Butter
Melted butter adds a luxurious and buttery flavour to the carrot cake. It helps to keep the cake moist and tender. For a vegan option, you can use vegan margarine or vegetable oil for a similar texture. Oil in a cake means it'll stay fresher longer.
Eggs
Eggs serve as a binding agent and provide structure to the carrot cake. They contribute to the cake's texture and help it rise. Vegans can replace each egg with alternatives such as applesauce, mashed bananas, or a mixture of ground flaxseeds and water. These vegan substitutes will help maintain the cake's structure and moisture but will affect the final taste of the cake. 
Dark Brown Sugar
Light brown sugar adds a subtle caramel flavour and sweetness to the carrot cake, while making it moist. Feeling experimental? Try coconut or date sugars, which provide a similar level of sweetness and add depth to the cake's flavour.
Fine White Sugar
Fine white sugar helps to sweeten the carrot cake and helps the cake remain moist. If you prefer a less refined option, you can use organic cane sugar or even granulated coconut sugar. These alternatives will still provide sweetness while adding a touch of natural flavour.
Self-Raising Flour
Self-raising flour combines flour with a leavening agent, usually baking powder, which helps the cake rise and creates a tender crumb. To make a vegan version, you can use a combination of all-purpose flour and baking powder or use a self-rising flour that is specifically labelled as vegan. Want to know more about flour? Check this out. 
Bicarbonate of Soda
Bicarbonate of soda, also known as baking soda, helps to leaven the carrot cake by producing carbon dioxide when combined with acidic ingredients. It contributes to the cake's lightness and airy texture. Bicarbonate of soda is already vegan-friendly, so there's no need for any substitutes here.
Carrots
Carrots are the star ingredient of the carrot cake, providing natural sweetness, moisture, and a vibrant orange hue. Grated carrots give the cake a pleasant texture and help keep it moist. Make sure to choose fresh and flavourful carrots for the best results in your cake.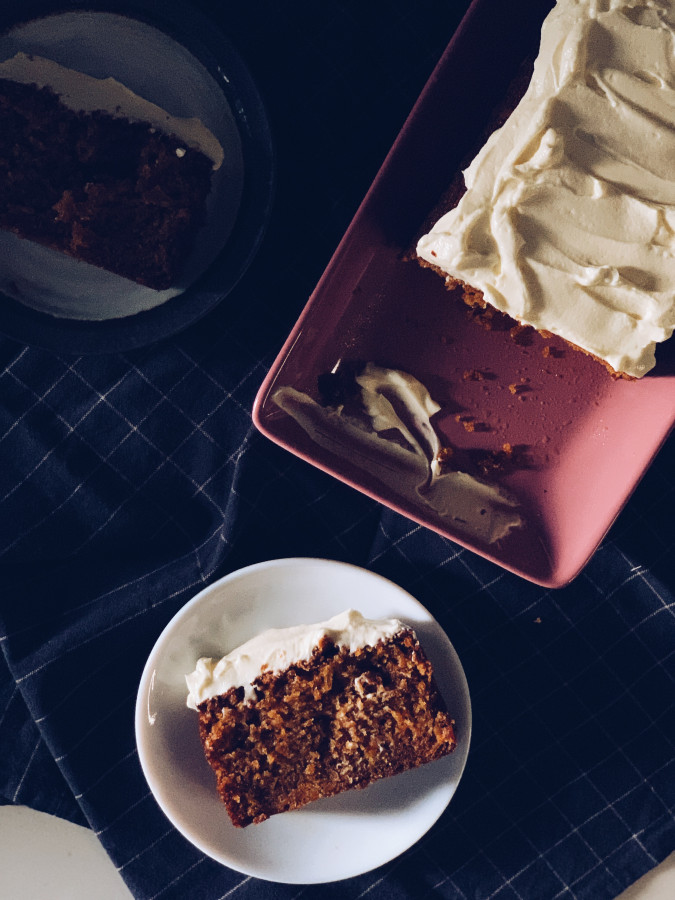 Grating carrots?
This is pretty basic, but let's cover all bases. Grating carrots is essential to achieve the perfect texture in your carrot cake. Begin by washing and peeling the carrots, ensuring they are free from any dirt or impurities. Next, grab a box grater or a food processor fitted with a grating attachment. Hold the carrot firmly and run it against the grater, using long strokes. Be cautious of your fingers, keeping them at a safe distance from the grater's sharp edges. Once you've grated all the carrots, measure the required amount for your recipe, and you're ready to go!
Cream cheese alternatives
While the classic cream cheese topping is undeniably delicious, sometimes it's fun to explore alternative options to cater to different tastes or dietary preferences. One delectable option is a tangy Greek yoghurt frosting. Its creamy texture and slightly tart flavour complement the sweetness of the carrot cake beautifully. Another option is a rich and smooth white chocolate ganache, adding a touch of indulgence to every bite. If you're feeling adventurous, try a luscious coconut cream frosting for a tropical twist. Whichever alternative you choose, it will undoubtedly elevate your carrot cake to new heights of scrumptiousness!
Okay, I've gone on long enough. Let's get to the good stuff. Here's the recipe for a quick, no-nut, no-raisin fuss-free carrot cake!
No Frills Carrot Cake 
Course: Dessert
Difficulty: Easy
Fan of carrot cake, but hate nuts, seeds, raisins and spices? Keep reading — I may just have the perfect recipe for you! 
You'll need;
For the cake

50ml milk

165g melted butter

2 eggs

70g dark brown sugar

70g white sugar

180g self-raising flour

1 tsp baking soda

150g grated carrot


For the cream cheese frosting

1 package cream cheese, at room temperature (226/227g)

50g softened butter

85g icing sugar

2 tsp milk 
You'll need to;
Start with the cake
Preheat the oven to 160°C, fan. Grease and line a loaf tin with parchment paper.
In a large bowl, add the sugars, flour and baking soda. Then, add all the wet ingredients and whisk to combine. Once combined, add the grated carrots and fold until just combined.
Transfer the batter to the waiting loaf tin, and place in the oven for 45 mins. Test and see if the cake is cooked with a wooden skewer, before removing it from the oven and letting it cool. While the cake cools, get started on your frosting.
Make the cream cheese frosting
Place the butter in the bowl of a stand mixer, and whip until fluffy. To this, add the icing sugar (in batches if you prefer) and milk. Whip the mixture till the icing sugar melts and dissolves in the butter. But start slow, unless you'd like to be covered in a cloud of icing sugar.
Once combined, the mixture will look a little wet and runny. Do not be alarmed. Add the softened, room-temperature cream cheese. Whip the mixture till combined, and set aside till ready to use. You can place it back in the fridge, but take it out at least an hour before frosting the cake so the frosting can soften.
Slather the cake with this luscious, smooth frosting before cutting into the cake. An excellent cake for tea parties, though that would mean having to share it with others. Not always possible – you've been warned.