Noodles are widely enjoyed by many countries in the world, in various forms! Here's a list of noodles from around Asia in their glorious forms!
Noodles are hardly the answer to the huge wanderlust void we're feeling right now! However, there's something comforting about savouring the memories of the food that we enjoyed while on holiday, and the food we will enjoy when we can go on holiday again.
In a recent Expedia research, it was found that Singaporeans are the most travel-deprived in the world, alongside Italians. Not sure how the Italians do, but we run to JB and Batam on a very frequent basis so we'll know first-hand what this survey is talking about.
Here are 9 destinations Singaporeans cannot wait to get to once the border opens!
Singapore – Wanton Mee
Yes, Singapore does have many different noodle dishes. However, Wanton Mee is one of those classic Singaporean meals that is quite diverse; people can have it for breakfast, lunch or dinner. It's not too filling, but not too light either. The USP of this Cantonese noodle dish is its simplicity. Thin egg noodles are served in a hot broth, with pork/chicken/prawn dumplings, meatballs (sometimes) and leafy green vegetables (always). Can't beat how easy this is on the eyes, honestly.
15 Places to go for good Wanton Mee, as told by food writers at The Straits Times!
JB – Mee Goreng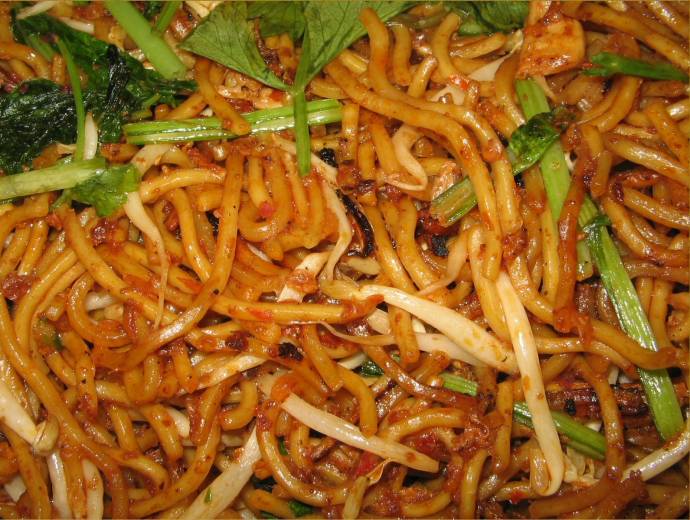 There are three versions of Mee Goreng in JB, or all over Malaysia in fact. There's the Malay Mee Goreng, made with a fiery sambal base, the Chinese mee goreng that comes chock-full of shellfish and seafood, and the Mamak mee goreng that's got curry powder and colouring in it. I have had all three versions and usually go for each depending on how I'm feeling that day. Although cooked by different people, these noodles are usually made with yellow egg noodles, and have chilli included in one way or another.
Malacca – Laksa
Malacca is the home of the coconut milk Laksa, and the very popular Cendol. But this is a post about noodles so I'll focus on the laksa. Nyonya Laksa, or Laksa Lemak, is highly popular where the Peranakans are or have been. This dish involves a spicy curry base that is tempered down with liberal quantities of coconut milk. This broth is then weighted with short and plump white rice noodles, seafood and served with a side of fresh, homemade sambal. I make it a point to hunt this down when I in Malacca; the whole dish is so comforting to the heart and soul.
Thinking of wonderful times in Malacca? Here's a list of things to eat!
Penang – Laksa
Penang has a different, and perhaps healthier, version of Laksa to offer. Known as Assam Laksa, the noodle broth contains wealthy servings of fresh fruits and vegetables all served in a salty, fishy soup. The noodles themselves tend to be longer, though are still white. I've noticed that people who like one version of laksa normally don't take to the other; I am guilty of this, too! I prefer the Nyonya Laksa – the richness is unbeatable!
Missing Penang? Here are some other food items to check out in this island! 
Penang – Char Kway Teow
Of course, being the food capital in this region, Penang appears twice on this list. Char Kway Teow in Penang has an undeniable 'wok hei' to it; I daresay your trip to Penang is incomplete without a steaming plate of Char Kway Teow. This is a dry noodle dish, made with eggs, prawns, a signature flavour base that is unique to the stall serving it, and flat rice noodles. It's worthy to note that the 'char' from the Char Kway Teow here comes from slightly burning the noodles on the wok, which gives special umami to the overall dish. 
Muar – Lor Mee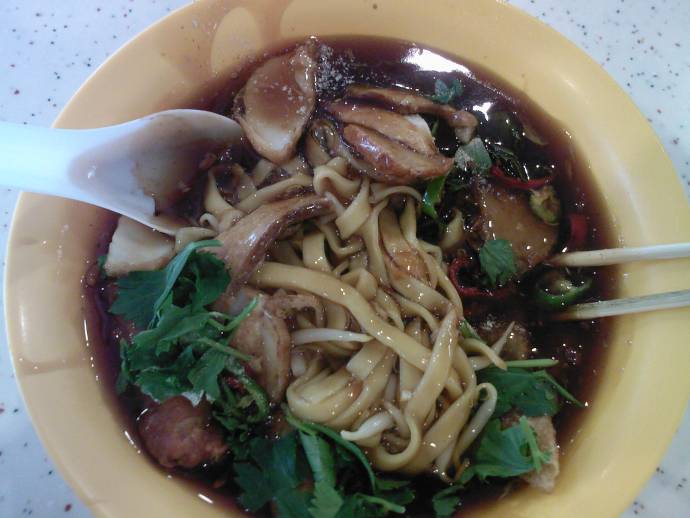 Lor Mee is well known both in Singapore and Muar, made popular by the Straits Chinese. In Singapore, it's common to find Ma Bo Lor Mee, 'Ma Bo' being the Chinese translation for 'Muar'. This is essentially a starchy dish of rice noodles served in a thick, dark sauce with vinegar and chopped fresh garlic. Protein wise, you can usually find fish, fishcakes or eggs in this dish. 
KL – Chilli Pan Mee
Damansara Chilli Pan Mee is something I can never get enough of! This is a semi-dry yellow noodle dish, served with braised mushrooms, minced meat, a half-boiled egg and of course, chilli! The chilli used here is largely made in house, with garlic and anchovies. Crisply fried anchovies, also known as Ikan bilis, served on the noodles for added crunch. The way you eat this is the best, though – simply mix everything together! It becomes one fiery looking, dark noodle dish with a mellow heat from the chilli.
Hanoi/Laos – Pho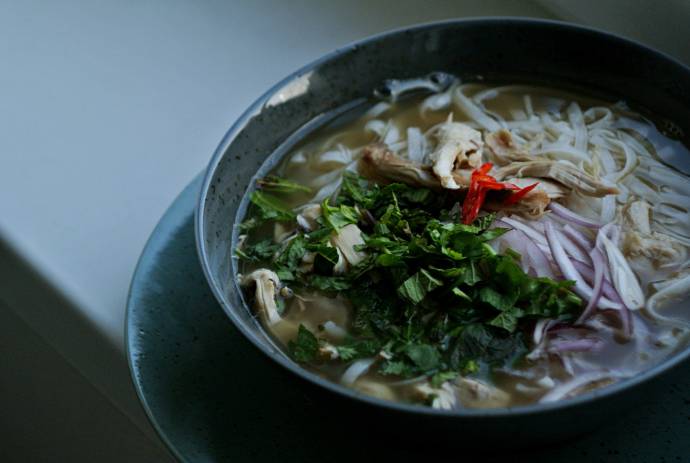 Vietnam has Pho, which is noodle soup. Laos has a similar dish called 'fhe' which is pretty much the same thing but made with a different array of ingredients. Pho is a thin, watery broth with noodles and shredded chicken. In some stores, they pack this with fresh green vegetables, while others serve it with meatballs. As with most Asian dishes, you're expected to dress it up the way you want, with pepper, chillies and other condiments served on the side. At the core of it, though, this is a simple noodle dish savoured by many!
Bangkok – Pad Thai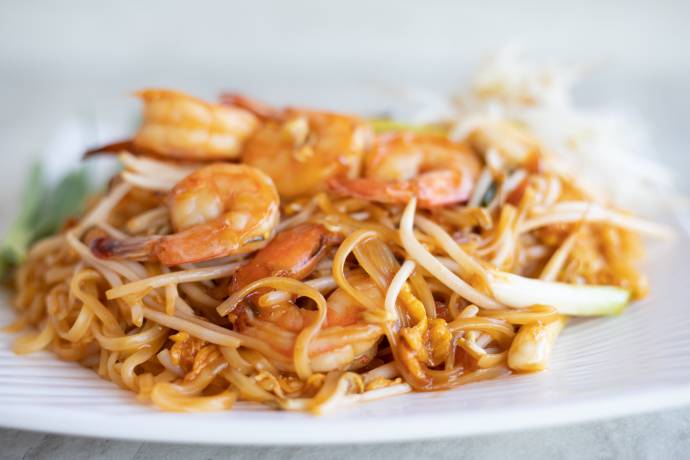 I would never be able to go through this list without touching on Bangkok's most popular export after Tom Yum; Pad Thai! Pad Thai literally means Thai noodles, and involves flat rice noodles (much like linguine) cooked in an aromatic base, seafood and served with chopped nuts and chilli flakes. This dish is so common in Thailand that hardly anyone makes this at home, choosing to buy it from the many street vendors instead.
Bangkok – Boat Noodles
Another noodle export from Thailand is Boat noodles, usually made with Pig or Cow's blood. This noodle dish was popular amongst traders, who bought it from the roving boat stalls along the many canals and tributaries of the Chao Phraya River in Bangkok. Over time, rapid development allowed boat noodles to gain popularity in mainland Bangkok.
This noodle dish is rich in iron and has a dark appearance. It's usually served with meatballs, and rarely, seafood. Travellers can find this favourite in the heart of Bangkok, at the Boat Noodle Alley.
Indonesia – Mee Bakso
Mee or Mie Bakso is a classic Indonesian noodle soup dish, similar to many others on this list. Essentially, it is a soupy dish served with meatballs, chopped chillies and a combination of yellow and white rice vermicelli noodles. This noodle dish is famous, too! In 2017, it was identified as one of the 40 Indonesian foods that are really popular, and it's also what President Barack Obama grew up on!
Phnom Penh – Keiv Teav
Also known as Cambodian Noodle Soup, Kiev Teav is truly a labour of love! The ingredients in this soup are either cooked overnight or at the very least for hours upon hours, to release the aromatic flavours that perfume this dish. Although elaborate to prepare, the flavours in this dish are worth all the effort! Here's a recipe for this dish, in the event you'd like to try making this at home!
South Korea – Japchae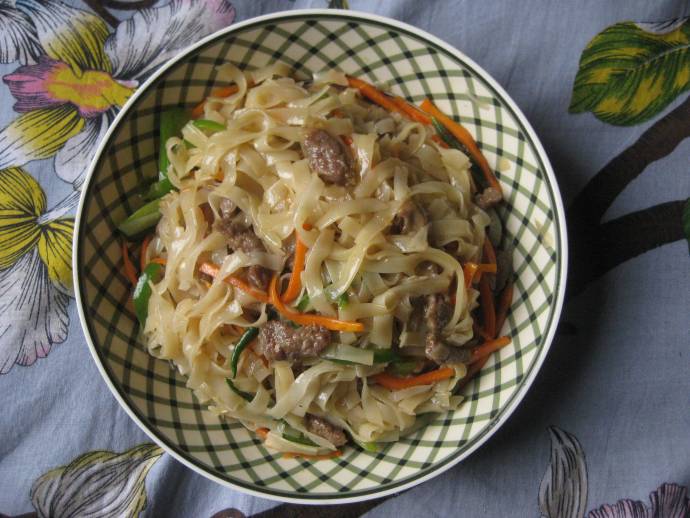 Japchae translates to mixed vegetables. When this dish was first introduced to the world, it was without noodles; just a medley of well-seasoned vegetables. Today, Japchae combines glass noodles and mincemeat with the vegetables to serve as a side, and sometimes main, dish! This is popular in Korea, especially sought after during festivals. The ideal bowl of Japchae should have vegetables with a slight bite, and noodles that have not gone too mushy, says Sue from mykoreankitchen.com.
Japan – Ramen
Ramen fever swept our sunny island by storm a few years back, with people craving this hot bowl of noodle soup that seemed to invent itself endlessly. Ramen noodles are now widely available in Singapore, and come in the form of instant noodles too! The Circuit breaker saw many people getting into the spirit of making Ramen at home. Ramen noodles are not unlike other Asian noodles soups; they come with a type of protein, usually pork, an egg, and plenty of delicious seasoning. Ramen noodles have become so popular that even Nigella Lawson felt like she needed to include a recipe for this in her show!
Taiwan – Beef noodle soup
Although seemingly Chinese, Beef Noodle Soup here is the national dish of Taiwan. It's hard to believe that such a simple dish can rise to the ranks of nationalisation, but it's the simple things that can reach out to many people at once! This dish has classic Taiwanese elements of pickled mustard greens and five-spice powder and shares a commonality with its Cambodian cousin in that it is brewed for a very long time. Expect tender cuts of beef shank and tendons swimming in a richly-umami broth. I would reckon this will be great during the colder winter months in Taiwan!
Shanghai – Scallion Oil Noodle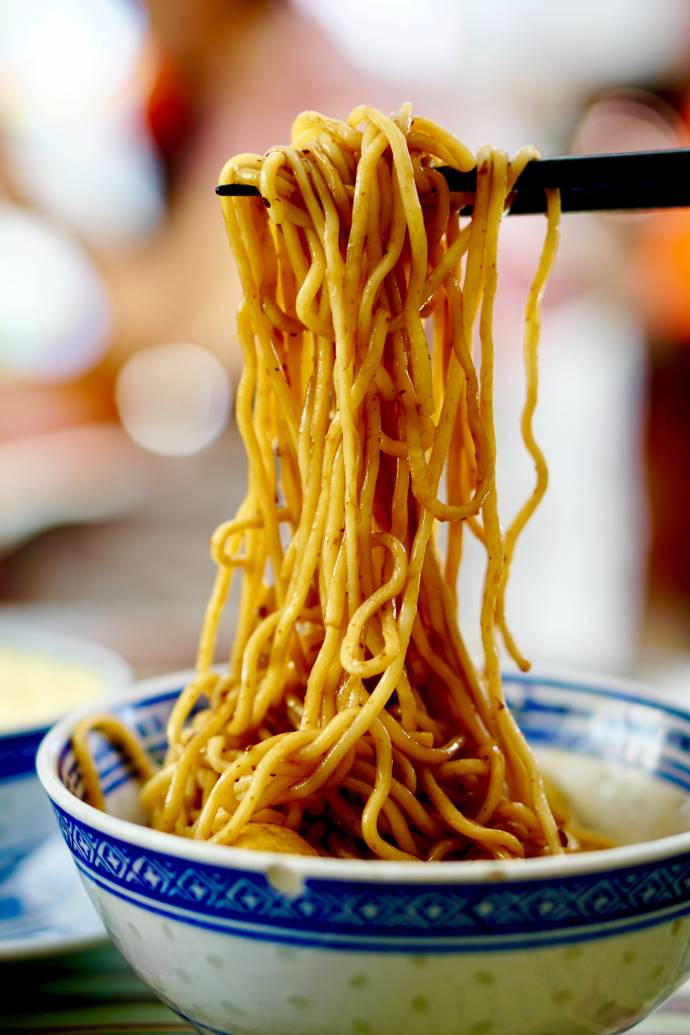 I have to say, this is probably the simplest dish you'll find on this list! Scallion Oil Noodles are precisely that; long strands of noodles coated in a brownish liquid made of Chinese black vinegar and, you guessed it, scallion oil!
Chinese noodles are quite popular in India, though not quite the way the Chinese would enjoy it. In fact, North Indian restaurants in Delhi and Bombay tend to feature tantalising Indo-Chinese cuisine on their menu, with items such as noodle soup and fried rice. Some parts of India savour noodles so much that it has become a dish that can bridge religious gaps.
I put this noodles list together from both my experiences in travel and with help from the internet. Noodles are ingrained into the Asian culture, with some parts of Asia attaching religious significance to noodles. How much do you love noodles?