Pasta Supremo is a new pasta-bowl concept at Suntec City Convention Centre.
All pastas are made in-house, and are priced reasonably.
From the same owners of The Salted Plum on Circular Road.
Pasta Supremo is a spanking new hang out for everyone who loves pasta but doesn't want any of the frills. The folks at Pasta Supremo have one overarching goal: to take the hoity-toity out of pasta, and to bring delicious food to the masses at affordable prices.
The concept behind this is fairly simple – think rice bowl but with pasta instead.
The Pastas
Shawn Kishore, one of the brains behind this brand, wanted to make the dishes here approachable, customisable and ultimately, fun. Instead of the usual Fusilli or Linguine, diners can choose from short, long or curly pastas. All pastas are made from scratch and air-dried in-house. The pastas come in four spunky colours, Yellow (egg yolk), Purple (beetroot), Blue (blue-pea flower) and Black (activated charcoal) and are cooked a la minute (when you order them).This process ensures freshness, and introduces a new range of flavours to pasta lovers (even without the sauce).
The Sauces
Shawn's passion for good food shines through in the menu, with 4 basic sauces to choose from. The Haus Marinara has incredible flavour profile for a sauce made with simple ingredients. Cooked with lard, this sauce combines basic ingredients such as onion, oregano and fresh tomatoes in a velvety emulsion that is doused liberally on pasta, after being simmered for 10 hours.
Shawn also has a pet ingredient in the kitchen: Sichuan Peppercorns. The love for these biting peppercorns comes across clearly in the Sichuan Peppers, Chilli, Garlic & Duck Fat sauce. Think basic Aglio Olio, with a punch that will have you coming back for more. Tingly and spicy, this sauce on your pasta is for those willing to take a risk. Be brave.
For those preferring more subtle flavours, try the 3 Mushroom Creme. This cream based sauce is vegetarian-friendly, Shimeji, shiitake and seasonal mushrooms. The thick and creamy sauce is finished with a generous grating of good quality Parmesan, making this sauce rich and decadent.
If you're feel like taking a chance, but don't want anything spicy, try the Asian Pesto. This is really a Thai inspired pesto, made with basil, lemongrass and candle nut among others. Expect a herb-y hit from the greens, nuanced cheekily with Kaffir Lime Leaves. This sauce is also vegetarian friendly.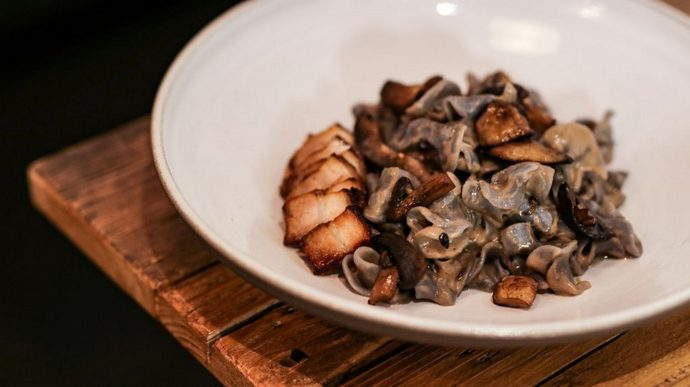 Proteins
Suit up your pasta with their choice of proteins. Pasta Supremo pays incredible attention to their meats, so it's worth trying! There are 3 protein tiers (at varying prices) with which you can build on your pasta and sauce. The 'Super' tier includes Burnt Miso Corn, Mushroom Mix and Haus Bacon. The Haus Bacon is veeerrry delicious and provides a comfortable fat to meat ratio.
The 'Superio' (add $5) tier includes my favourite, the Bak Kwa Jam. You can also get seafood such as Clams and Confit Garlic Prawns. If you're not into seafood, then try the Duck Rillette, or the Supremo Pork Meatball. Finally the 'Supremo', at $10 extra, gives you access to pretty much all other toppings, including Unagi, Wagyu Karubi, Baby Scallops or Ocean Trout.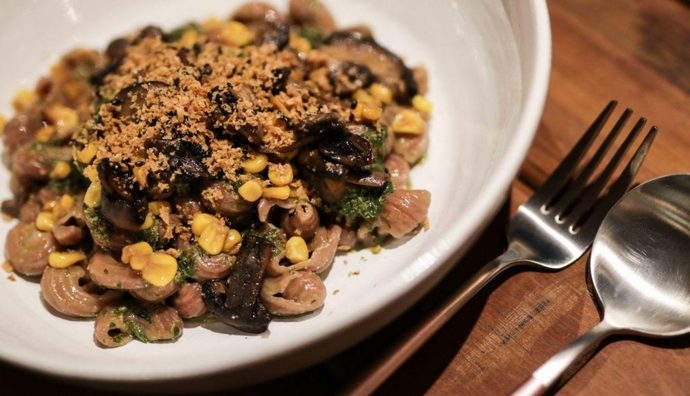 If you're not into building your own pasta (because you're not OCD like the rest of us control-freaks), you can safely put your appetite in the hands of the good folk at Pasta Supremo. Your choices include the 'Prawn Olio Olio' (made with the Sichuan sauce that bites back), 'Carbonara, but not really' (made with mushrooms, cream and topped with Haus Bacon), and 'Vege Wege' Pasta; a prime choice for vegetarians.
Others
Try the 'Stuff on Bread' as a lovely starter, though you have to share this. This is essentially toasted sourdough topped generously with your choice of topping. Toppings include Mushroom & Black Truffle Cream ($4), Avocado & Feta ($4.50), Cheesy Cheese AF ($5) and Pasta Supremo's coveted Bak Kwa Jam ($5).
Pasta Supremo also has a lethally addictive deep-fried chicken skin number, that will have you subconsciously reaching out to have some more after every bite. The chicken skin gives maximum crunch when bitten into, while the crushed peppers that coat the skin give full-bodied flavour.
For dessert, try the Pistachio Creme. This really is a Panna Cotta made with pistachio nuts, then sends food-gasmic waves through your entire being. Think extremely smooth pistachio mousse, topped with crunchy pistachio praline. If you had to have only one dessert, and you're a nut fan, this would be it.
Pasta is easy to both cook and eat, but there are times when we'd much rather just eat out. If you're craving pasta, then I suggest giving Pasta Supremo a go. You cannot get this quality, dedication and flavour anywhere else. Plus, the pasta is so unique! A treat for both the palate and the senses.
Address: 3 Temasek Boulevard #01-365/344/373/374, Suntec City Mall Singapore 038983
Opening hours: Daily 9am to 9pm
Nearest parking Suntec Convention Centre