Making Chicken Curry? Here's a luscious, creamy and spicy Nyonya version to tantalise your tastebuds!
Chicken curry has been a mainstay at home, for as long as I can remember! I can recall heading to a relative's house on the weekend; they served chicken curry every Sunday, regardless of the occasion. And somehow, we'd end up visiting them every Sunday. Needless to say, I was very put off by Chicken Curry for much of my youth. It was only after trying a creamier version of this curry that I started falling in love with it again.
If you're looking for a normal chicken curry, non-Nyonya, click here!
While I don't make chicken curry every Sunday (God! No!), I do take great pleasure in making, and eating, this luscious curry. This curry is very different from the traditional Indian Chicken Curry, from either the South or Northern part of India. The South makes a thin version of chicken curry with punchy spices, while the North has a mellow version with cream.
This Peranakan version uses spices specific to this region of the world; lemongrass, lime leaves and galangal all add important flavour dimensions to this dish. Everything is blended to a smooth paste (also known as rempah in malay), allowing the fresh ingredients to permeate the chicken very deeply. Using coconut milk to add body to this curry also helps the chicken stay succulent and tender.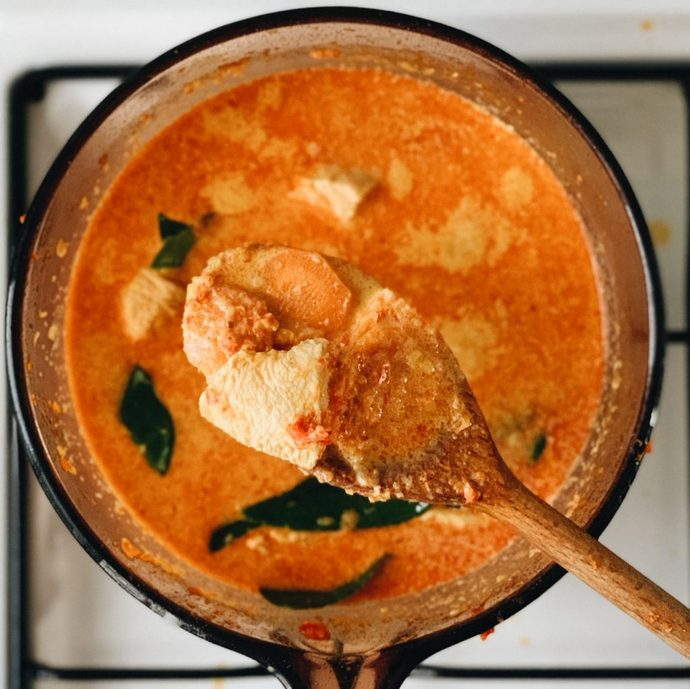 Peranakan Chicken Curry
Course: Main
Cuisine: Peranakan, Nyonya
Difficulty: Moderate
You'll need;
Part A

2 Shallots, peeled

1 Medium Red Onion, peeled and chopped

2 Stalks Lemongrass, bottom parts only

1 3-cm piece Galangal

10 Large Red Chillies, stemmed and chopped

3 Cloves Garlic, peeled

2 Tbsp Vegetable Oil

Part B

2 Tbsp Vegetable Oil

2 Medium Carrots, peeled and sliced into thin coins

½ Tbsp Tamarind Paste

800g Chicken, thigh and drumstick, or breast

200 ml Water

200 ml Coconut Milk (Not Coconut Cream)

5 Lime Leaves
You'll need to;
Start by making the rempah for the curry. To do this, simply blend all ingredients in part A together. You'll want to an almost smooth puree, so feel free to add a little more oil to bring things together if need be. Set aside once you've got the paste. You can also use a stick blender to make a paste out of this.
Set a heavy-based saucepan over medium heat, add the vegetable oil. To this, add the spice paste and start to fry. This will take a while, but you want some of the moisture from the rempah to cook away, leaving behind the intense flavours of the roasted ingredients. Soon, at about the 5 minute mark, you'll notice the oils starting to separate from the rempah.
When this happens, add the carrots, followed by the chicken. Stir everything together and cook for a further minute, before adding the water and tamarind paste. Cover and let the water cook the chicken through. This will take about 7 minutes. Then, add the coconut milk, lime leaves and salt. Stir to combine and turn the heat down to the lowest setting. Allow the gravy to come to a gentle simmer, while finishing off the cooking process.
Never let coconut milk boil (see notes) – once, it starts to simmer, turn off the heat and leave it covered till you're ready to eat. You can gently reheat this before eating, but again beware of the coconut milk boiling.
Notes
You have to use coconut milk for this. Fresh milk or other forms of vegan milk will not cut it. 
Boiled coconut milk splits. Not desired in any form of Asian curry.
You can add lime juice to the end product, but only after the heat is off. Cooked lime juice makes everything bitter.