Phnom Penh is not what we think of when we say 'Cambodia!'
While Angkor Wat is popular and definitely a must-see, Phnom Penh holds a darker side of Cambodia within its heart. While my 5D4N trip took me through the food and history of Phnom Penh, I haven't been able to list all that I did in one article.
I've tried to give a comprehensive coverage of the things to eat and places to see in this write-up. I have personally been to all of these places, and the opinions are of my own only. 
Currency
Cambodia has its own currency known as the Cambodian Riel. However, this currency is pegged to the US Dollar. Most, if not all, transactions in Phnom Penh and Siem Reap are in US Dollars, so it'll be wise to change your money to USD. Some places tend to give you change (for anything under 1 USD) in the local Riel. I kept this for tips at restaurants.
Have you been to Khao Yai? Here's a comprehensive guide, if you're planning on checking out the place!
Getting Around
Getting around Phnom Penh is fairly easy, especially if you're a regular Grab user. The Grab app allows users to book tuk-tuks along with cars and vans, which is great because there are several three-wheelers on the road. Cambodia has a primarily young population, so many tuk-tuk drivers are familiar with Grab. 
I hardly had trouble finding a tuk-tuk, and they usually arrive within 3-6 minutes. However, the traffic conditions in Phnom Penh can be pretty hectic, so you might have to do a bit of waiting during rush hour. Each tuk-tuk ride will cost under SGD2, and you can use your card to pay for them via the app so that you can save the money you've changed to spend. Grab credits do not work outside of Singapore. 
You can book a Grab Car when you need to go to the airport, but you can get the airport staff to arrange a taxi for you when you land. They will usually start the price off at 12 USD, you can work it down to about 7 USD if you're firm. 
Romdeng
Romdeng is a popular restaurant featuring both local Khmer food and western fare. They also had some questionable items on the menu, such as deep fried spiders and red fire-ants. I opted for the more familiar items, such as Fish Amok, rice and a vegetable salad. Fish Amok is a traditional dish in Cambodia and can be found throughout the country. However, I found it pretty peculiar that each restaurant I dined in had its own version of this dish. Here, the Amok was made with freshwater fish, almost like a dry curry. The portion is not large either, so you might have to order two if you're more than 2 people.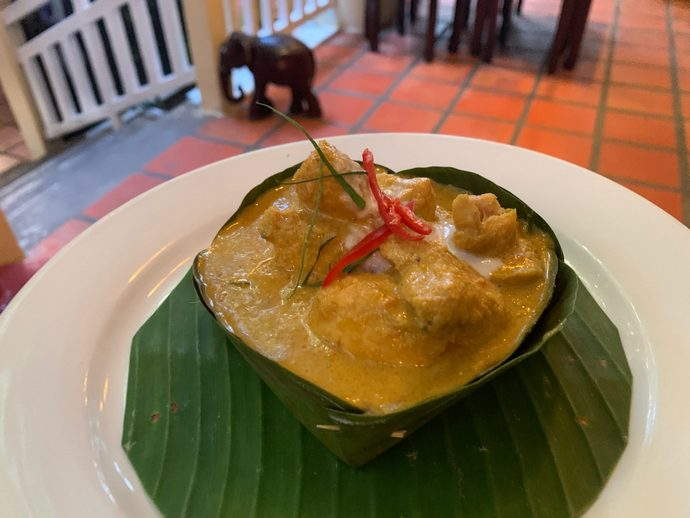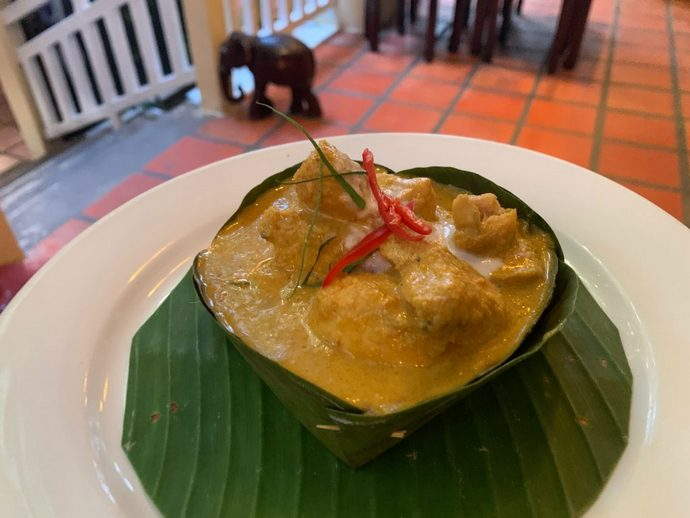 The Sugar Palm
This is one of my favourite places in Phnom Penh – it has a rustic French vibe all around, English- speaking waiters and ice cream that can melt your heart. The Sugar Palm has a variation on the Amok, made with prawns instead of fish. Here, the Amok is presented in striking red colour and baked in the oven before serving. They also included whipped egg whites in the curry, which created pockets of souffle-textured curry (as bizarre as this sounds) in the bowl. 
The prawns were extremely fresh, which carried the Amok quite well. Vegans will be delighted to learn that the Tofu Satay was tasty as well! The dipping sauce is simply Thai chillies in fish sauce. They coat the fried pieces of tofu with chunky peanut butter.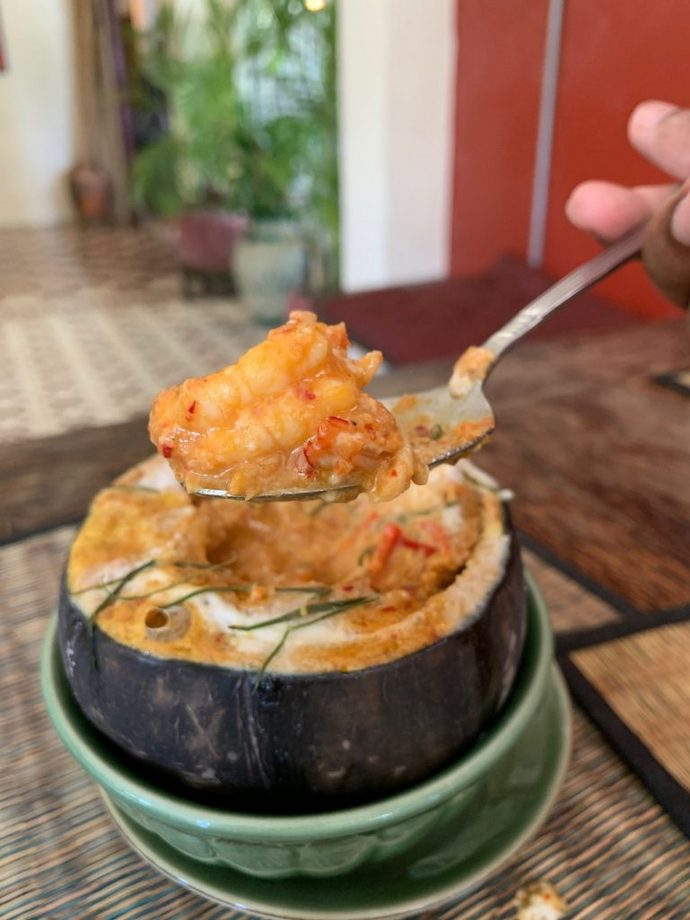 Eleven One Kitchen – BKK1
Eleven One Kitchen is very much talked about online as a popular eatery featuring local food. They had many alcoholic drinks on the menu, which I found to be inviting. One Eleven is also located in the BKK1 district, which is a stretch of shops and restaurants popular with tourists. There's even a giant Tiger Sugar cafe here. 
The Fish Amok here resembled the one from Romdeng, in that they were presented in the form of a dry curry and served in a banana leaf bowl. The fish used was freshwater catfish as well – no bones, just plenty of juicy white meat slathered in rich, creamy and fibrous green curry. Another dish I tried here was the sauteed baby potatoes with pork in Tamarind Sauce. This was not their best; the pork was not fresh and the potatoes had an almost plastic, tough taste. I would not recommend this dish. 
The Chicken Fried Rice I had here was very good, though! It came wrapped in an omelette and the rice, chicken and spices were all in perfect harmony with one another. 
The Shop 240
I visited this place for breakfast. Phnom Penh had some of the best coffee, barring the usual fancy latte art. This place was on street 240, it was easy to grab a tuk tuk to its location. 'The Shop' is a brand that has a chocolate boutique and a clothing boutique along the same stretch! 
I had the Sweet Potato Rosti with smoked salmon to accompany my flat white. It was an indulgent breakfast and it was also very scrumptious. There were plenty of greens in the form of peppery Arugula, and the smoked salmon came sandwiched between two crispy pancake-like layers of bright orange rosti. I like my rosti crispy so this was right up my alley.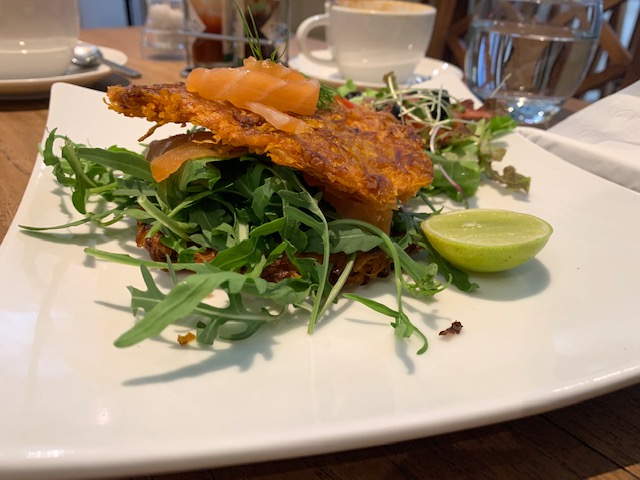 Brooklyn Pizzeria 
Never thought I'd find a New York Pizza place in the heart of the Cambodian capital! The surprising part was that the food was actually quite good. This pizzeria is run by a family of Americans from, well, New York. The food here comes in typical American portion, that is to say, LARGE in size and quantity. I would highly recommend visiting this eatery, especially if you've run out of patience with the local food. The weather in Phnom Penh can be less than inviting, so it helps to try and have some pizza with a very cold pitcher of lemonade.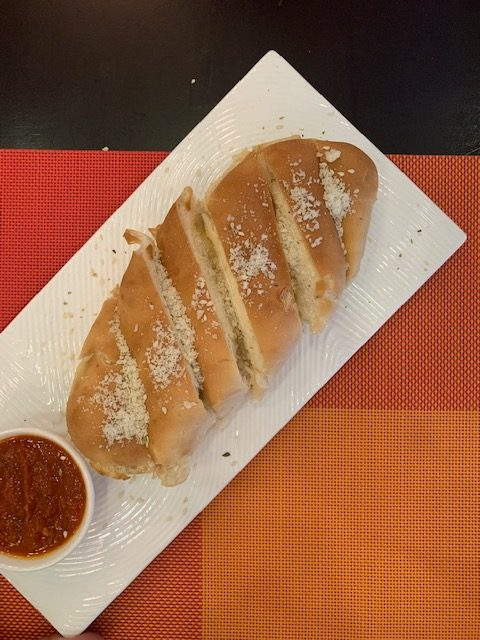 I tend to ramble about my travels quite a bit, so this will be it for the portion on things to eat. I'll follow-up with an article on what to see while in Phnom Penh, so stay tuned!