Phrom Phong is a busy area in the heart of Bangkok—here's what to see, do and eat in this glitzy part of town!
Phrom Phong is a popular and affluent neighbourhood located in the heart of Bangkok, Thailand. It's got glamorous malls, swanky restaurants, cute boutiques, massage parlours, hotels and even a cooking school! It is situated in the Sukhumvit area, specifically in the Watthana District, which is known for its cosmopolitan vibes, modern amenities, and upscale lifestyle. And yet, it's still the less-popular cousin in the stretch of Sukhumvit stations.
Personally, I am obsessed with Phrom Phong—it's literally where I stay every time I'm in Bangkok. Here are a few reasons why:
Phrom Phong BTS Station
Getting around Bangkok is wildly easy by train. Taxis and bikes are great, but there's always the risk of a traffic situation; Bangkok is known for legendary traffic jams. Phrom Phong BTS station is well connected to popular hangouts such as Asoke (next station), Nana (the place with all the bars) and even Siam, the main interchange where ALL the great malls are.
Staying in this area means you can quickly walk to the BTS station to get wherever you'd like to go. Even if you'd like to hail a grab, the traffic here is less crazy than Asoke, which will work in your favour. To take full advantage of this, I'd recommend staying in hotels that are near the BTS.
Wide variety of accommodation
This area has both upmarket hotels and basic accommodations to suit all budgets. And the best part? They are all within walking distance of each other and the BTS station. My go-to place to stay when I'm here is Ibis on Sukhumvit 24, especially when I'm travelling alone. This property and clean sheets, clean towels, hot water and a very comfortable bed. What more could I ask for? If you're looking for something a bit more indulgent but still within a budget, try Mercure on Sukhumvit 24, which is just above Ibis. How? They share the same building! Floors 6 to 18 are for Ibis, while everything above that is for Mercure.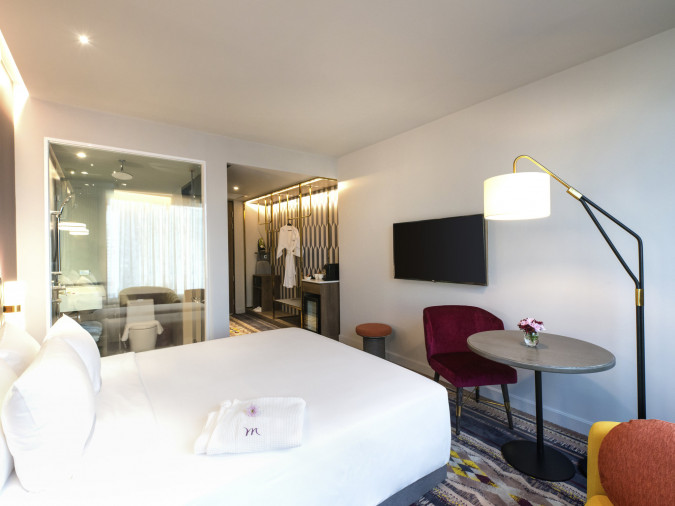 If you're the sort that likes to explore local brands that are fancy, I'd highly recommend Skyview Hotel Bangkok. The rooms are very spacious and modern, with up-to-date amenities. This hotel is also very close to the Phrom Phong BTS station, literally 3 mins away by foot.
Looking for AirBnBs in the area? Try Oakwood Residence or Hilton – both along Sukhumvit 24. For a more budget-friendly option, try Arize Hotel. This is located on Soi 26, the one after all the hotels just mentioned above. This hotel averages about $60 SGD per night and comes with a full suite of amenities including a fancy pool and spotless rooms. It's also a 7-minute walk away from the BTS station.
Phrom Phong has some of the best eateries
Honestly, this section deserves its own listicle. But I'll be brief (hehe) here. This area has some of the fanciest and swankiest restaurants, understated bars, cheap eats and swanky cafes. If you take your coffee seriously (as you should), try AROON Cafe. They open early, which is perfect for your morning fix before exploring the city. However, Aroon only serves coffee and nothing else. If you're looking for some nosh with your coffee, try Y'EST WORKS coffee bar. Here, you can get some light scones along with fresh brews and a comfortable interior. If you're looking for a full-on breakfast, try BARTELS Sukhumvit. Their homemade sourdough toasts come with various toppings, and you'll want to try every.single.one of them.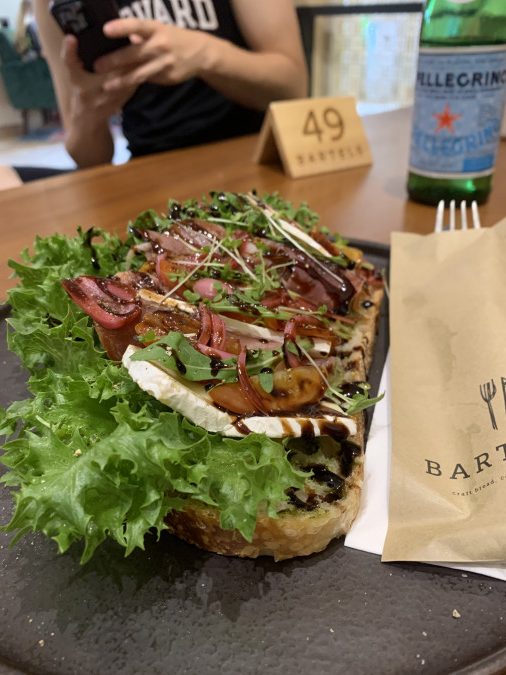 Looking for Japanese? Phrom Phong serves up Ramen, Sushi and Izakaya offerings that are all to die for, with the popular Kenshin Izakaya literally a stone's throw from the BTS station. You can also check out Kenso Suisan at the corner of Soi 33 for delicious Japanese delicacies.
Looking to try local cuisine with fantastic cocktails? Then head to Sri Trat. This Northern Thai Restaurant combines classic Thai ingredients with modern cooking techniques to create a menu that I just can't seem to get enough of.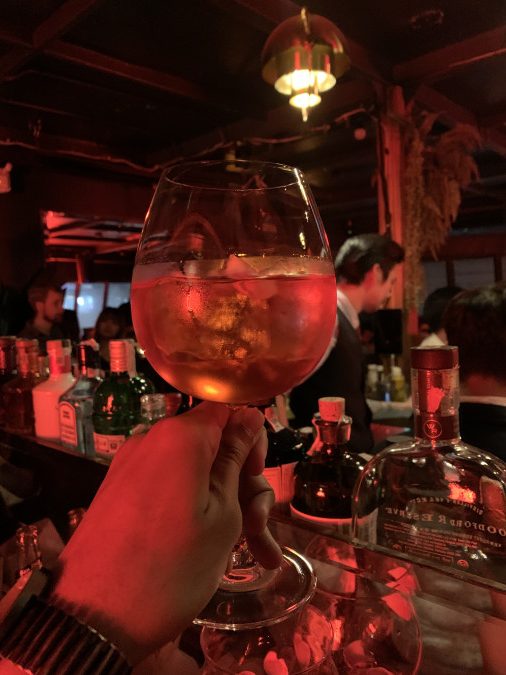 If you're looking for post-dinner drinks, then check out Mutual Bar. It's located in an unsuspecting building, and you'll have to take a dingy elevator to the topmost floor. But once you're in, the atmosphere is packed with a happy (and slightly tipsy) local crowd savouring cocktails of all shapes and sizes.
For a full list of cafes and restaurants in Phrom Phong, check out my listicle here!
Glitzy, glamorous malls
Phrom Phong area is well-known for its luxurious and high-end shopping malls. One of the main attractions in the area is the Emporium Shopping Complex. This multi-level shopping mall offers a wide range of international and local designer brands, gourmet restaurants, and entertainment facilities.
Another mall that I frequent is EmQuartier, which is directly opposite Emporium. EmQuartier houses some really amazing cafes, boutiques and an up-market grocer. They even have concept stores, where you can find a mish-mash of local brands—I'm guilty of spending too much here. If you're staying in the area and rise late (after a night out, no doubt), try Roast Cafe for breakfast. Every dish here is exquisite, I can't recommend just one. Looking for restaurants? Try South Tiger for fiery servings from the South of Thailand, or Kub Kao Kub Pla for more central Thai cuisine at affordable prices.
Places to kick back and get a massage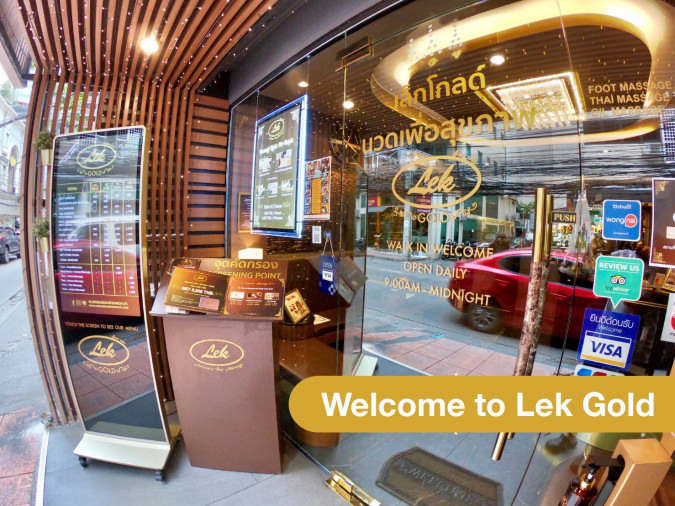 Aaaahhh the joys of a massage. Or perhaps a manicure session? Phrom Phong has it all. Try Lek at the corner of Soi 24—this professional spa has both male and female therapists and a variety of treatments. You can get a manicure/pedicure, a full body oil massage, a foot massage, or even a wax. Or why not do all of it? It's a great way to escape the afternoon heat. Lek's has two outlets within the same soi, about a minute's walk from the original. Another place to check out is Nuch's, a sister brand run by Lek. You could say that they monopolise this Soi, but the services are indeed very good.
Along this Soi, you can also find Supinda Boutique. This clothing store slash hair salon is for when you don't feel like leaving the area and want to get your hair done (for not much). They do a great cut and wash here, you'll feel relaxed and ready to face the evening by the time you're done.
The Japanese Soi (33/1)
Parts of Bangkok have a substantial Japanese population, and they sometimes take over certain alleys in the city with their own stores. One such soi is 33/1, where you can find Japanese bakeries such as Custard Nakamura, and restaurants that combine Japanese and Western influences such as Kobe Tonteki.
Call me crazy, but the Japanese supermarket here is captivating enough to sustain my interest for at least two hours. They have a hodgepodge of Thai and Japanese products, ingredients and food here. You can also see the Japanese out and about here, buying what they need for the week or weekend.
This Soi also houses the UFM cookery school, where you can take half-day courses on baking and cooking. A perfect way to while away the afternoon!
Ready for Phrom Phong?
Overall, Phrom Phong is a dynamic and upscale area that caters to the desires of both locals and expatriates, making it a sought-after destination for shopping, dining, and living in the bustling metropolis of Bangkok. The best way to explore this area is on foot! So my recommendation is to book a hotel in the area and spend a day or two walking around exploring—Phrom Phong really does have a lot to offer!