This swanky new Restaurant and Bar down at Singapore's CBD has tongues wagging all over the place.
Pyxiemoss, located in one of the quaint shophouses at North Canal Road, is the new evening eatery and watering hole you have to check out. Open only in the evenings, this establishment comes as an additional option to those working around the CBD and in need of a drink at the end of the busy day (don't we all?).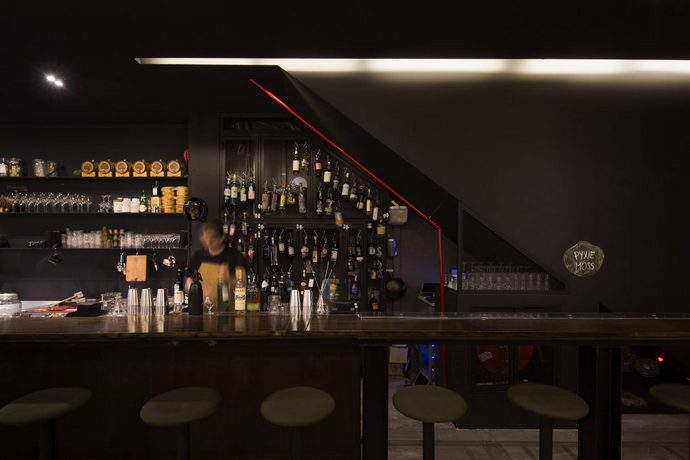 Helmed by a British chef with a fascination for Asian ingredients and spices, Pyxiemoss promises to take your breath away with their section of English-influenced dishes. Its a true marriage of flavours and cooking styles as Chef Tim-Ross Watson boldly moves in the kitchen to go where few others have gone – such as to transform unwanted cuts of meat into something tasty and familiar to the palate. He makes something out of everything, admitting that his most recent fascination is to transform the whole vegetable – root to tip – into edible delights.
The menu here was born out of Chef Tim's love of experimenting in the kitchen, and eclectic Asian ingredients have provided just the perfect hotbed for this kitchen wild-child (who loves Guns N' Roses, by the way. This is very important, readers. Says a lot about his style in the kitchen) to go crazy over the stove. Pyxiemoss offers bar snacks and drinks, cold and hot foods and desserts to bookend a lovely meal.
Bar snacks include a vegetarian hot dog, which is really a carrot dog ($5). The promising dish sees a char-grilled carrot soused in aromatic Gula-melaka, tempered with a flourish of curry leaves and achar. Not many bars out there with a vegetarian option, huh? Drinks include curious concoctions, such as Ginger Julie, Poto and Bananarama, a Curious George inspired drink.
Looking for something more than bar food? Chef Tim has on the menu a classic Seviche ($8), but also a vegetarian version with sea coconut flesh tossed in chilli, coriander and a good spritz of lime. Smoked corn chips finish off this dish in all its glory. Chef Tim's experimental side comes out with the Coffee Lox ($18), which is Norwegian Salmon cured with Coffee Grinds.
On the hot food menu are items such as the Rad-Dish ($8), braised thrice to eradicate its bitterness with salt water, miso water and onion broth, then served with yuzu miso, pickled red radish and an onion consommé. If you'd like this with some Wagyu Beef, go ahead and request for it at an additional ($4).
After consuming all that great food, you'll want a dessert to wash it down, if not a drink. At Pyxiemoss, you can have both with the Pina Colada. This unique dessert is a creative deconstruction of the class dish, featuring a five-day fermented young coconut cake, coconut granola, salted coconut cream, compressed pineapples and caramelised pineapple ice cream. Mouth watering yet?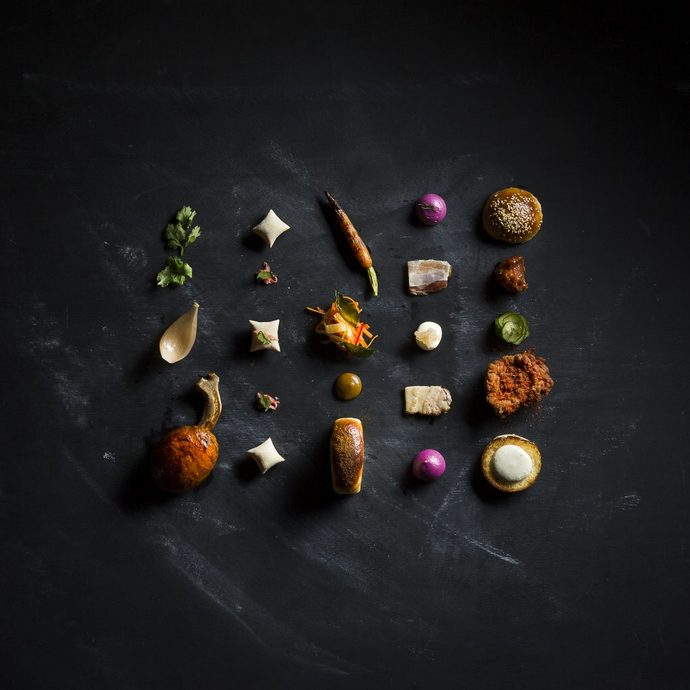 All the dishes here seem to be prepared with love and real twist, it can be reassured that you won't get here what you get everywhere else, so its worth a visit. Based on what they've got going on the menu, the food's bound to be as addictive as a lyrical gems from Guns' N Roses.
PYXIEMOSS
43 North Canal Road
Singapore 059299
Tel: +65 6532 2171
Opening Hours
Monday to Saturday: 5pm to midnight