Prawn and coconut meat go great together. I've known this, but didn't quite understand it fully until I met this recipe.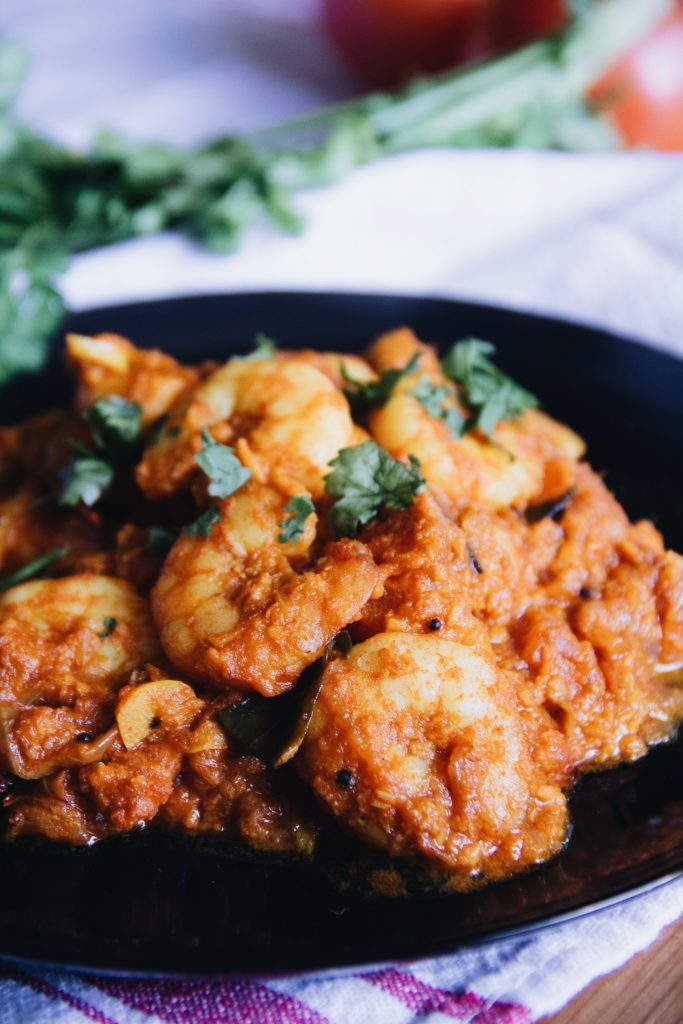 Sometimes recipes are born out of a necessity to use up ingredients in the refrigerator. This recipe was created because I had so much of grated coconut in the freezer that I had to use up, plus 300g of Frozen prawns.
Yes, I can feel the stares as you read this; and you can go ahead and judge me for using frozen prawns. But people make such a fuss about using fresh prawns all the time which I just do not get. Growing up, we always had fresh prawns being used in gravies and sambal, but that was because frozen prawns were just not prevalent at that point in time.
I think frozen prawns are both economical and help to save time in the kitchen – a rare commodity by living standards in the city. I simply revive them by placing them in a bit of hot water (enough to cover the prawns) before cooking with them. Then when you are ready to use the prawns, drain the water away and plonk the prawns into your gravy! The hot water doesn't really cook the prawns, it just melts away the ice from the prawns.
Love Prawns? Here's a Thai Red Curry with Prawns and Pumpkin that'll have you going in for THIRDS!
I know I said this recipe was born out of a need to finish up some ingredients, but I find myself cooking this over and over again. I actually go out to buy the ingredients to make this now. Oh how much life has changed.
Ingredients
300g Frozen prawns, blanched in boiling water
2 Tbsp Olive Oil
2 Medium or 1 Large Red Onion, peeled, halved and sliced into thin half-moons
2 Cloves Garlic, peeled and pounded
1 cm Piece Ginger, skinned and pounded
2 Medium Tomatoes, cubed into small pieces
100g Shredded Coconut
½ Tbsp Garam Masala
1 Tbsp Chilli Powder
½ Tbsp Coriander Powder
½ Tbsp Cumin Seed Powder
Salt to taste
50ml Tap Water
Method
In a non-stick skillet, heat up the oil and add the sliced onions and pounded garlic and ginger. Saute until fragrant, and the onions turn from an opaque purple to a translucent pink.
Then, add the tomatoes, coconut, spice powders and salt. Cover and let the tomatoes melt into the spices, about 4 minutes over medium-high heat. Then, add the blanched prawns and cook until the prawns are fully cooked through and have absorbed the rich flavours of the paste. If you feel the mixture is too dry at this point, add the water.
Remove from heat and serve warm with rice or traditional Indian roti.
https://thecraversguide.com/prawn-and-coconut-masala/
Copyright belongs to thecraversguide.com.