RISE, all-day dining in Marina Bay Sands' has refreshed its dining concept to present Singapore's most iconic local delights, paying homage to the city state's rich and diverse food culture. Foodies can look forward to authentic home recipes and elevated local favourites reinvented by RISE's team of local chefs.
Note: This article was based on a press release, no physical tasting was done. Please note that all opinions expressed on taste profile are directly from the merchant and not necessarily from thecraversguide.com. This article has been published to inform readers of RISE and its current offerings. Thanks! – Krishy

RISE has all-new menus, which are presented in à la carte and set menu styles. These will be available for lunch and dinner at the former buffet restaurant. For breakfast, guests can choose from 13 sets over five cuisine types, namely Chinese, Indian, Japanese, Malay and Western, as well
as an à la carte menu inspired by Singaporean flavours.
Pork Rib Prawn Noodle Soup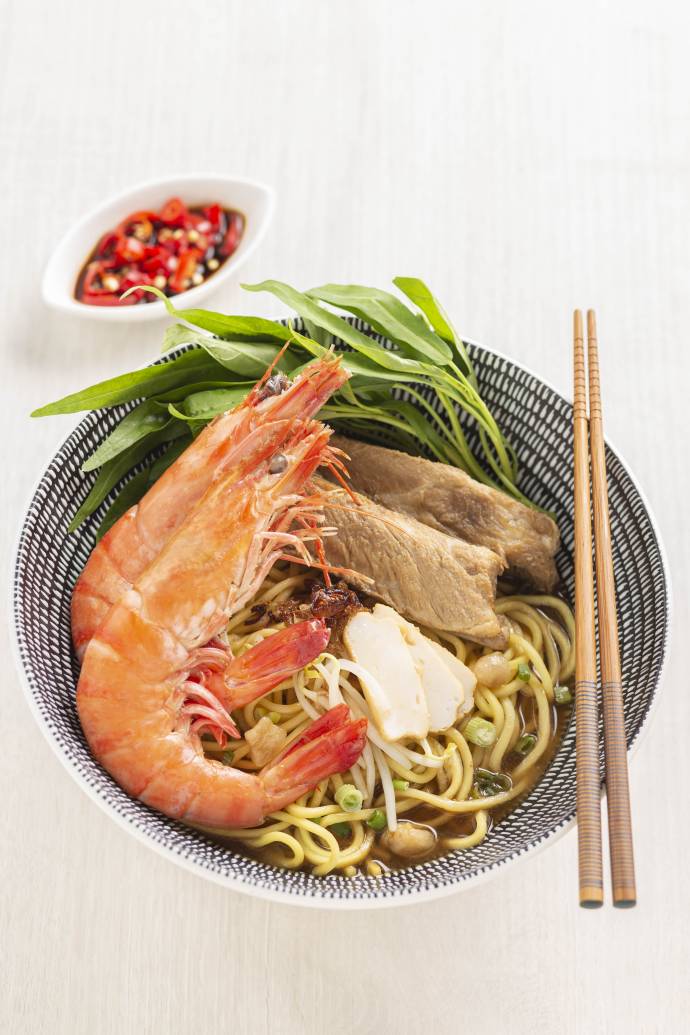 A traditional pork rib prawn noodle soup. This follows the old-school recipe of retaining the natural sweetness of fresh ingredients. Prawn heads are pan-fried to release their oceanic flavours before being added to a rich broth made of premium pork ribs, lean pork and chicken feet. The pot of goodness is then simmered over low heat for five hours. A touch of Chef Chan's homemade chilli paste is added to enhance the umami flavours of the soup. This is served with large tiger prawns, fresh squid, premium pork ribs and vegetables. Each bowl of noodles is freshly prepared.
Har Cheong Gai (Fried Chicken)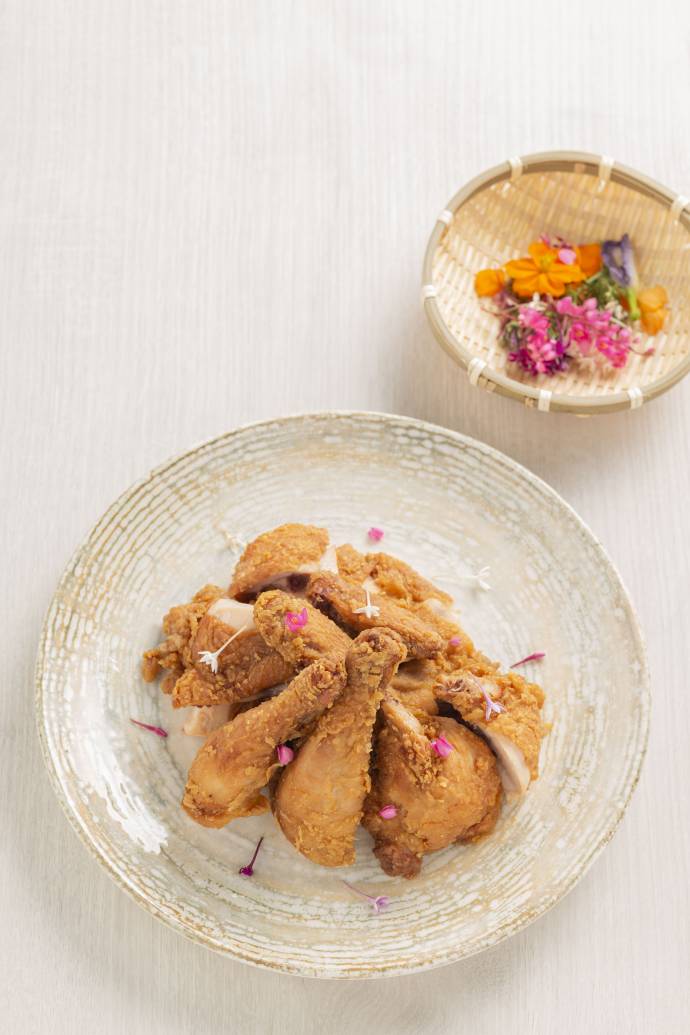 Created out of his six-year-old son's love for fried chicken, Senior Sous Chef Danny Yong first experimented making Singaporeans' favourite har cheong gai (fried prawn paste chicken) at home.
The typical har cheong gai which is usually presented as chicken wings and drumettes. Chef Danny takes his version up a notch by using a whole spring chicken for a juicier and tender chook. The whole chicken is marinated for two to three days to allow rich flavours of his homemade shrimp paste to fully infuse into the meat.
Chinese Rojak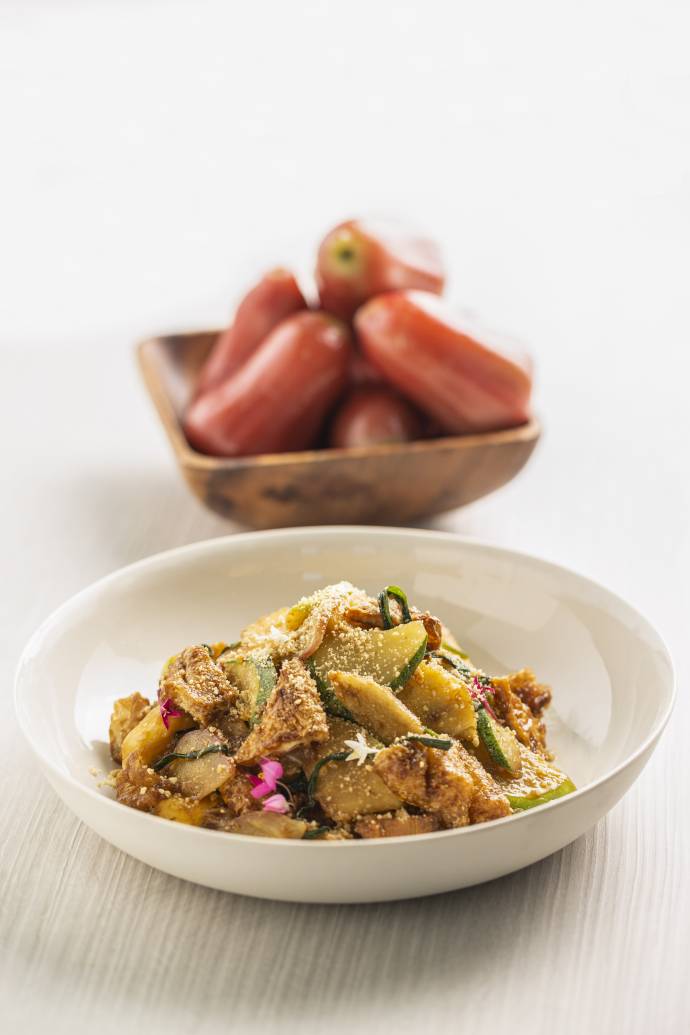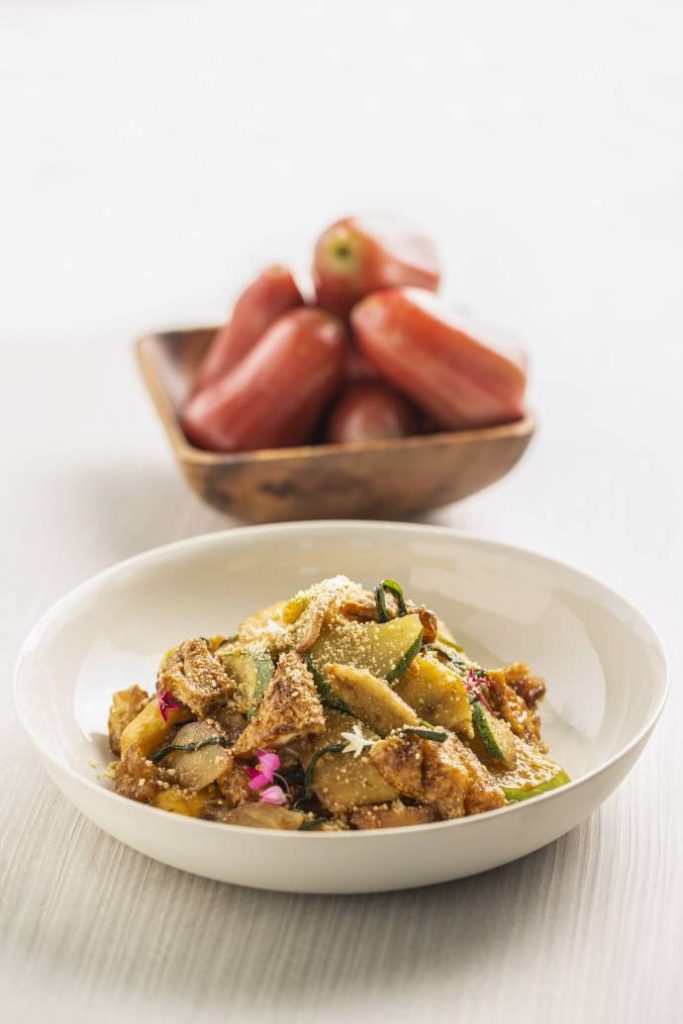 In RISE's refreshed menu, Chef Stella presents her grandmother's version of Chinese rojak, a nostalgic treat her family always enjoys during special occasions. For texture, Chef Stella incorporated jambu (crunchy rose apples) into a combination of fresh cucumbers, sweet turnips, water spinach, juicy pineapples, and crispy fried tofu. All ingredients are tossed and coated in a thick sweet-savoury rojak sauce. This is then speckled with grated peanuts and a magical touch of her grandmother's secret chilli padi blend!
Lamb Shank Biryani
Originally feasted on by Indian royalty before it was introduced to common households, nasi biryani was invented as a vegetarian dish before it evolved to incorporate meats. Adapting from his mother's recipe, Chef Bharat steams the basmati rice for up to five hours to elevate its fragrance and braises the lamb shank for one and a half hours to retain its moisture and tender textures. He also incorporates mint and curry leaves freshly harvested in RISE's herb garden.
Chef Bharat serves his modern-day version of the treasured nasi biryani with a whole lamb shank, vegetable and dhal curry, Indian pickles, crisp papadams, cucumber raita and naan bread for a wholesome spread. His desire to extend his family's legacy sees him passing the recipe on to his two young daughters, who make the dish at home for their friends and loved ones.
Hokkien Mee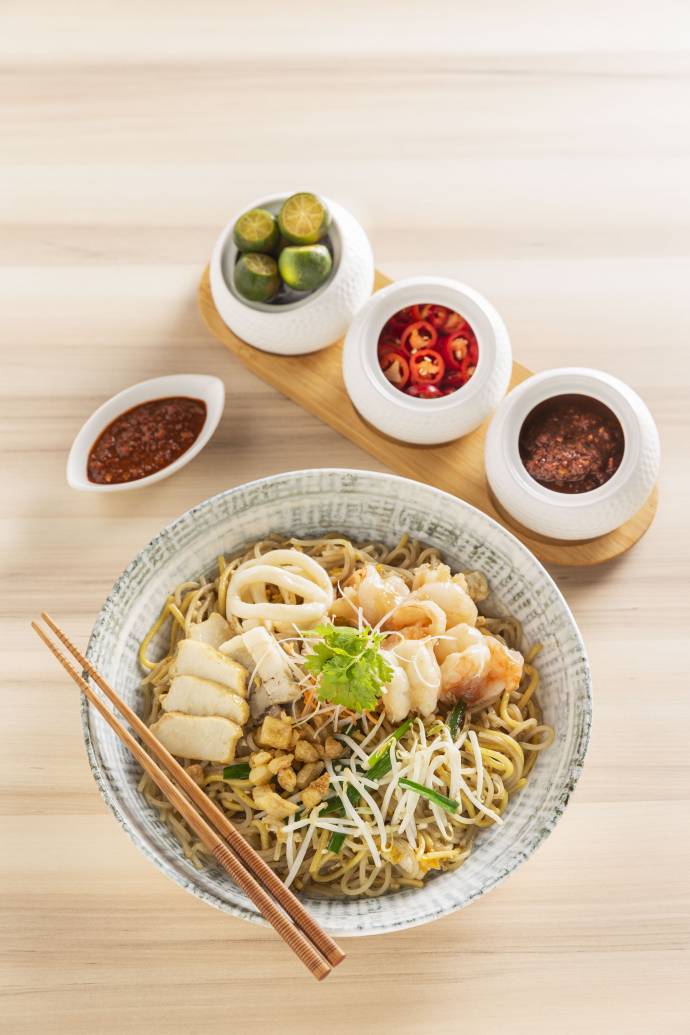 Chef Lian presents his rendition of the ultimate hawker dish Hokkien mee after claiming to have eaten his way through most of the Hokkien mee stalls in Singapore. His umami-laden stock consisting of a homemade red chilli blend is slow boiled for over eight hours in the kitchen, then fired up under intense heat before being served with housemade sambal belacan and a fresh squeeze of lime.
Nasi Lemak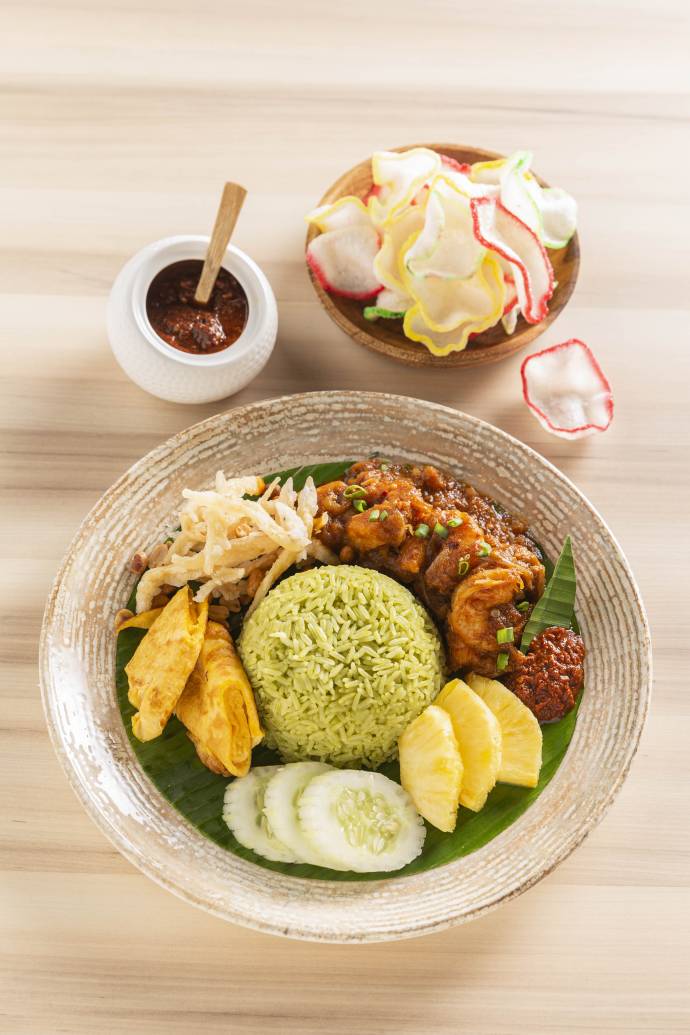 Chef Adam's take on the nasi lemak is rooted in his Malay heritage, but he puts a spin on his rice by infusing it with coconut milk and freshly squeezed pandan juice to give it a beautiful pale green hue. Diners can look forward to a lavish side of sambal onion prawns and a sweet pineapple relish that completes the dish.
To Chef Adam, the mark of a perfect satay is grilling it to perfection with the right precision and timing to result in a caramelized and crisp exterior. These flavours are reminiscent of his childhood, where his family would often buy 80 sticks of satay in one seating to enjoy by the sea breeze at East Coast Park. Diners can look forward to three different meat variations on skewers – chicken, mutton, beef – served with ketupat, cucumber, red onions and spicy satay peanut sauce.
Bur Bur Cha Cha
Growing up in a kampung, Chef Pang often helped his father tend to the produce at their family farm. Every two months, the father-son duo would harvest the sweet potatoes while his mother would make the family's favourite bubur cha cha dessert.
Adapting from his mother's recipe, Chef Pang transforms his favourite childhood dessert into an Instagram-worthy treat at RISE with three types of sweet potatoes – yellow, purple and orange – alongside yam, colourful sago, and fresh coconut puree for a refreshing, mid-summer delight.
Sharing Menus
In addition to the à la carte dishes, RISE has curated family-style sharing menus for two to six persons. Starting from S$35++ per person, each set menu showcases the greatest mix of local favourites such as house-made ngoh hiang and Hokkien popiah, Hainanese chicken rice, claypot chicken rice, as well as desserts such as sago gula melaka and ice cendol.
Heritage Wines
A local feast is not complete without a refreshing thirst-quencher, the perfect complement to the robust flavours of local cuisine. Led by the restaurant's head bartender Jacko Ng, RISE's new beverage programme features Instagram-worthy cocktails and mocktails that are a modern spin on local desserts.
Delight in creative tipples such as the towering Cendol Colada starred by Barcardi white rum, house made pineapple gula melaka syrup, cendol jelly and red bean, or classics like the Singapore Sling. Adventure-seekers can try the Sambal Mary, a spicy and savoury Vodka-based cocktail spiked with sambal belacan, tomato juice, and served with a side of fried anchovies and peanuts. Relish blissful sips of the Cincau Sago, an elevated version of the traditional soya milk and grass jelly drink sweetened with house made pineapple gula melaka syrup and garnished with pandan leaves.
Wine lovers can also browse RISE's heritage wine trolley and indulge in selected bottles from wineries that practice sustainable agriculture. Additionally, the restaurant offers free-flow beverage specials and beverage bundles, such as beer for two (S$50++) and the GĀNBĒI bundles starting from S$278++ for three selected bottles of Champagne, red and white wine.