Roasted Bacon Chicken with plenty of lemony zing – Christmas will be a true treat this year with a not-so-big bird that's very, very big on flavour!
Jump to Recipe
Roasted Bacon Chicken is a very easy, and in my opinion, welcome alternative, to turkey during Christmas. I will start by saying that I am not a fan of turkey. It's too game-y for me, taste-wise. Plus it's such a huge bird, to get a small turkey would essentially be to get an extra-large chicken.
This recipe requires very little work – the oven does most of it. And this method of cooking the bird does not require you to baste the chicken in the oven ever so often. Having said this, however, I did baste the chicken towards the end of the cooking process, once the bacon slices had shrunk back from the breast.
A Christmas Roasted Bacon Chicken
Feeds a small family of four perfectly, with Boxing Day leftovers
Renders perfectly juicy breasts and thighs
Packed with a refreshing hit of lemon
Requires little to no work in the kitchen
Can be made with stuffing or without
Quick Basic Recipe: Melt honey and butter in a pan, add chopped rosemary and salt. To roast alongside, cut lemons into thick slices. Arrange chicken: in a roasting pan, add olive oil. Layer with cut onions and leek. Place chicken on top. Arrange cut lemons around it. Pour half of the honey butter. Then, lay bacon strips on the chicken breast. Pour the remaining half of the butter. Tent with foil and cook for 30 mins. Then, remove foil and cook for 30 mins. Baste once (15 mins in) you remove the foil. Roast at 180°C, 45 mins per KG of chicken.
Budget
I thought I'll do something different this year and present the costs for the ingredients in the recipe. I know many websites will probably give you pricing and value based on the quantity of each ingredient used in the recipe. I have not done that. While pricing the rosemary as 1 tsp would keep the overall budget for this dish low, NTUC will not be selling you a teaspoon of chopped rosemary. So the prices here are what I spent in total for this recipe. Obviously, as with all recipes, you will have some ingredients leftover. Use them however you please.
1.2kg Whole Chicken, $8 at Cold Storage
Golden Churn Butter, $5.30 at NTUC Fairprice
Honey, $4.30
1 Fat Leek, $2
1 Lemon, $1.20
150g Frozen Bacon, $7.90 at Cold Storage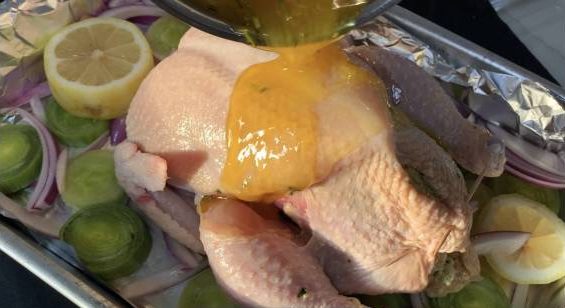 Roasting a whole chicken
Now I won't skimp on the ick-factor here – the first time I saw a whole chicken in my kitchen, complete with head and feet, I freaked. It was too much for me to take the whole thing in – I mean it literally looked like a naked baby, what the hell! But over the years, I've developed certain ways to deal with the whole chicken. Firstly, if the head and feet freak you out like they do me, then I would suggest having your meat monger cut these off for you. You can also have a friend cut off the head for you – I've done this on countless occasions.
If you're looking for tips on how to prep the whole chicken for roasting, I found this article from NYT to be quite useful.
Here's a tip to get well-cooked thighs – expose them. I did this for this particular recipe, and it worked like a charm! Before pouring over the gorgeous zesty butter, slice the chicken's thigh just a little, almost like a heavy score along the joint. This will mean the thigh of the chicken falls out a little, but it's okay. The final product will still be a super well cooked, tender and juicy chicken!
Thinking of a quick but festive dessert to serve with this chicken? Check out this link for a Mulled Wine Chocolate Cake!
Roasted Bacon Chicken
Course: Main
Cuisine: American, English
Difficulty: Easy
Roasted Bacon Chicken with plenty of lemony zing – Christmas will be a true treat this year with a not-so-big bird that's very, very big on flavour!
You'll need;
1 Whole 1.2kg Chicken, head and feet removed

75g Butter

2 Tbsp Honey

1 Tsp Chopped Rosemary

1 Lemon, zested and cut into fat discs

1 Fat Leek, stem cut into large discs

1 Large Onion, peeled and sliced

6 Slices Streaky Bacon
You'll need to;
In a small saucepan, melt the butter with the honey. Once the butter is melted and boiling, add the chopped rosemary. Remove from the heat and add the lemon zest. Preheat the oven to 180°C.
Prepare the chicken by patting it completely dry with kitchen paper. On a large roasting dish, drizzle olive oil. Then, arrange the leek and onion slices however you please. Place the chicken on this savoury bed, and arrange the lemon sliced around it. Pour over half of the zesty butter, then cover the breast of the bird with bacon slices. Pour over the remaining melted butter. Tent loosely with foil.
Roast in the oven for 30 mins, then remove the foil and continue to cook for a further 15 mins. Then, open the oven door and carefully baste the chicken with the juices. Then whack it back into the oven for a further, final 15 mins.
Remove from the oven and bring to the table hot. The star of your dinner is ready!
Notes
It takes about 45 mins to cook 1kg of Chicken. Use this calculation and divide/multiply accordingly for your recipe based on the size of the chicken you get. 
Are you not a fan of lemon? Substitute it for an orange instead! You'll get a sweeter, more fruity chicken!