Roasting Sweet Potatoes: here's a salad recipe that you can make with your eyes closed!
I used to think sweet potatoes are best eaten steamed and dipped in sugar thereafter. I still do, in fact. But after recent discoveries of the sweet potato being a super food and its plethora of benefits, I went on quite a sweet potato recipe hunt to satiate my quest on how to cook sweet potatoes. Turns out, there are so many things you can do with sweet potatoes – mash them, fry them, grill them, boil them or roast them, to mention a few. I settled on roasting as it was really the easiest. Does that make me a lazy cook? Maybe. Am I guilty? Not in the slightest bit.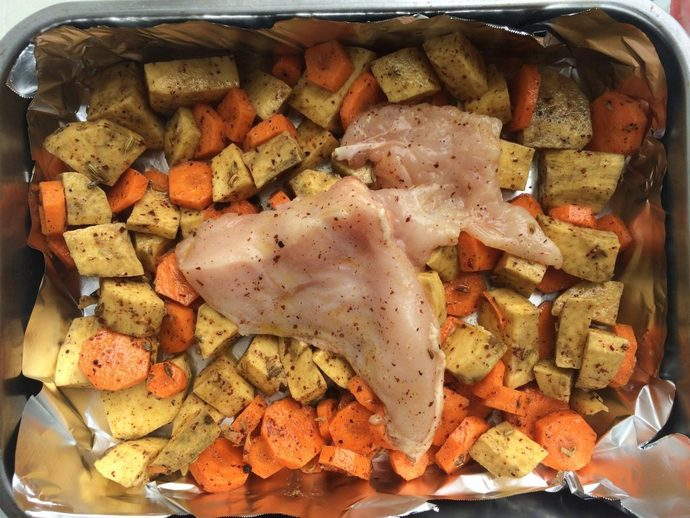 Roasted Sweet Potato Salad
Ingredients
For the Salad

2 Large purple sweet potatoes, peeled and cut into chunks
Handful of sugar snaps
1 Large onion, peeled and sliced thinly
1 tsp Salt
½ tsp Cumin seed powder
½ tsp Fenugreek powder
2 + 1 tbsp Canola Oil
12 Cherry tomatoes, quartered

Dressing

4 tbsp Plain Greek yogurt
4 tbsp Mayonnaise
1 Garlic clove, minced
Method
Preheat oven to 180 degrees Celsius. Combine sweet potatoes, sugar snaps, onion slices, salt and spice powders in a mixing bowl with 2 tablespoons of the oil and toss, ensuring that the spices coat the vegetables. Place all the ingredients except the cherry tomatoes into a large roasting pan and roast in the oven for 25mins. In the meantime, prepare the dressing by combining both yogurt and mayonnaise in a small bowl and mixing in the minced garlic clove.
Check to see if potatoes are done by piercing them with a fork. Remove the pan from the oven and empty contents into a salad bowl along with the cherry tomatoes, toss with the remaining oil and lemon juice. Serve warm with the dressing on the side for anyone needing that extra kick.
Notes
Add other vegetables, including asparagus and carrots, as you see fit. The first time I made this salad, I added some leftover pulled chicken from dinner the night before. You can also serve this salad sans dressing (which some might feel is a tad heavy) with crumbled feta cheese. Divine.
https://thecraversguide.com/roasted-sweet-potato-salad/
Copyright belongs to thecraversguide.com.