A ruby chocolate tart recipe that uses less than 10 ingredients, can be made ahead and is every bit as indulgent as a regular chocolate tart. Let's go!
Jump to Recipe
Ruby chocolate got people really excited in 2017 when it was introduced as the fourth type of chocolate in the market. However, after the initial craze, this naturally berry-flavoured chocolate sort of took a back seat. Not many recipes exist online and many of those that do aren't quite reliable. If you're like me, you'll want to know everything about Ruby Chocolate and what it can do. Here's a quick guide:
The Discovery
Ruby chocolate was first introduced to the world by Barry Callebaut, a renowned Belgian-Swiss cocoa company, in 2017. They unveiled it as the fourth type of chocolate after dark, milk, and white chocolate.
Natural Colour
What sets ruby chocolate apart is its striking pink colour, which is entirely natural. The rosy hue comes from specific cocoa bean varieties with a reddish-pinkish hue in their pods.
Unique Flavour Profile
Ruby chocolate offers a flavour that's both fruity and slightly tangy, with subtle berry undertones. Its taste is often described as a delightful balance between sweet and sour.
No Artificial Additives
Unlike some coloured chocolates that rely on artificial additives, ruby chocolate gets its colour and flavour solely from the cocoa beans themselves. There are no added berries or fruit flavourings.
Versatility
Ruby chocolate can be used in various culinary creations, from bars and truffles to pastries and desserts. Its vibrant colour makes it especially appealing for eye-catching treats.
Popularity
Ruby chocolate quickly gained popularity among pastry chefs, chocolatiers, and dessert enthusiasts worldwide due to its unique qualities and ability to elevate the art of dessert-making.
Pairing Possibilities
Ruby chocolate pairs exceptionally well with fruits like strawberries, raspberries, and citrus flavours. Its versatility in flavour combinations makes it a favourite for creative chefs.
A Sensory Experience
Enjoying ruby chocolate is not just about taste; it's also a visual and textural delight. Its pink colour and creamy texture add an extra dimension to the overall experience.
Tart Base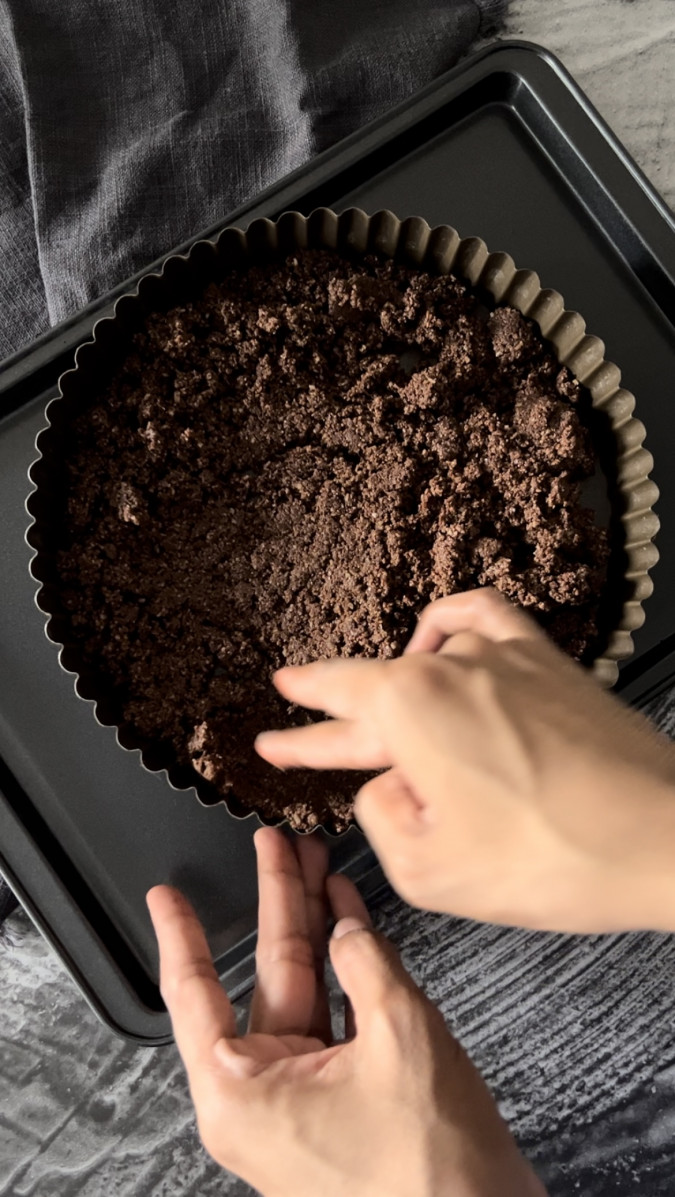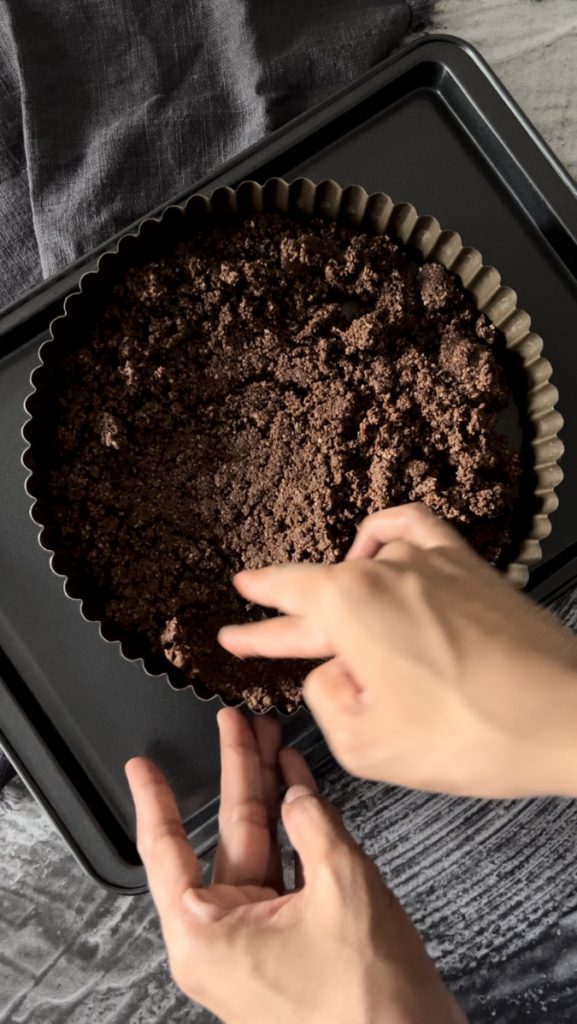 This tart base started off as a vegan one when I first made it. I am not a fan of finicky tart bases – especially the kind that need to be rolled out, then shaped tenderly into the tart pan. I'm not dissing these – they have a fabulous short crumb and melt in your mouth. However with our rather humid weather, it's not the most practical. I once tried making shortcrust pastry featured on YouTube by one of my pastry favourites, Chef Hanbit Cho from Korea. The result? The best tart shell I had ever made. The by-product of that result? Insane amounts of stress when I had to keep the dough from melting into a puddle.
This base takes all that stress away, by coming together easily in a bowl. You simply tumble out the sandy rubble onto your tart shell, and fit to form. That is to say, slowly use your fingers, or a flat bottomed cup, to shape the crumbly mixture so that it covers the base of the tart tin. Easy, stress-free and because this tart base uses oil, it won't melt!
To make it vegan, replace the honey with maple syrup. It's that simple.
The filling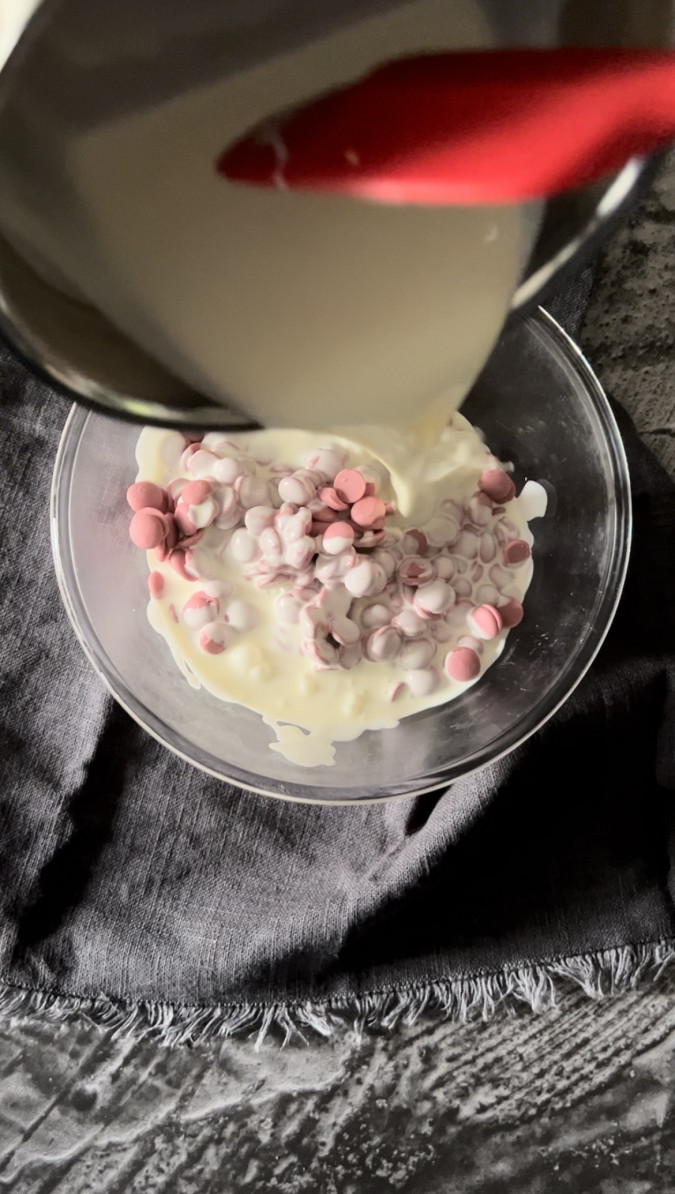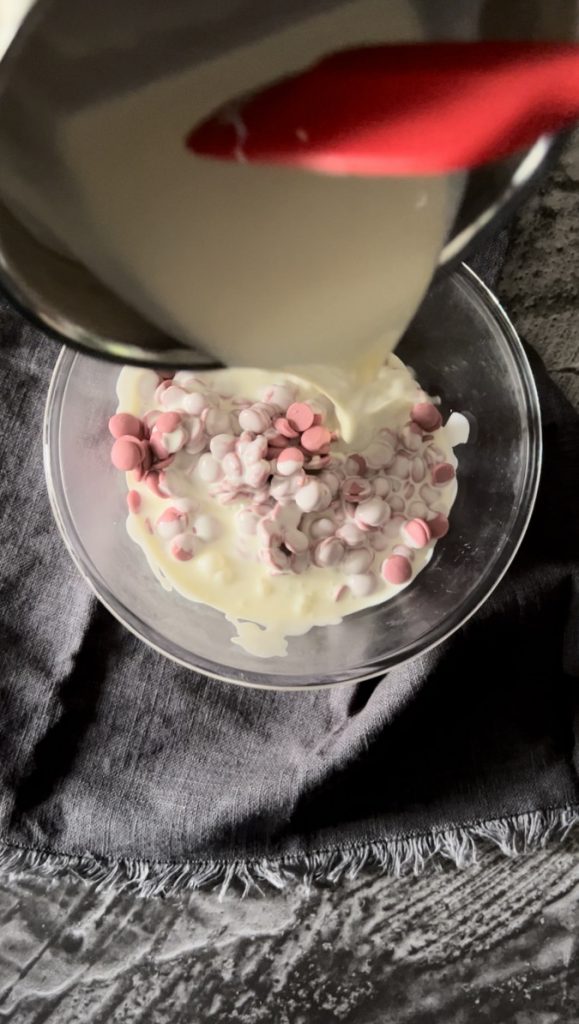 The filling for this recipe is as versatile as the base – it can be made in a matter of minutes and barely takes any effort at all. The thing about Ruby chocolate is that it's sweet by default, with a tinge of tang. This means no additional sugars required! All you need is the chocolate, some cream and a bit of vanilla to give this dessert a boost.
When melting the chocolate, I find that pouring cream over it to be the best option. Ruby chocolate can burn, so I wouldn't microwave it. Make sure the cream is heated to just before boiling. Usually, I check to make sure that the cream that touches the edges of the pan is just bubbling slightly. You can also test the temperature by taking a spoonful of cream and touching it – it should feel quite hot but not scalding.
Once it's boiled, immediately pour it over the chocolates. And cover quickly, so that the heat doesn't escape easily.
Ready to get started?
Ruby Chocolate Tart Recipe
Course: Dessert
Difficulty: Easy
A ruby chocolate tart recipe that uses less than 10 ingredients, can be made ahead and is every bit as indulgent as a regular chocolate tart. Let's go!
You'll need;
Tart Base

195g ground almonds

25g cocoa powder

55ml olive oil

45ml honey

½ tsp salt

Ruby Chocolate Filling

280g ruby chocolate

300ml fresh cream, warmed through (make sure it doesn't boil)

1 tsp vanilla extract
You'll need to;
To make the tart base
Mix all ingredients together till crumbly, then (patiently) press into the base of a 23cm tart pan with a removable base. Have faith, there will be enough base mixture although it may seem otherwise. Bake at 160°C for 12 mins, set aside.
Ruby Chocolate Filling
Place the chocolate in a heatproof bowl. Pour over the warm cream, cover with a lid and leave for 5 to 7 minutes. Then, stir until the chocolate has melted completely. Add in the vanilla extract before finishing.
Pour this mixture into the cooled tart shell, and throw on some sliced nuts (or whatever else you may prefer). Transfer to the fridge to set overnight. Next day, slice and… apply to face.
Notes
DO NOT boil the cream – it'll split.
You can replace the ruby chocolate with white or milk chocolate, not dark chocolate.
Once you pour the hot cream over the chocolate, cover the bowl immediately.
Do not melt the chocolate in the microwave.
You can replace the olive oil with other vegetable oils, or even melted butter.