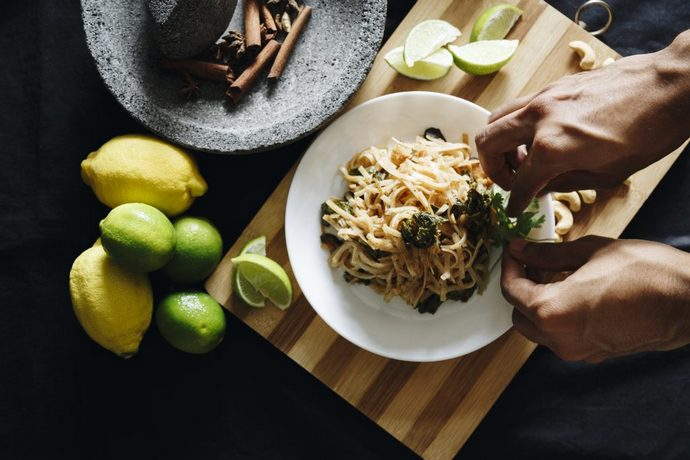 Sambal Olek is a traditional Indonesian Spice blend, a result of many food enthusiasts' late night tinkering in the kitchen no doubt.
I imagine the traditional Sambal Olek to be made with a classic Ulekan, or an Indonesian pestle and mortar. This thing (the Ulekan) is not easy to use, there's a whole different technique involved in grinding the spices, but I digress – this post is about Sambal Olek and its wonders.
Sambal Olek
I discovered this fiery chilli paste/blend when watching none other than the Domestic Goddess Nigella Lawson on one of her many cooking shows. She really does flirt with the lines of spicy food, which excites me. Nigella's Sambal Olek was, like mine, out of a jar. Making this sambal mixture at home is honestly not back-breaking work. It requires a hefty amount of red chillies (the small, bird-eye ones that pack a reeeeeeaal punch), salt and enough vinegar to make a paste. Interestingly, the vinegar's rambunctious tartness is somehow made palatable by the heat from the peppers. For a Sambal Olek paste that has more character, I recommend this recipe from Genius Kitchen that uses garlic, lemongrass and ginger along with the chillies.
Anyway, I like using Sambal Olek for its versatility in the kitchen, and it makes a mean substitute for BBQ sauce when I make pulled chicken or pork. In this recipe, I have used it as the base for my fried noodles, or mee goreng. The gutsy flavours of the sambal were a perfect match for the slightly bitter, earthy Kale. I buy baby Kale from Mustafa, as it's not very expensive and very easy to handle (wash and dump into a pan). I also added mushrooms here, making this a vegetarian recipe. If you're looking to add meat, I recommend minced mutton or beef, which not only gives a mamak-mee goreng vibe but also goes great with the sambal.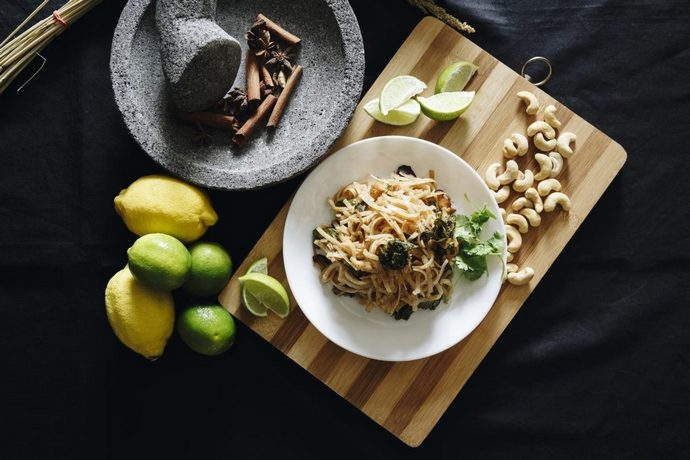 Sambal Olek Noodles with Mushrooms and Kale
Ingredients
2 Tablespoons Olive Oil
1 Medium Onion, thinly sliced
2 Cloves Garlic, minced
150g Shiitake Mushrooms, stemmed and sliced
150g Baby Kale Leaves, torn roughly if chunks are big
4 Tbsp Sambal Olek Paste
150g Glass Rice Noodles
Salt to taste
Method
In a large non-stick skillet, heat the olive oil over medium heat, then add the onions and saute for 3 mins until tender. You can add a very minute amount of salt at this stage, just to keep the onions from charring. Then add the garlic and saute till fragrant, about 1.5mins.
Add the mushrooms and continue to fry. The good thing about the nonstick pan is that the mushrooms, which can suck up all the moisture in the pan very quickly, don't get dry and start, well, sticking. When the mushrooms have cooked down, about 4 to 5 mins, add the kale and Sambal Olek. You can salt at this stage, to taste.
Once the Baby Kale has adhered to the heat by becoming limp and delicious, your sauce is done. Set aside until you need it.
When ready to eat, pour hot, boiling water over the glass rice noodles (I use the Pad Thai noodles, you can use Bee Hoon if you'd like) until they are fully submerged. After about 10 mins, the noodles will be soft and cooked, looking quite opaque and bland as they should. Drain and add these noodles to your sauce from above, and stir through carefully over low heat.
Serve warm, with lime wedges and chopped nuts on the side, for added crunch.
https://thecraversguide.com/sambal-olek-noodles-mushrooms-kale/
Copyright belongs to thecraversguide.com.
Images by Howly Pek