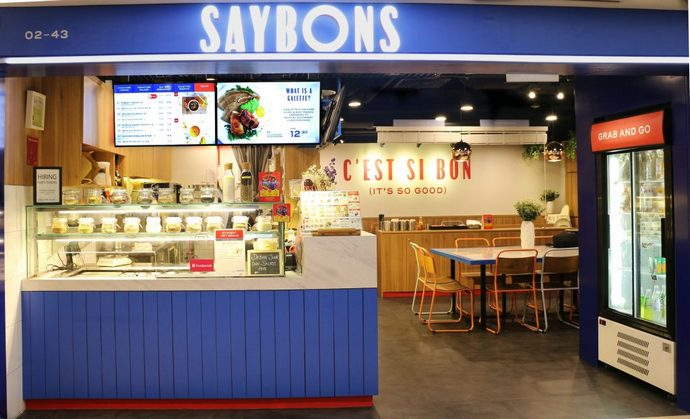 Saybons Singapore has been around for 10 years, if you're wondering! The humble brand that started selling novelty soups in a stall in Plaza Singapura has now established itself as a national treasure for affordable and delicious, French-Inspired food. They are celebrating 10 years of serving up delicious food, and you're all invited!
I remember when Saybons first opened in Plaza Singapura. The mushroom soup was divine. After graduating, however, I had stopped frequenting Plaza Singapura and fell out of touch with the growth of this home-built brand. At the end of 2017, Saybons officially turned 10! In Singapore where the uphill battle of the restaurant business is commonplace, Saybons has weathered the storms and lives to tell the tale! In their joy to commemorate 10 years in the industry, Head Chef and Owner Daphne Loke has revamped some of the old favourites and introduced new crowd-pleasers to the menu.
French Onion Soup
This was one heck of delicious French Onion Soup. Did you know that to get the most out of  a French Onion Soup, a combination of both yellow and white onions are used? And they are sweated delicately for about 2 hours – the kind of time we'd rather devote to sleeping. The one that I tasted was the 10th version of this soup, perfected painstakingly by Daphne. Beleive me when I say its good – perfectly balanced sweetness set amidst the backdrop of a delicate stew base, made with beef stock. This soup will cost $8 – a very reasonable amount of money to pay for something so laborious and rewardingly delicious. Served with a toasted slice of French bread and Gruyere.
Seafood Risotto
Risotto is hotly contested in Asia, simply because of its doneness. We like to eat our rice fully cooked through, nice and soft. However, proper risotto still retains a bite after the cooking process. This risotto has been made to suit the palate of customers, who keep coming back for more. The rich and creamy savoury rice is adorned beautifully with mussels, salmon, prawn and baby spinach. An onsen egg tops off the dish, just like a kiss on the tongue. This $17.90 dish will hit the spot of any seafood lover.
Beetroot Crêpe with Sous Vide Chicken ($6.90)
Now, stay with me. I know that the idea of a beetroot crepe can be a turn-off. I urge you to try this – you'll be eating your opinions along with the crepe. The sous vide chicken breast is seasoned with delicate herbs and spices before meeting the crepe. The chicken is sliced and paired with baby spinach, Gouda cheese, sunflower seeds and basil pesto. All of this is then tenderly wrapped in a crepe tinted a soft pink with beetroot juice. If anything, this dish is great for when you're on a diet (which is now. I know many of you and your New Year Resolutions).
Rum & Raisin Flambéed Crêpe
Aaaaahhhhhh. If there ever was the perfect sweet ending, this would be it. If you disagree with me, you'll have to say that this dish comes pretty close. Saybons knows how you should end a meal – loaded with Myer's Rum. In fact, the golden raisins in the Crepe were soaked in the delicious alcohol for 18 days before being added to this dish. Don't worry about the alcoholic scent/taste being too strong, though. This is brought to the table and torched, leaving behind a sweet, sweet nectar for all to enjoy. At $9, this crepe comes filled with slices of banana and toasted almond, along with the boozy raisins.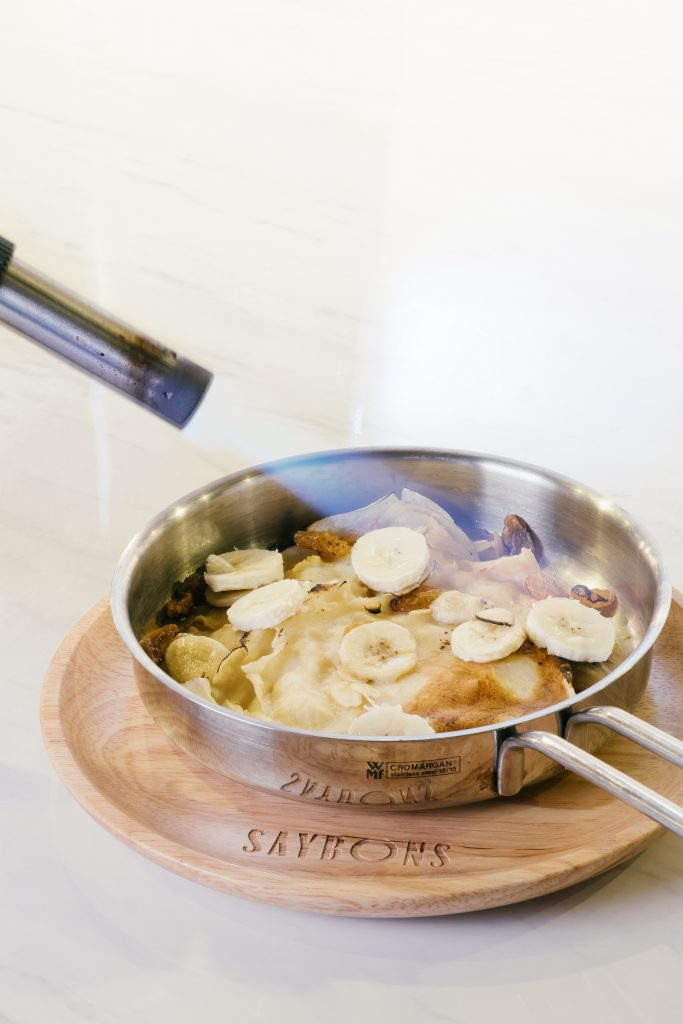 Aside from this selection of delectable dishes, you can also enjoy the 10 Years in Shots – a special item on the menu that will remain no later than January. This dish consists of 10 different types of soups all served in shot glasses, at $10. Ideally meant for sharing, I would honestly finish this on my own. But I can be greedy that way when good food is involved. Also on the menu are a selection of rich risottos and filling galettes to choose from.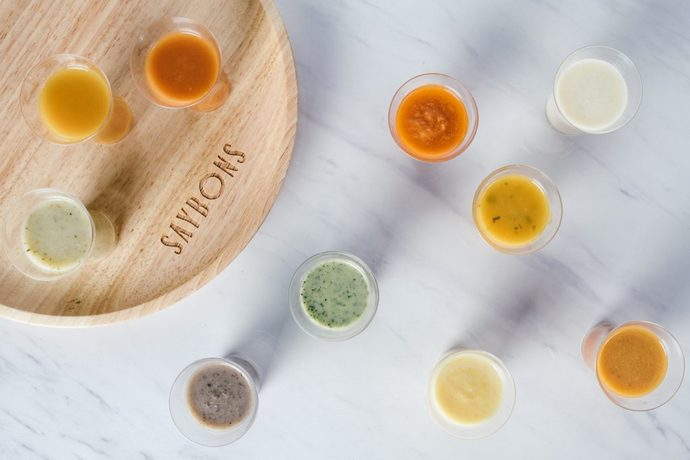 Saybons also has ready-meal packs, so you can take some of this delicious French magic home to enjoy during the week! There are currently 3 Saybons outlets nationwide and a 3 kiosks, all of which you can find below. If you try something that you love here, let me know! Happy eating, cravers!
SAYBONS Plaza Singapura
Seating Capacity: 30
Address: 68 Orchard Road #B2-32 Singapore 238839
Telephone 6884 9018
Operating Hours Sun to Thurs: 9.30 am to 930pm I Fri & Sat: 9.30 am to 10 pm
SAYBONS Junction 8
Seating Capacity: 50
Address: 9 Bishan Place #02-43 Singapore 579837
Telephone: 6258 3138
Operating Hours: Mon-Fri: 9.30 am to 9.30 pm I Weekends and PH: 9.00 am to 9.30 pm
SAYBONS OUE Downtown
Seating Capacity: 30
Address: 6 Shenton Way #01-24 Singapore 068809
Telephone: 6222 0980
Operating Hours: Mon-Fri: 8.30am to 5pm I Closed on weekends & Public Holiday
KIOSKS
KK Women's Children's Hospital
ACS International School (not open to public)
Mt Alvernia Hospital (opening soon)